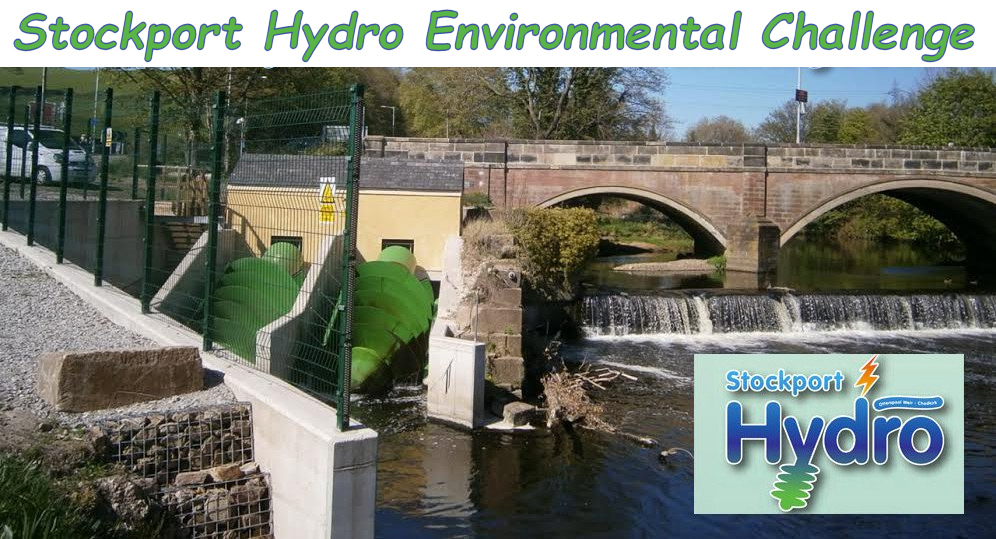 A record £9,000 is available in Stockport Hydro's Environmental Challenge 2024!
Stockport Hydro Ltd, a community owned scheme, has been generating renewable energy power on the River Goyt since October 2012.
In 2024 £9,000 is available from their Environmental Challenge Fund for projects that will benefit the local community and take place within the SMBC boundary. Projects must have an environmental focus and can be of a community or co-operative nature.
For more information email This email address is being protected from spambots. You need JavaScript enabled to view it.
For application forms visit: https://stockport-hydro.co.uk/environmental-awards/
Please send completed applications to:
Email: This email address is being protected from spambots. You need JavaScript enabled to view it.
Post: Laurence Jackson, 7 Fairfax Close, Marple, Stockport SK6 6HH
Closing date for applications: 31 January 2024
Please note applications received after this date will not be accepted.
---
Another successful year for Stockport Hydro Ltd as 24 local projects benefit from the 2023 Environmental Challenge Award
£8,000 donated to 24 community projects within Stockport
On a sunny day in March 2023 at Otterspool, Stockport Hydro Chairman Ben Alexander and shareholders were delighted to present awards totalling £8,000 to 24 diverse Stockport organisations.
The 2023 Environmental Challenge Fund Award Ceremony
The award ceremony took place at The Hydro on Friday 17th March 2023 and the Stockport Hydro Team welcomed representatives from the successful projects to the site of the hydro facility on the bank of the River Goyt at Otterspool.


Many of the recipients of the Environmental Awards at a ceremony at Stockport Hydro in March 2023.

Raised through the sale of renewable energy and contributions from members, the fund was shared between 24 diverse local projects, from schools and churches to community and social projects aiding well being:
Creating or enhancing environments for plants and wildlife: St Thomas Primary School, Woodley and Bredbury Community Garden, Friends of Torkington Park, Dial Park Primary, St Mary's Church, Reddish, Friends of Etherow Park, Marple Hall School, St Mary's Primary School, Reddish, Mersey Vale Primary School and All Saints Primary School, Marple.
Contributions to existing community projects: Friends of Marple Memorial Park, Craig Road Residents' Association, Drawing Board Productions.
Maintaining new and existing food growing projects: Friends of Highfield Orchard, St Philips Primary School, Garden House Marple, Marple Youth CIC and Lisburne School
Environmental education and engagement: Friends of Scholes Park, Gatley, Sustainable Living in the Heatons and Climate Action Marple (formerly MESS)
Creating communal gardens and well being opportunities: Seeding the Change gardening sessions and Beechwood Cancer Care Centre and Heaton School.
Stockport Hydro Ltd is a community owned scheme, generating renewable energy since 2012. The Environmental Challenge Fund is for projects of an environmental, community or co-operative nature within SMBC. If applicable a fund is launched in November with a deadline 31st of January the following year.
---
Stockport Hydro is run entirely by volunteers and produces power that is fed directly into the National Grid. This creates an income that maintains the scheme, pays a return to investors and the Environmental Challenge fund. Over the anticipated 40-year life of the project, the scheme expects to save over 100,000 tonnes of CO2.