Rose Hill station is named Cheshire's Best Kept Station
The Marple area have scooped two Awards at the 17th Cheshire Best Kept Stations Awards Evening held on Tuesday 28th January 2020. Rose Hill was named Cheshire's Best Kept Station and Marple won the Northern Best Staffed Station Award. Both stations are operated by Northern.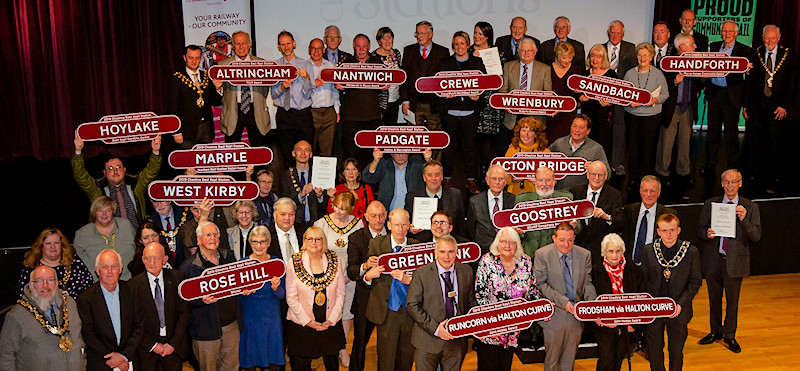 Group photo – Grange Theatre Tuesday 28th January 2020
The awards cover pre-1974 Cheshire boundaries which includes Stockport and the Wirral.
In 2019 the lead sponsors of the Awards were Northern. The Awards were presented before 170 guests at The Grange Theatre, Hartford, Northwich by Mr Kulvinder Bassi, Community Rail Team Leader from the Department of Transport. The Evening was attended by Mr David Briggs, Her Majesty's Lord-Lieutenant of Cheshire and seventeen mayors from boroughs, town and parishes across Cheshire including the Mayor of Stockport Cllr Laura Booth.
Rose Hill - Cheshire's Best Kept Station 2019


Left to right: Tony Tweedie (Northern), Joan Nickson (Northern), Pam Williams (Northern), Cllr Laura Booth (Mayor of Stockport), Chris Jackson (Northern), Rebecca Styles (Northern), Craig Wright, Rachel Singer, Cllr Malcolm Allen, Kulvinder Bassi, Mark Barker, Stuart Patrick
Mr Briggs concluded the evening by praising the station volunteers across Cheshire who dedicate considerable time to the county and were an inspiration to all.
Marple - Best Staffed Station Award 2019


Left to right: Cllr Laura Booth (Mayor of Stockport), Pam Williams (Northern), Cllr Malcolm Allen, Kulvinder Bassi, Mark Barker
On presenting the awards, Mr Kulvinder Bassi said:
It has been a real privilege for me to present these awards which recognises the outstanding volunteer efforts of so many.

"Through their selfless efforts they have helped transform Cheshire's railway stations, making them such welcoming gateways across the county.

"My thanks go to you all"
On announcing the Awards, Mark Barker, chair of Cheshire Best Kept Stations said:
Tonight's Awards Evening is a celebration and a thank you for all the volunteers and community groups who do so much to brighten up our stations in Cheshire.

You are all winners! - whether or not you pick up an award tonight, this is a big thank you to you all; a party for volunteers and for those who support & encourage you; rail industry, civic leaders and local authorities.

You deserve it."

"We can celebrate something to be truly proud of at so many of our Cheshire stations. We have seen some truly excellent work from volunteers and staff at stations right across Cheshire."
Rose Hill Station won the top 'Cheshire Best Kept Station Award' with the judging commenting:
An Intergenerational Community Art Project of over 300 wooden discs designed and painted by over 300 local people of all ages and abilities that are vibrant and of local interest.

Many of them have been produced by local schools.

There are superb flower displays in planters and flower beds which are full of colour.

There is a bug hotel on one wall which is in the form of a pacer train.

Other community events included a programme of events to mark the 150th anniversary of the line's opening, educational train trips for year 3 and 4 school children and Father Christmas visits by train."
Marple Station won the 'Northern Staffed Station Award' with judging commenting:
This is a well-cared for station with displays linking the station with the history of the town from stories about the First World War to large posters commemorating Agatha Christie.

The booking office is tidy and obviously cared for by the volunteers and staff."
Rachel Singer, chair of The Friends of Rose Hill Station (FoRHS) said:
We are delighted that our station has been named the Best Kept Station in Cheshire 2019.

Our warmest thanks go to Cheshire Best Kept Stations for this recognition of our efforts.

We must acknowledge the efforts and support from all the volunteers and organisations in Marple, along with Northern, TfGM and all those in Community Rail who have helped us achieve this prestigious award.

Special mention also to Tracy McGuinness-Kelly and ArtStop for leading the award winning mural project.

Once again, we are proud of the Friends of Rose Hill Station's continuing success."
Peter Black, chair of The Friends of Marple Station, said:
Marple Station is delighted to receive a Cheshire Best Kept Stations Award for Best Staffed Station.

Our gallant band of volunteers range from 7 to 70 years old, but we all share a passion to improve Marple Station and make it the centre of the community.

We have big plans for the future including a new community hub/waiting room. Watch this space!"
Steve Forde, Rail Officer for the South East Manchester Community Rail Partnership said:
I would like to congratulate the Friends of Marple and Rose Hill Stations who won awards on our South East Manchester lines at the Cheshire Best Kept Stations Awards. In particular Rose Hill for winning the overall award for the best kept station, a major accolade.

During the last twelve months the rail industry has faced considerable challenges, however throughout that time station volunteers have focused on improving stations and promoting railway travel.

The Community Rail Partnership would very much like to thank them for their continuing dedication."
Christopher Jackson, Regional Director for Northern, said:
We were delighted to be the main sponsor of the Cheshire Best Kept Stations Awards for 2019.

This event is a celebration of volunteers and the local railway community, who through their incredible skills, passion and hard work, help to brighten up stations across the county.

As well as creating attractive and welcoming station environments, they are also enabling community groups to cultivate and develop their own unique talents."
Further details can be found at bestkeptstations.org.uk