Update: October 2019
National Award for Rose Hill Station Intergenerational Art Project
The Association of Community Rail Partnerships (ACoRP), the membership body for 64 community rail partnerships and representing over 1000 station adoption groups, has recognised Rose Hill Station's Intergenerational Community Art Project in the category for Permanent Community Art, sponsored by Abellio. They recognise the contributions from all the artists involved, led by Tracy McGuinness-Kelly, and the FoRHS group who were involved in setting up the support boards etc.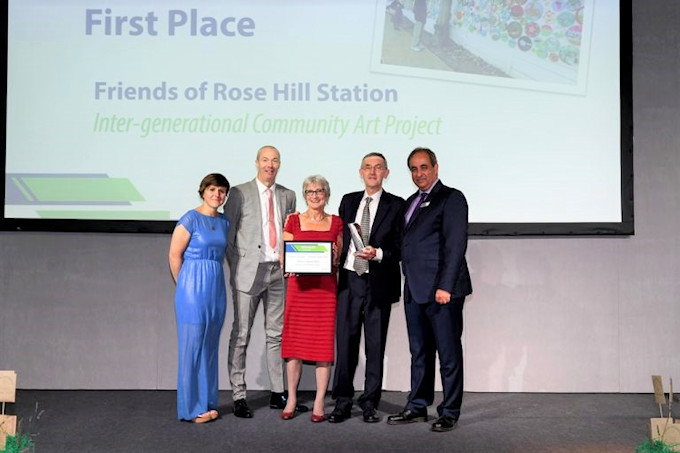 Seen above receiving the award is Friends of Rose Hill Station Chair Ms Rachel Singer together with her husband Brian Evans, an enthusiastic volunteer with the Friends group. The award trophy is dedicated to all the Marple schools and adults who contributed their art work, led so effectively by artist, Tracy McGuinness- Kelly.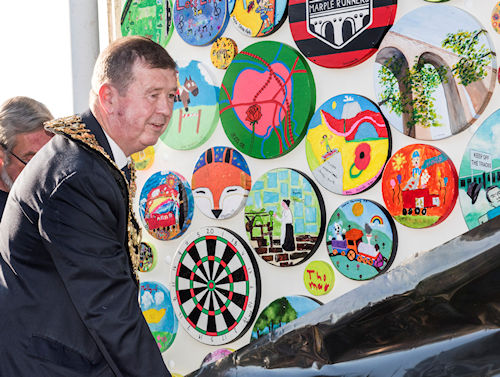 For more photos by Arthur Procter of the project launch by the Mayor of Stockport on 17 November 2018 visit the Marple Website's Virtual History Tour.
Friends of Rose Hill Station Intergenerational Community Art Project Funded by the BiG Lottery
A local artist, Tracy McGuiness-Kelly, is working on a major new collaborative mural project in association with Friends of Rose Hill Station.
The plan is to cover several panels of the concrete wall in the car park area of Rose Hill Station with painted wooden discs of different sizes to reflect the many features of life in the Marple area covering:
• History, heritage, people, places, buildings, landmarks
• Environmental themes
• Train travel and rail safety
• Natural beauty, nature and wildlife
• Life and leisure in Marple, the Middlewood Way, walks, cycling, skateboarding, climbing, dog walking.
• Community helpers and public services
In addition to supplying the discs and other materials, Tracy also plans to provide a lot of visual inspiration to get you started. The completed discs will be weatherproofed and installed by volunteers from Friends of Rose Hill Station.
Main funding is coming from the Big Lottery Fund.
All the local schools are already on board, but Tracy is also looking for people who have some artistic skills and/or who just really enjoy creating art with real enthusiasm and who are willing to try their best. Of course, professional artists could be also involved.
All are welcome to participate – existing groups with a focus on art, special needs, senior citizens etc., young and old who love making art at home, people who have vintage photos and/or special memories to share etc.
The whole process will be documented with the finished mural reflecting all the wonderful things about Marple, the skills, interests and diversity of its community, its history, its heritage and its future. This will be a visual celebration for all to enjoy and feel proud to have been a part.
FoRHS have planned an Open Day at the station for Saturday 9th June 10.00 am till 1.00 pm where people can come and find out about the project and sign up.
Follow the project on the 'Friends of Rose Hill Collaborative Community Mural' Facebook page.