Update from the director of Heavy Head
One acting role to fill for a male actor in 50s!
I hope everyone's doing well in Marple. It's Cezary, director of the short film Heavy Head.
We're shooting in 12 days - how exciting! The whole crew is working very hard and everything is going in the right direction. I started rehearsals with the actors and 5 out of 6 characters have been cast; however, there is still one spot available. I am still looking for a male actor in his 50s to play the role of the FATHER. The role has no dialogue and appears in just a few scenes. No previous acting experience is required as the FATHER will appear throughout the film as a ghost.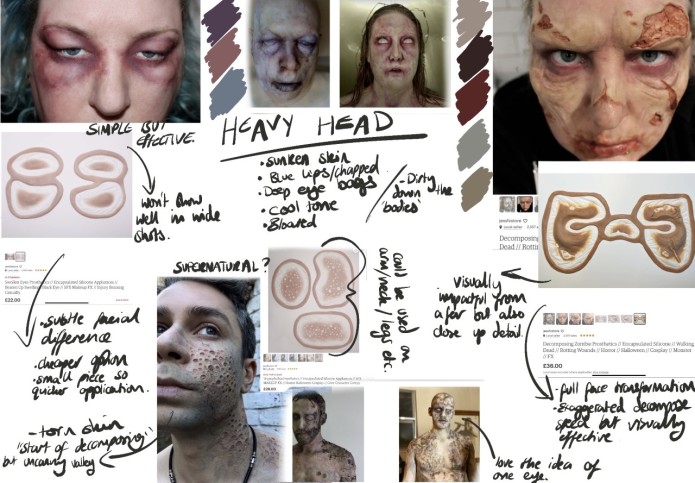 The actor will be transformed into a ghost of a decomposing body through the use of prosthetics makeup that will be applied before the shoot. The shooting dates are 10th and 11th of February.
Since not much acting will be required I feel like this opportunity could be suited to a lot of people interested in participating. Could you please share this opportunity?
If this is of interest please contact Cezary via This email address is being protected from spambots. You need JavaScript enabled to view it.
Heavy Head: a short film to be shot in Marple
A group of 3rd year BA Film and Television students at the University of the Arts London have reached out to the Marple Community for support with a film they are shooting on location in Marple Bridge in February. The Marple Website has decided to support this with a donation of £50 (in return for the perk of a note from the Director, which includes a digital copy of the film and a credit).
It might be fun for other local organisations and businesses to give the project a little support too.
Heavy Head Campaign introduction
We are a 3rd year BA Film and Television students at the University of the Arts London and this project is a part of our final assignment brief. We are devoted to making this film the best version it can be in order to showcase the skills each of us perfected in the 3 years of our studies. Our Crew's diverse background provides myriad approaches and techniques to filmmaking, creating a unique and exciting experience for our production.
Here's the message from Writer and Director: Cezary Sykut
Hello, my name is Cezary, I'm a 3rd year film student. Currently, I am working on a film that I wrote called Heavy Head: a short horror film that me and my colleagues are filming in Marple this February. Even though we do not live in Marple, we decided that it's the best location for our film; it's an absolutely stunning town that we fell in love with while researching locations. Currently, we're in the process of pre-production and reaching out to potential contributors that could support us on our creative journey and would like to collaborate on making Heavy Head come true.
As a person living outside of Marple, I am not very familiar with the local community. I would love to reach out to the lovely people of Marple and introduce them to Heavy Head, but unfortunately, I have not a slight idea how to get around it!
Would you be interested in putting our fundraising campaign on your website? I care very deeply about my film. In exchange for any investment, we offer a wide range of perks, but additionally, I would love to promote any local businesses that are willing to collaborate on my project.
Here's a link to the film's fundraiser on Indiegogo:
https://www.indiegogo.com/projects/heavy-head-a-short-film#/