Mellor Country House charity announces Festive Delights – with Trees, Wreaths and Raffles to make this Christmas Sparkle
As we begin to count down the weeks to Christmas, Mellor Country House Charity is preparing to help locals celebrate in style and spread festive cheer on the run up to the most wonderful time of the year!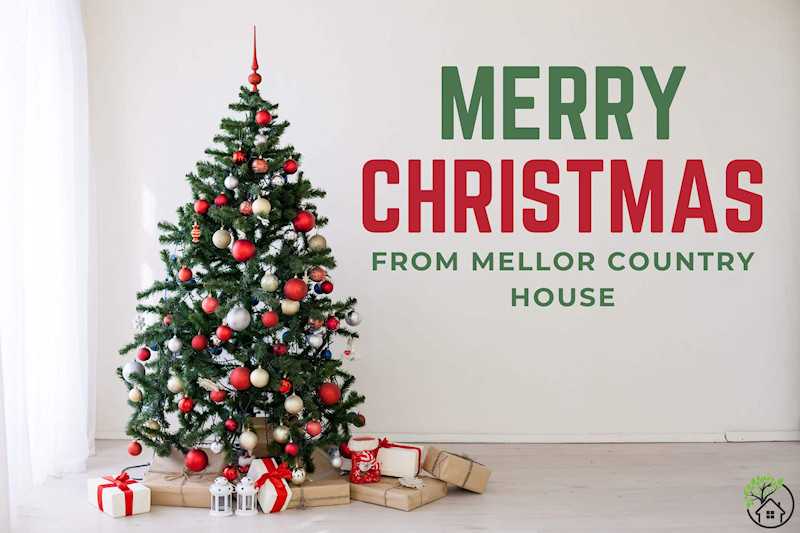 Nestled in three acres of gardens and woodland in the pretty village of Mellor – situated on the border of Greater Manchester and the High Peak – is the Mellor Country House. A UK charity that has been changing lives since its inception at the end of the 19th century, by providing much needed respite for disadvantaged families, elderly visitors, carers, groups and individuals from areas in Stockport, Manchester and Salford.
As a small self-funded charity, relying solely on a committee of volunteers, the annual Mellor Country House Christmas fundraising events are of great importance to all who visit the beautiful Edwardian building - and a delight to those who purchase the stunning festive offerings.
Thanks to the charity's volunteers ongoing dedication, the Christmas fundraising plans for Mellor Country House are already well underway including its famous Christmas tree and wreath sale – which is now in its 8th year – and launched online on 1st November.
Christmas shoppers can visit www.mellorcountryhouse.co.uk to find out more about the beautiful Nordman non-drop pine trees which are available in a range of sizes from 4ft to 12ft high – guaranteeing to brighten any size home or business. Christmas wreaths are also available - with prices starting from £19.
Katie Clark, volunteer for Mellor Country House, added: "We receive fantastic feedback every year on the quality of our trees and love seeing the many pictures of them decorated in homes around the area. We always offer a free delivery service - within a five- mile radius of the house – which will be on the weekend of Saturday 9th and Sunday 10th December, with the option for buyers to collect from the home on Wednesday 6th December if they'd like their tree a little sooner.
"Once again, we're making Christmas 2023 as easy as possible for our customers and full details are available via our online ordering system which is open now – forms must be completed by Sunday 3rd December for our busy elves to guarantee delivery!
"We love the sparkle of Christmas but are equally aware how tough the last few years have proved for many. The importance of raising money so that we can provide short self-catering breaks to those who otherwise wouldn't get any respite from the hardships of their day-to-day lives is paramount. The escape we provide has literally been lifesaving to some individuals, and without the much-needed funds required to keep the charity's head above water, we wouldn't be able to continue to help people in dire need of a break."
Additionally, the team will also be raising funds via an online Christmas raffle on the charity's website www.mellorcountryhouse.co.uk – with bottle and chocolate hampers up for grabs and tickets costing just £2. The lucky tickets will be drawn on Monday 11th December.
The charity is also calling out to any local businesses that would like to offer their support by donating a raffle prize. Businesses can contact Sharon Adamson by email via This email address is being protected from spambots. You need JavaScript enabled to view it. for more information or to donate. As always, all businesses that donate prizes will get a well-deserved mention in all the charity's communication on the run up to Christmas with prizes of all sizes very much appreciated.
Friends of Mellor Country House is also currently recruiting more volunteers to help in and around the grounds and with the Christmas tree deliveries. Anyone interested in offering a one-off helping hand or joining the team on a more permanent basis can email This email address is being protected from spambots. You need JavaScript enabled to view it. for more information.
Katie concludes: "It's with great thanks to everyone in our local community that our fundraising events and activities are so successful – we're already looking forward to welcoming many more guests when we open again for our new season in Spring 2024. We'd like to say how much we appreciate your ongoing support and please spread the word as we couldn't do it without you!"
For more information on Mellor Country House please visit https://www.mellorcountryhouse.co.uk/