Brass for Reuben Charity Concert: Romiley and Marple Lions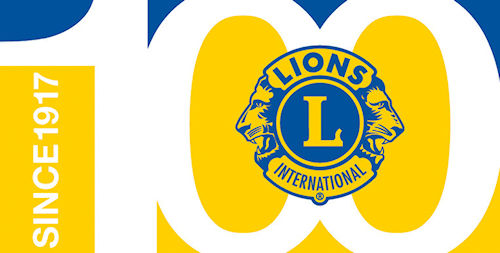 Friday, 29th June, 2018 was definitely a night to remember! Throughout the school year, Liz Bexon and her Romiley Primary School Band have been raising money for their Charity of the Year, Reuben's Retreat, and Liz joined forces with Dave McPherson, of Romiley, Marple and District Lions Club to arrange "Brass for Reuben". This formidable duo took the Band along to the Peter Barkworth Theatre at Stockport College, where they were joined by the Varivocals Choir and Marple Band, to present a wonderfully varied and spectacular programme of music for every taste. Lion President Elect Phil Daniels introduced the evening and The Varivocals Choir (what an appropriate name) gave us some (Glen) "Miller Magic" and other musical treats, including their tribute to Louis Armstrong, which must surely have convinced us all that it really is a "Wonderful World".
Nicola Graham (Reuben's mother) then spoke movingly about Reuben's Retreat and was presented with a cheque for £200 by Phil on behalf of the Lions. It was then time for Liz and her "Superstars" to entertain us. Lennon and McCartney would have been delighted to hear such an enthusiastic and accurate rendition of their music, complete with lookalikes. We had to try to remember "Supercallifragilisticexpialidocious" (I think I've got it right) from Mary Poppins and even Chitty Chitty Bang Bang got in on the act. What a performance from an incredibly talented group of young musicians. It really was their evening.
Following the interval and raffle, Marple Band took over and provided a perfect stirring finale to the evening, which included a never to be forgotten version of "Amarillo" - during which they were joined by members of the School Band. We had come to the end of a superbly entertaining evening and must now hope that it can be repeated. Over £700 was raised and will now be added to the other money raised throughout the year by the school.
The Lions feel proud and privileged to have been involved in this project and thank all concerned for providing such outstanding support. Reuben's Retreat and Romiley Primary School are both very important to us and it was most fitting that the concert was arranged during the year that Lions Clubs International celebrated their 100th. anniversary. Romiley and Marple Lions were therefore able to class it as a Centennial Concert - what a title! As one of our most prestigious events to date, we were delighted that the Mayors of Stockport and High Peak were able to join our Lions District Governor, Teresa Nickson, as our special guests for the evening. Although he was unable to attend, local M.P. William Wragg very kindly donated a raffle prize.
Liz and the School Band actually appeared for their final concert of the school year on Friday, 20th. July and Liz retired the following Monday, 23rd. July, after 25 years of wonderful service to the School and local charities. The photograph below was taken at that morning's school assembly by Anne Bennison Photography, when a cheque for £2,258.84 (the full amount raised by the Band during the school year) was presented to Reuben's Retreat.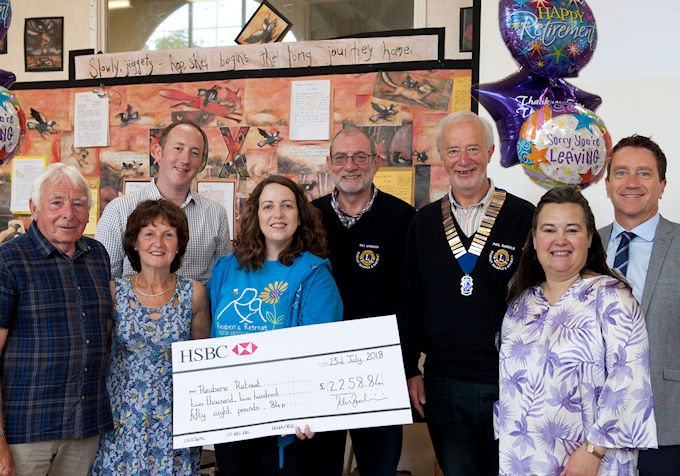 In the photo are Lion Dave McPherson ("Brass for Reuben" organiser), Richard Pennystan (Romiley St. Chad's Vicar), Liz Bexon, Lynne Redmond (Reuben's Retreat), Lion Bill Spencer, Lion President Phil Daniels, Liz Saxelby (Romiley Primary School Music Co-ordinator) and John Tomlinson (Romiley Primary School Headteacher).
Presidential handover
On Friday, 6th July, the Lions were at Romiley Golf Club for their annual Presidential Handover Dinner. Bill Spencer ended his year as President and handed over to Phil Daniels, who presented him with a painting of Greave in Romiley, the area where they both live, as a token of the Club's gratitude for his year in office. We now look forward to another successful and enjoyable year serving the community.
Lions Over the Rainbow!
The Lions have also been out and about with their celebrated "Ball in the Bog" game enthralling the crowds at events in the Romiley and Marple area. Lions Pat Brady and Jack Farrell have been busy publicising the Lions' "Message in a Bottle" Medical Emergency Information Scheme and Pat even found time to call on Sue Thompson in the Motor Neurone Association's "Over the Rainbow" shop in Romiley, where he presented her with a cheque for £300 on behalf of the Club. Lion President Phil Daniels has chosen the Association as his "Charity for the Year".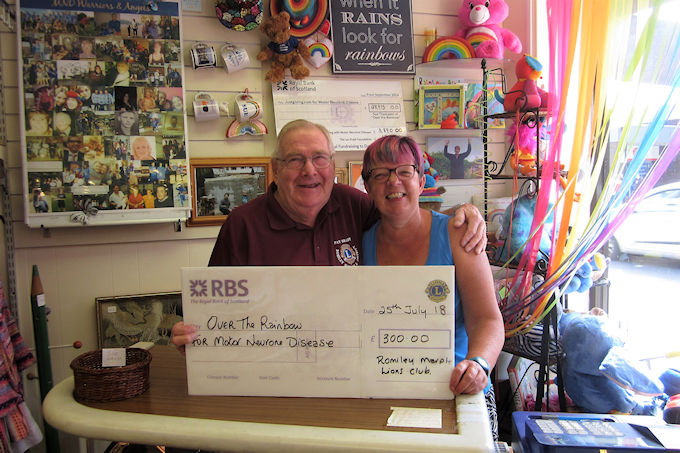 All in all, it's been quite hectic and we're now planning for Christmas - details of the Marple Santa Dash (Sunday, 2nd December) to follow.
I shall now close (thank goodness, I hear you sigh) by reminding you that the Club meets at 8 p.m. on the 2nd and 4th Tuesday of each month in the Conservative Club on Guywood Lane, Romiley. Anyone requiring further information can always contact me on 0161 330 9494.
Kindest regards,
Terry Harding - Welfare Chairman, Romiley, Marple and District Lions Club