Open Gardens in Marple 2023 for Cancer Research UK

This popular event is returning on Saturday 8th & Sunday 9th July!
In 2018 the first ever Open Gardens in Marple raised an amazing £13,000 for Cancer Research UK.
The plan is to repeat that success in 2023!
Latest news and information:

Twenty lovely private gardens and the productive Seven Stiles Allotments will be open to the public on Saturday and Sunday the 8th and 9th July from 11am until 5pm. There are nine returning gardens from the initial event in 2018, plus eleven new ones - a perfect balance!
The following locations and associated groups will also be involved in the event:
Rose Hill Station, supported by Rose Hill Allotments
Marple Memorial Park
The Community Orchard / Ironwood Metal Art at Marple Rec
The Guide Hut
The Scout Hut
The Marple Website will be hosting the event online again with garden details and interactive maps.
Tickets
Will cost £7.50 for one day or £10 for the whole weekend and will be widely available at outlets in Marple from the end of June.
Look out for more news here as preparations get underway!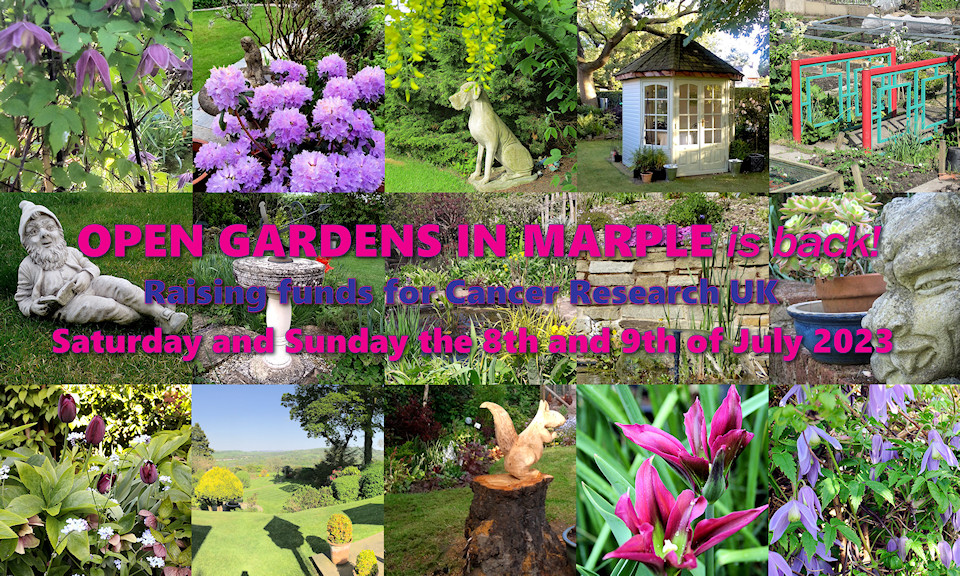 Open Gardens in Marple is seeking sponsors!
Open Gardens in Marple is a community event designed to raise money for Cancer Research UK, a charity close to many people's hearts.
In order to gain maximum benefit for CRUK, we aim to keep our costs as low as possible and are therefore seeking sponsorship. Banners, for example, are a particular expense, but are essential to our publicity as they will be prominently displayed throughout Marple. However, they will also be advertising our major sponsors by carrying their logos too, and that could be you!
In 2018 all sponsors, both large and small, were acknowledged and thanked on these pages and on social media. Where appropriate, free banners adverts are included on these pages just like the ones you can see for the web site, Stockport Council and for Lentils and Lather above.
Check out the Charity & Supporters page for more about Cancer Research UK and sponsors onboard already.
If you can offer support in any way, please contact This email address is being protected from spambots. You need JavaScript enabled to view it. or phone 0161 427 7255 – help us achieve the aim of raising a large sum of money for Cancer Research UK.