HAVE YOUR SAY...
On initial plans for a new Leisure and Community Hub in Marple
Stockport Council is consulting with residents until 4 January 2021
Residents are being invited to have their say on initial plans for a new Leisure and Community Hub in Marple, which have been developed as a result of a public engagement exercise which took place In March 2020, as well as work with local organisations over the past six months.
Stockport Council is working with GT3 Architects to develop plans for a Marple Leisure and Community hub that could replace the existing Marple Pool and Marple Library in a new purpose-built facility.

Marple Pool has been closed since 2018 for health and safety reasons and would not be able to reopen without significant investment. Consequently, there are no plans to reopen the pool.
The gym facility at the site has been closed temporarily due to the Coronavirus pandemic and there are no plans to reopen this as the size of the gym will not allow for it to be operated cost effectively whilst social distancing restrictions are in place. Major roof works are also required to prevent water ingress into the gym and it is not economically viable to make this investment when a replacement facility is being planned. Options are currently being investigated for alternative fitness provision in the area while we continue with the possible development of a Marple Leisure and Community Hub.
This 16 minute video explains the plans being considered:
Cllr Sheila Bailey, Cabinet Member for Sustainable Stockport, said:
We know that the provision of leisure facilities is something that local residents feel strongly about, so this is a chance to have your say in our consultation and help shape future plans for Marple. As part of this, we are also keen to hear from young people and a dedicated survey has been set up to represent their views. Please do take the time to have a look at the plans."
View plans online, at Marple Library or the existing Marple Pool
Residents can view the plans at: www.stockport.gov.uk/haveyoursay and give feedback online until Monday 4 January 2021. For residents without digital access, information boards have been placed outside Marple Library and Marple Pool which outline the plans and explain how you can feed back.
Residents are specifically being asked for their thoughts about:
• The proposed spaces included in the different options for the hub: is there anything else you'd like to see or something you think shouldn't be there.
• The proposed site location.
• The three different options presented and their preferred option.
At the same time, a dedicated youth survey targeted at young people in the area is being run.
Feedback from both engagement exercises will be used to inform the development of the designs. Subject to funding of the scheme being approved, the plans would then be developed in more detail, followed by a further invitation to give your views prior to a full planning application.
Key Links:
Marple Leisure and Community Hub- Background Information and Options.
.
Public consultation questionnaire.
Dedicated youth survey targeted at young people in the area.
Make sure you have your say again Marple!
On 12 March 2020 members of Friends of Marple Memorial Park, Marple Civic Society, Marple Neighbourhood Plan and the Scouts attended a "Marple Pool Visioning Session" for groups with links to Memorial Park to contribute our ideas and have our say on how this project should be shaped. We also attended a Zoom Meeting and Presentation with Council Officers and GT3 Architects in the summer and we are pleased to say that our views were listened to!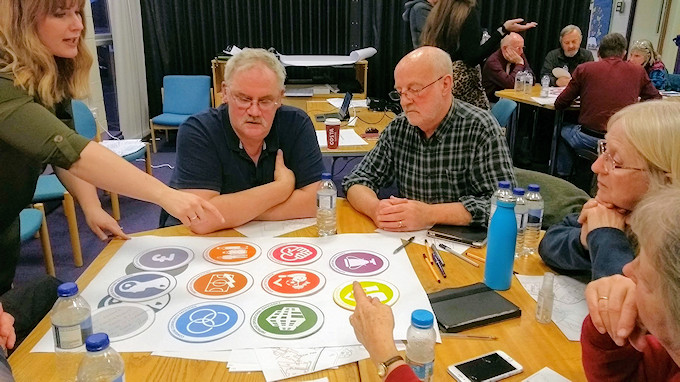 Friends of the Park volunteers at "Marple Pool Visioning Session" 12 March 2020
We urged the council to engage with younger people and are pleased that they are doing that now.
As Friends of the Park, we also urged you to suggest that with a new Community Hub in the park our existing Infants and Junior Play Areas would be far too small. We are delighted that all 3 options now being considered include an enhanced Chlidren's Play Area.
This is an amazing opportunity and we would urge everyone to think BIG and embrace the idea of new Marple Leisure and Community Facilities in the centre of Marple that could potentially replace not only the library and the swimming pool but also most, if not all, of the tired and dilapidated buildings in Memorial Park. This is a once-in-a-lifetime opportunity and we must get it right!