Seeking the families of Stanley Jack and Annie Pott
Update December 2019: more letters and a photo album found:
Fantastic news is that some of Stanley Jack's letters found their way into Marple Local History Society's archives. They are those written by Stanley to Annie in 1918, so there is still a large number not discovered as they wrote to each other regularly from 1915 onwards.
Along with the 1918 letters was a wonderful little photo album owned by Annie Pott, which she wrote her address inside in case she lost it. The content of this was so interesting that a video slide-show has been created by The Marple Website to share the story with the Marple Community:
We are still trying to decide how best to preserve and share Annie and Stanley's letters for posterity but we're pretty sure Jack Turnbull would have been delighted with this video!
Picking up the baton from the late Jack Turnbull
Not long before he died in November 2015, Jack Turnbull paid me a visit to pass on some bits and pieces of Marple memorabilia that he thought nobody else would want. At the same time he passed on the baton - and over 230 letters - for a mission he'd been on for a good few years, sadly with very limited success. This was to try and track down letters written by WWI soldier Stanley Jack to his wife Annie (nee Pott) while he was in the trenches between 1915 and 1918.
Jack shared his mission in local newspapers in 2011, after he had been given a large number of letters dating from World War I several years earlier. They were found in a cardboard box in one of the houses at the bottom of Dale Road, Marple. They had belonged to a gentleman named Stanley Jack (1887-1969), who had lodged in the house after the death of his wife, Annie, until his own death.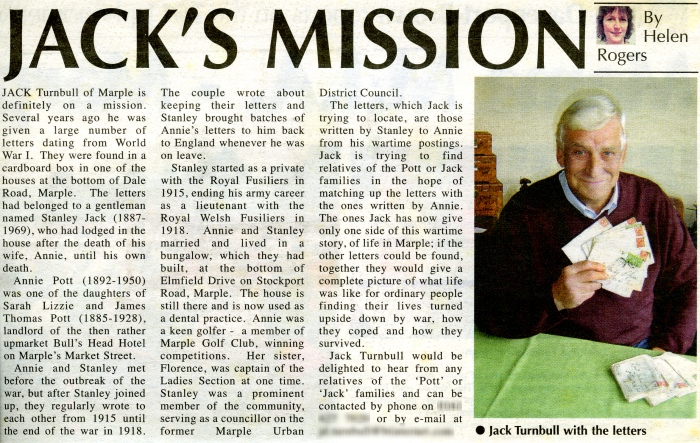 The late Jack Turnbull with Annie's letters (Marple Review Winter 2011)
Annie Pott (1892-1950) was one of the daughters of Sarah Lizzie and James Thomas Pott (1885-1928), landlord of the Bull's Head Hotel on Marple's Market Street. Annie and Stanley met before the outbreak of the war but after Stanley joined up they regularly wrote to each other, from 1915 until the end of the war in 1918. The couple wrote about keeping their letters and Stanley brought batches of Annie's letters to him back to England whenever he was on leave.
Stanley started as a private with the Royal Fusiliers in 1915, ending his army career as a lieutenant with the Royal Welsh Fusiliers in 1918. Annie and Stanley married and lived in a bungalow they had built at the bottom of Elmfield Drive on Stockport Road. The house is still there - until a few years ago it was used as a dental practice but more recently it has become a private home once again.
Annie was a keen golfer - a member of Marple Golf Club, winning competitions. Her sister, Florence, was captain of the Ladies Section at one time. Stanley was a prominent member of the community, serving as a councillor on the former Marple Urban District Council.
The letters that Jack was eager to locate are the ones written by Stanley to Annie from his wartime postings. Jack was trying to find relatives of the Pott or Jack families in the hope of matching up the letters with those written by Annie. The ones given to Jack, and that he passed onto me, show only one side of this wartime story, of life in Marple; if the other letters could be found, together they would give a complete picture of what life was like for ordinary people finding their lives turned upside down by war, how they coped and how they survived.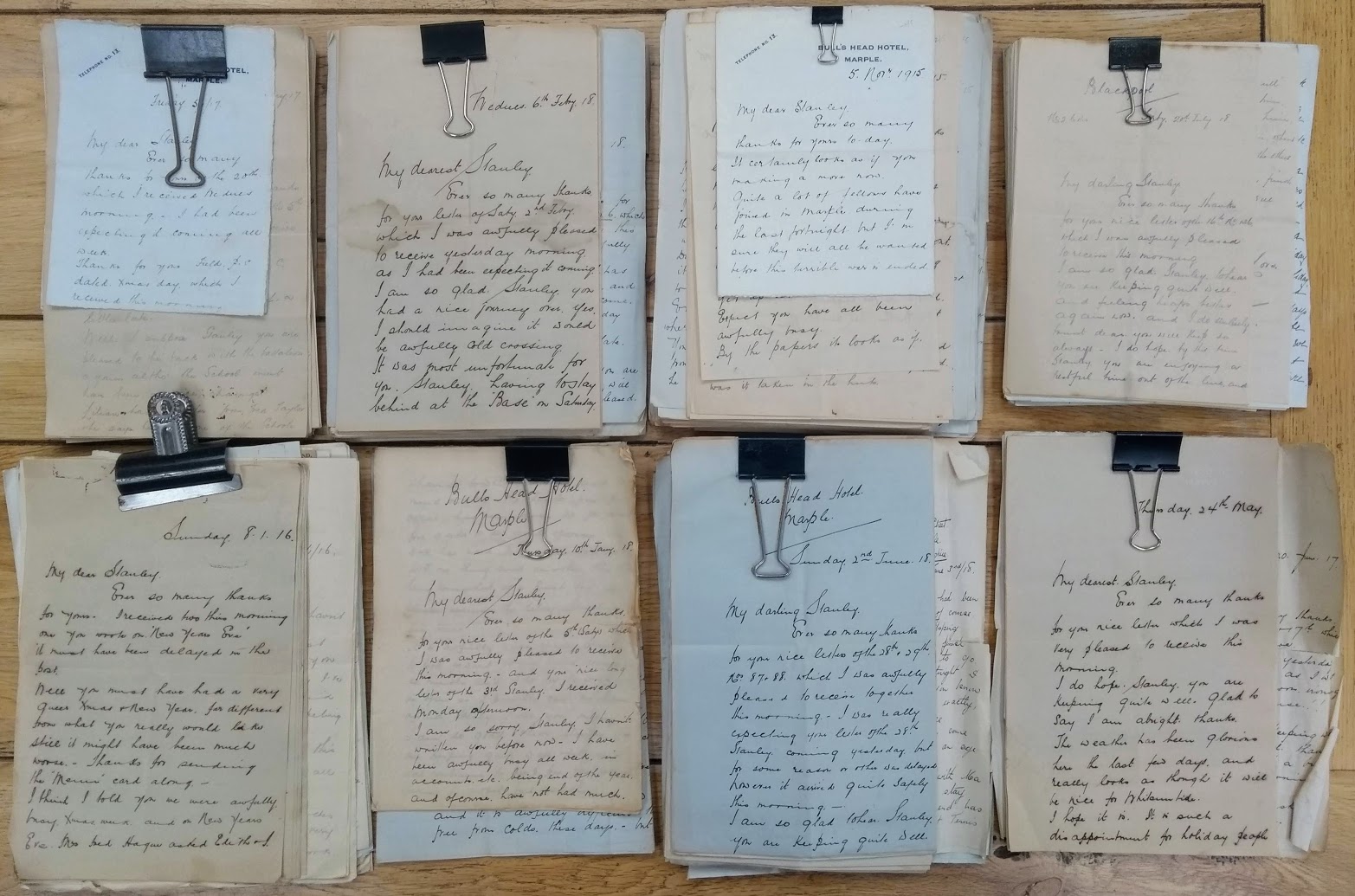 The 232 letters from Annie to Stanley Jack in France.
It's ironic that although Stanley and Annie remained together after the war, the only letters that appear to have survived are the ones sent to Stanley in France. Where are the ones he sent home to Annie? Surely they were less likely to be lost. And why weren't they all kept together? Maybe we'll never know the answers to these questions.
It's a long-shot to try and move Jack Turnbull's mission forward but maybe the Internet and social media today can carry the message further than was possible before and potentially reach someone who knows more. I would therefore be delighted to hear from any relatives of the 'Pott' or 'Jack' families who may have more information about Stanley and Annie, and particularly the whereabouts of the missing half of the puzzle; Stanley's letters to Annie sent home from the trenches.
Please get in touch via the Contacts Page if you know more.
Mark Whittaker
The Marple Website