Lock No. 7 - Seven Stiles Footpath
This photograph of men working on Lock 7 dates from the 1930s or 40s, judging from the clothes they're wearing. In the background Glen Cottage, which used to be alongside Lock 6, can be clearly seen.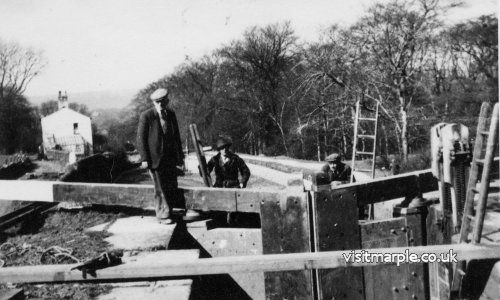 Men at work on Lock number 7, approx. 1920s.
An ancient right-of-way from Rose Hill to Marple Bridge called Seven Stiles footpath crosses the Lock 7 locktail bridge. Its name was derived from the fact that it originally had seven stiles but these were replaced by 'kissing gates' many years ago. Several of these have now gone too. The route has been diverted three times - when the canal was built, when the railway was built and again when Marple Station was rebuilt.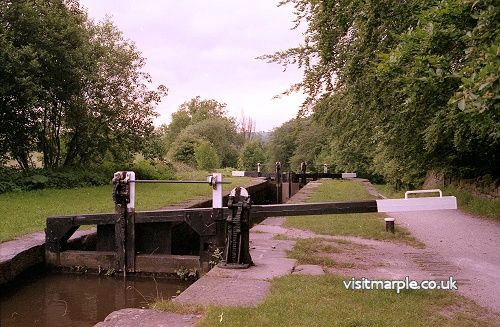 Lock number 7, from the 1993 Marple Civic Society exhibition of Listed Buildings.
On the towpath side the Seven Stiles footpath can be used to descend into Brabyns Park. The park was originally a private estate owned by Dr Henry Brabin, who built a hall on the land in the 18th century. In 1800 it was purchased by Nathaniel Wright, who later left it to his son John and niece, Ann Hudson. The Hudson family built St. Martin's Church on Brabyns Brow, it is sometimes said to prevent the railways from compulsorily purchasing their land to extend Marple station.