Lock No. 2
On the towpath side of the canal at Lock 2 is one of several entrances to Brabyns Park. This former private estate, purchased by the Council in 1942 and opened as a public park in 1949, has many attractions and features including Marple's own historic cast-iron bridge built in 1813. The Marple Website was responsible for launching the campaign to restore this bridge in 2001 and became a member of the Iron Bridge Restoration Project, a partnership set up with Stockport Council and Marple Local History Society. The group completed the bridge's restoration in 2008.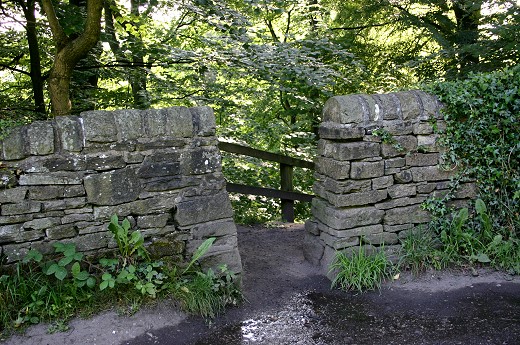 Footpath into Brabyns Park
The Iron Bridge is within easy walking distance of the tow path at this point, although the descent into the park is quite steep. There is also a footpath that can be followed from the park that circles round and takes the walker alongside the River Goyt to the base of the Viaduct. This path is quite precarious in places and care should be taken when using it but it's worth the effort for an interesting view of the Aqueduct from the riverbed.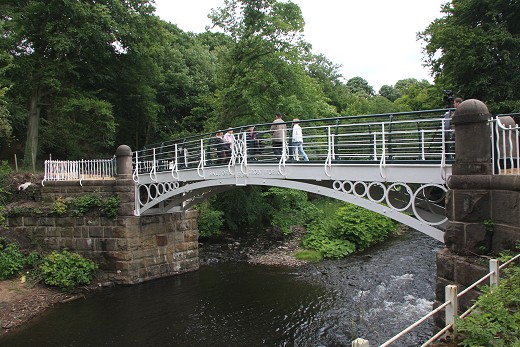 The Iron Bridge in Brabyns Park after reopening.
At Lock 2 was one of two railway sidings adjoining the canal. This siding, and the other above Lock 1, were both built to transport materials while the railways were being constructed. It was decided to keep them when construction was finished because they had proved so useful and the line was called the Marple Wharf Branch, giving its name to Marple Wharf Junction where the Rose Hill and Macclesfield line branched off. The siding above Lock 1 was higher than the canal, so it was easy to load from a wagon into a narrowboat, whilst the one above Lock 2 was at the same level to aid transfer in either direction. The branch fell into disuse as canal traffic declined and was eventually taken up in 1900, although there are still traces of it amongst the undergrowth on the side of the canal opposite the towpath, alongside the pound.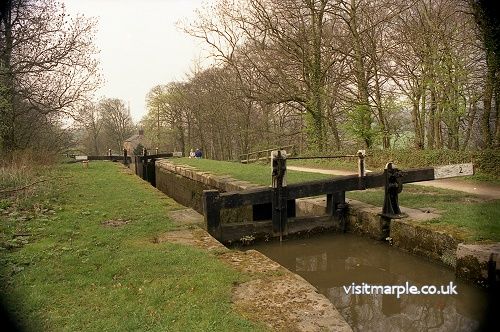 Lock 2, from the 1993 Marple Civic Society exhibition of Listed Buildings.
Photo credits:
Modern day photographs - Mark Whittaker.
Historic Images: The Marple Website Virtual History Tour (Marple Civic Society)

.