Lock No. 13 - call in at the Navigation nearby
This picture of Lock 13, taken from the locktail bridge of Lock 14, show just how close together the locks are as they start the final rise towards the Upper Level at Top Lock. Lock 13's bottom gates are right on top of the entrance to Posset Bridge.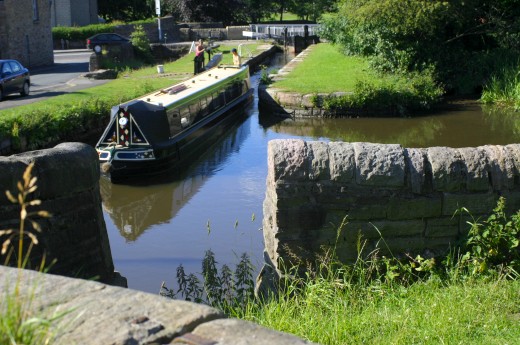 Lock 13 viewed from Lock 14 locktail bridge
The picture below of Lock 13 is of late 1970s or early 1980s vintage. Behind the building in the background with the three gables is the site of Black Wharf, alongside Lock 12 pound. To the right beyond this is the area where Oldknow built 'Brick Row' to house his workers, which can be seen in the old photograph further down the page.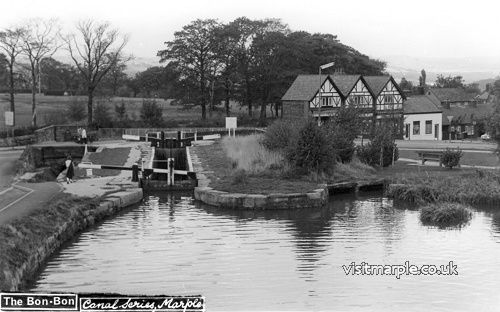 Late 70s or early 80s view of Lock 13 on the Peak Forest Canal
This photo of an art competion in progress gives an unusual persective on Lock 13 and the Horse Tunnel that runs under the road next to the canal.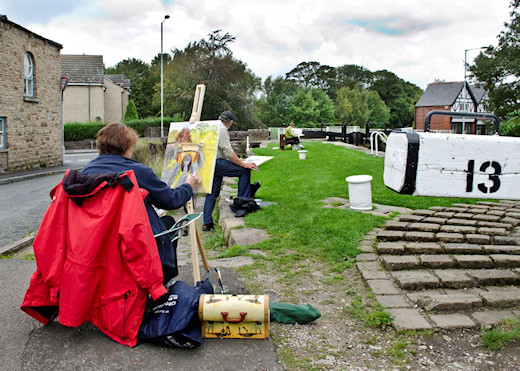 Artists at Lock 13 work on their compositions for an art competion
Less than 100 yards towards the centre of Marple along Stockport Road is the Navigation Hotel, a fine place to stop for refreshments. This is one of the original five 'Navigations' on the Peak Forest Canal and was owned by Samuel Oldknow after he purchased it from Richard Arkwright in 1791. He used it as a brewhouse to produce free ale for his workforce at the Lime Kilns and for the many Irish navvies constructing the Peak Forest Canal. What a great employer he must have been!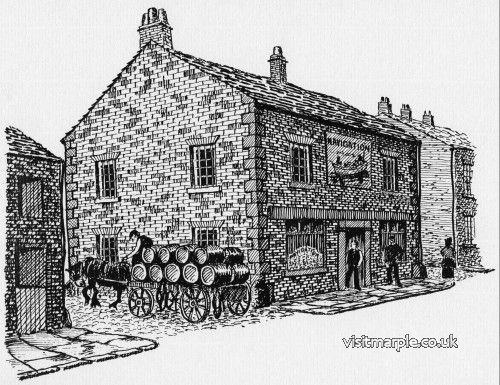 A drawing of the Navigation Pub as it may have looked in Oldknow's day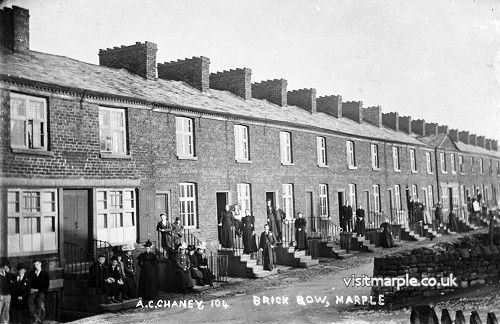 Brick Row, built to house Oldknow's workers
The picture below shows the Navigation's outbuildings, which were knocked down many years ago to create the small car park next to the pub. Opposite the car park is another Oldknow building that did survive and is now the 'Marple Spice' Indian restaurant.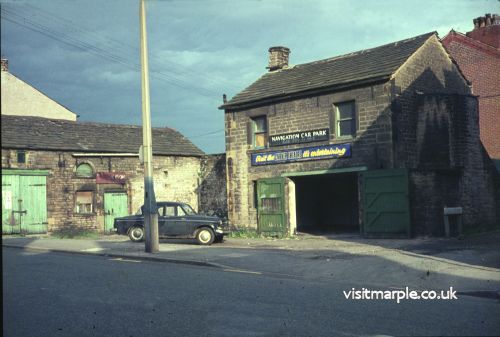 These old outbuildings belonging to the Navigation Hotel were photographed in the 1960s
Photo credits:
Lock 13 from Lock 14 - Mark Whittaker.
Artists at Lock 13 - Arthur M Procter.
Historic Images: The Marple Website Virtual History Tour


.