Lock No. 9 - Oldknow's Warehouse and a Lock Keeper's Cottage
The cottage alongside Lock 9 is another former lock-keeper's cottage and now a listed building. The owners have put a lot of effort into restoring and improving it in recent years and they've made a great job of it. In the picture below it can be seen when it was still serving its original purpose, probably in the the early 1900s.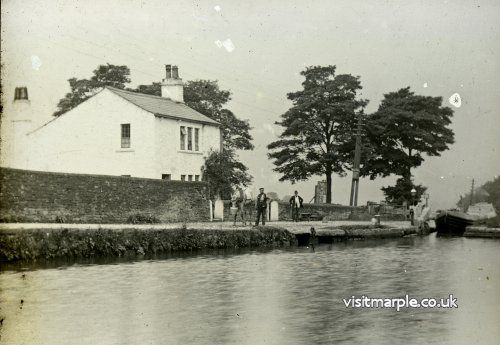 The Lock Keeper's Cottage at Lock no. 9
The towpath is very wide alongside Lock 9 pound. This is almost certainly because the Tramway ran along here after crossing at Lock 10. Of course it's long gone, even in this picture.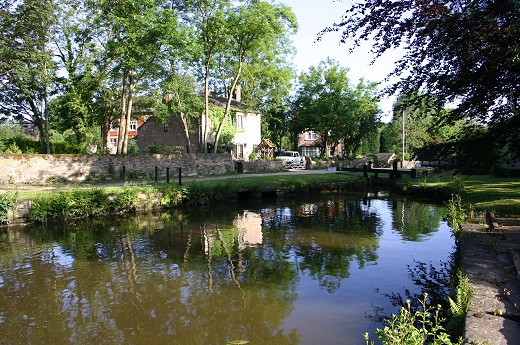 The Lock Keeper's Cottage in modern times
The present-day picture above shows the same scene today, whilst the one below shows the crane post in the foreground that was being used in the old picture of the approach to Bridge No. 17.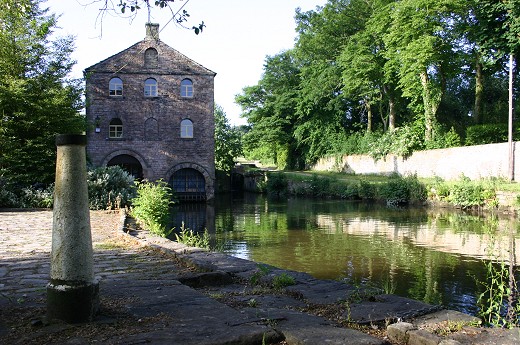 The post for the crane seen in the image of Bridge 17
On the opposite side of Lock 9 pound to the lock-keeper's cottage stands Samuel Oldknow's canal warehouse. Oldknow was a principal player in the construction of the canal and a huge influence on the area. He shaped the Marple of today with his extensive building, which included many of the roads and highways, All Saints' Church, the Lime Kilns and his Mellor Mill, to mention just a few. He also brought a great deal of employment to the area.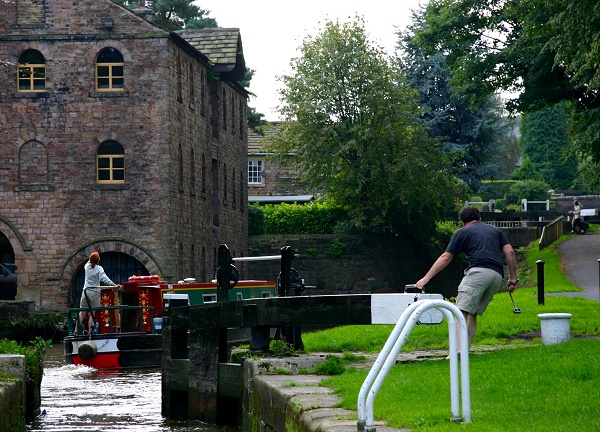 A canal boat exits Lock 9 to pass Oldknow's Warehouse
Access to Oldknow's warehouse was by both road and canal. Much of the raw materials needed in his mill and the goods made there would have been transported via the canal. The road almost certainly took the route of what is now St. Martin's Road (St. Martin's church was constructed much later) and then on down to his mill near Roman Lakes. The warehouse originally had covered loading areas for both wagons and boats. These and many other original features can still be seen today as the warehouse, now known as Lockside Mill, has been tastefully restored by the present owners.