Trixie Gough talking about her memories of Marple in 2004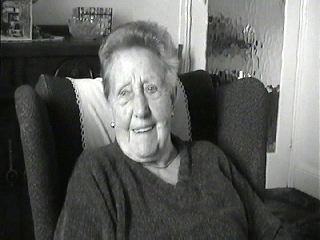 This is a video from Marple Local History Society's archives of Trixie Gough talking about her early memories of Marple. It was recorded in 2004 by Gordon Mills and was converted from VHS tape to digital format by The Marple Website in November 2011. In January 2020 it was uploaded to Youtube and migrated to the new website.
Trixie was born in 1914 and lived next to the Jolly Sailor as a small child. She went to the Albert Schools and later the Catholic School in Marple Bridge. She also seems to have had friends and relatives in many areas of Marple including the Bull's Head Cottages, Stone Row, Flowerdew Mill, Cross Lane Cottages and near the Hare and Hounds on Dooley Lane.
Trixie remembers playing in the ruins of Mellor Mill after sneaking down the private road near Stone Row, walking all the way to Lyme Hall Cage and back and climbing Cobden Edge. She also talks about visiting the Gem Cinema and the Union Rooms before it became a cinema.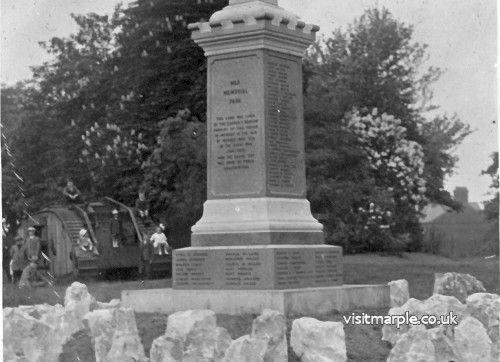 Children on the tank in Memorial Park remembered by Trixie
She tells how her mother knew the Tunstalls, Caretakers at Marple Hall, and how during a visit there they had a spooky experience with a box of matches. She also remembers the WWI tank being driven into Marple and being displayed in Memorial Park for many years.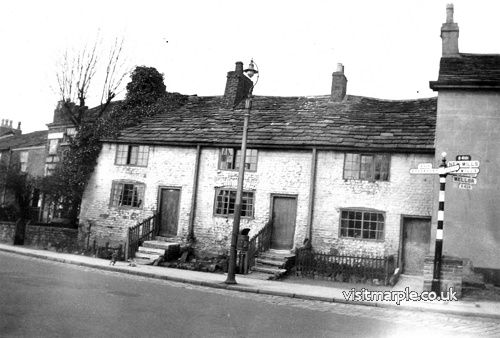 The Jolly Sailor Cottages in around 1934
Trixie's father worked as a bus driver for most of his life but also worked at the "Klondike" during WW2. She recalls starting work as a Weaver at Hollins Mill at the age of 14 and earning 12s a week and remembers the fearsome Over-lookers and how terrified of them she was. She also describes the old mill arm of the canal and how materials were delivered directly into the mill from barges.
Trixie mentions a video to Gordon several times during the conversation, this is Gordon's "Marple's Changing Face" video based on his audio presentation featuring pictures of Marple past and present.
Do you have anything like this to share with the Marple Community?
If you have anything to share about Marple's history and heritage, including photos for the Virtual Tour, or if you would like to make a recording like this for publication on the site please get in touch using the contacts page.