Woodville Hall - Memories of a Wartime Evacuee
87 year old Vera stayed with Mrs Barlow at Woodville Hall in 1939
I never see anything about what Mrs Barlow of Woodville did at the outbreak of the war when my two younger sisters and I and my best friend and her younger sister were evacuated out of Manchester centre with the rest of the pupils of our school. Mrs Barlow took all five of us into her home and we were treated like we were her own. As you can imagine it was a very different life to what we were used to as children of working class parents. It was a beautiful home and we all enjoyed being there.
My sisters and I only stayed until Christmas of that year as our mother was not able to cope with the separation from us. My friend and her sister stayed until Mrs Barlow died a couple of years later. The house, as you probably know, was then turned into a home for the care of the elderly of the parish. It was demolished in 1993 or thereabouts as it didn't meet the requirements of new government regulations and was replaced by the present building.
I am 87 years old now and the only one of the five of us left. I will always remember Mrs Barlow and her daughter for their kindness to five frightened little girls!!
Vera Linihan (written in 2013)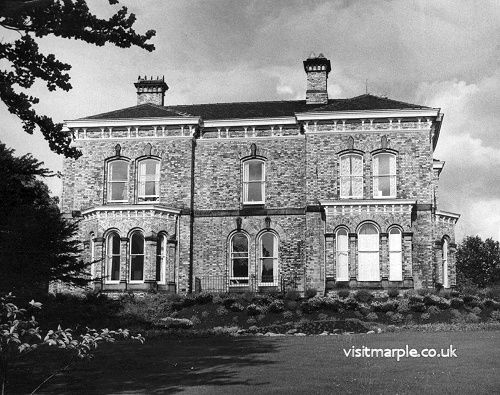 Woodville Hall
More detailed recollections:
The events leading up to the outbreak of The Second World War are well documented, so I won't need to go into that. As a precaution against children being exposed to the danger of air raids the Government decided to move them to safer areas outside the big concentrations of heavy industry. Our homes and school were in the centre of Manchester, so we had to go.
The evacuation was organised by the schools. On the morning of September 1st 1939 we assembled at school and walked with our teachers and parents to the railway station. We said goodbye to our parents and boarded the train for Marple. For children who had never moved more than a mile or two away from their homes, this was a big adventure, although for some it was quite frightening too!
On arrival at Marple Station we walked to All Saints School, where the people who were going to take us into their homes were to collect us. My two younger sisters and I along with my best friend and her younger sister were collected by Miss Groves who was the Housekeeper at Woodville Hall.
Each child was given a brown paper carrier bag that contained a tin of corned beef, a block of Cadbury's milk chocolate and a packet of biscuits before we left the pick up point. We were taken by chauffer driven car, no less, to meet Mrs Barlow. It was the beginning of an experience I have never forgotten.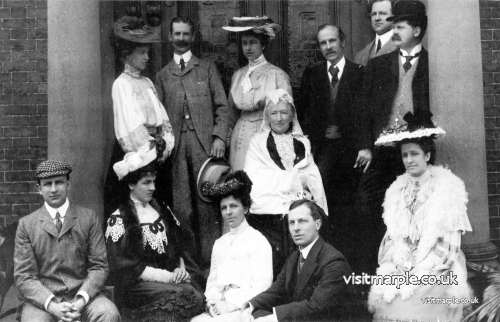 Mrs Mary Barlow (far right) as a much younger lady in 1904. Husband Frank Barlow behind.
Mrs Barlow was waiting to welcome us. She was a sweet lady, of average height, slim with snow-white hair. Her clothes were very Twenties style. We met Jean who was from Carlisle and Violet who was from Glasgow - the House/parlour maids. Mrs Barlow had her own Ladies maid, which was a slightly elevated position in the order of the staff. There was also a cook, a scullery maid and two gardeners.
Mr Cheyney, who was the chauffer, was the son of old Mr Cheyney who had been the coachman in earlier times. When the family decided to have a car he felt he was too old to learn to drive so his son took the job. Mrs Barlow allowed him to still live in The Lodge house and help with jobs around the house and garden.
We were taken to our bedroom and were amazed to see five single beds in this enormous room with a dressing table for each and a couple of wardrobes for our use. We later discovered the room was actually the ballroom! No doubt it would have seen lots of happy gatherings with a family of many daughters!! Later that evening we were joined by one of our teachers who was also going to stay at Woodville...more than likely to keep an eye on us!! She, of course had her own bedroom on the upper floor. On Sunday September 3rd we went to church with Miss Duguid, our teacher. It was there that we heard from the Minister that war had been declared.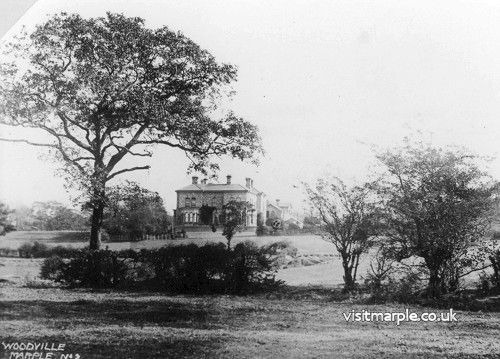 Woodville Hall in its prime, surrounded by empty fields.
During the following week we were taken by car accompanied by Miss Groves to Stockport and fitted out with cosy winter coats and stout brogues for the rough country paths we were going to have to use in the weeks to come. We were going to have to go to school for half days only because we had to share with the local children. We went mornings one week and afternoons the next and the other children did the same. During the hours we would normally have been in school our long-suffering teachers had to take us for walks round the local area. This was where, no doubt, I formed my love for our English countryside. Being the time of year it was, we had our first blackberry picking! What a treat it was when we took them home and Cook made blackberry and apple pie!!
The food we had at Woodville was plain simple food, nothing fancy but more or less what we were used too. Delicious homemade plum jam with fruit from the garden Yummy!! Cook made scones as a treat for our tea and although there was only a scraping of butter - due to rationing of course - there was always a good blob of jam!!
Mrs Barlow always came to say Goodnight each evening when we had milk and biscuits for supper. Sometimes her daughter Frances would come too. She was a very quiet lady. Looking back as I got older I realised she was probably quite shy. We didn't see a lot of her so didn't get to know her that well. Sunday evenings were fun - Mrs Barlow would come to the room that we used as a kind of family room. We spent our time there when we were indoors. We had our meals there with Miss Duguid. It had been the schoolroom where the Barlow children had their lessons with the governesses when they were growing up and was still referred to by that name. There was an upright piano in there and Mrs Barlow would play hymns and we children would sing along!! The family pet, a Shetland collie called Locky, would put his head back and howl mightily!! I was never sure whether he was joining in or trying to drown us out. There was always a lot of laughter and I feel sure Mrs Barlow did it for just that reason...to make sure we children had something to be happy about occasionally. My friend Edith and I were at an age, 13, where girls start to worry about all sorts of things. Sunday Hymns were something to look forward too.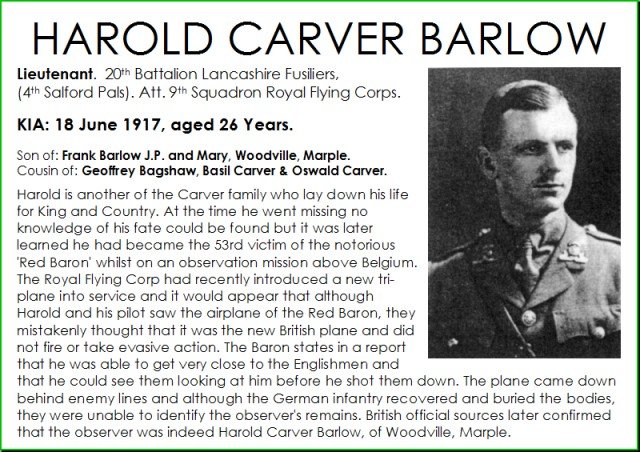 Harold Carver-Barlow
I did some research on the Barlow family a few years ago and was very surprised to discover that there had been eight daughters and only one son. The most heartbreaking thing being that he had been killed in the First World War. I learned about that while I was at Woodville. It was one of the staff who told me that a small oak tree that was growing opposite the front door was the result of an acorn that Harold had planted when he was about nine years old. Six or seven years ago I went to the new Home for the Elderly to have a look round. Nobody seemed to know anything about the Family whose lovely home stood on the land the present building occupies. What I did discover was that the oak tree could still be there... Where Harold planted his acorn!!
Although the war was such a long weary slice of our lives with more than one sad incident to live through, I have got to say that my stay at the Barlow Family home was a time I remember with lots of happy memories.
Vera Linihan (written in 2013)
Thank you to Vera, who sadly passed away in 2021 at the fine age of 94.
If you have anything to share about Marple's history and heritage, or if you would like to submit an article for publication on the site please get in touch using the contacts page.