Frederick Booth: 50 Years of Faithful Service at Brabyns
An unusual artefact comes home to Marple
Every now and then an Internet search comes up trumps for all involved! In October 2022 Fred Duthy in Sweden was clearing out a box of his grandmother's stuff and found a tiny metal cylinder around 2cm diameter and 5cm long. On it was engraved the following inscription:
Frederick Booth
from
Miss Hudson
on completion of 50 years
of faithful service.
Brabyns 1860 – 1910
Fred had no idea what it was or why it was in his grandmother's possession but a search for "Miss Hudson" and "Brabyns" revealed The Marple Website's Virtual History Tour, containing an album of photos from the Brabyns Hall Estate, plus Marple Local History Society's archives and the Brabyns Hall folders. Enlightened by this information Fred emailed society Chairman Hilary Atkinson and President Mark Whittaker with a photo, thinking it likely that neither would reply.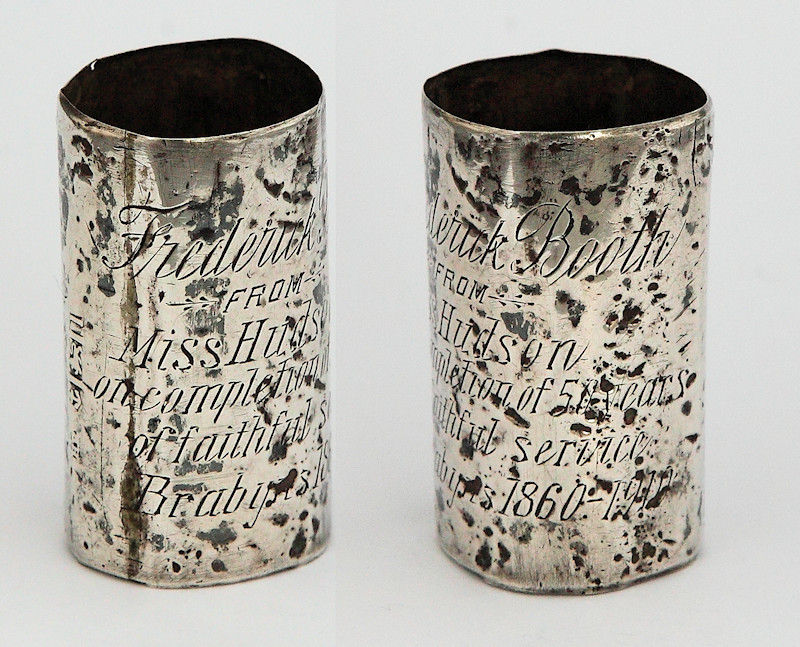 The opposite was true, with both Hilary and Mark replying at the same time and almost instantly. We both expressed excitement at the discovery, and hoped that the artefact might find its way home to Marple and a place in the society's archives. We also wondered how Fred's grandmother came to have the item but he could only advise that she was a Bailey originally, daughter of William Bailey who founded Rockware Glass, and perhaps there was a distant connection somewhere.
Frederick and his family lived at Brabyns Wood Cottage
Hilary did some research and identified that Frederick Booth was recorded as a gardener, aged 33, in the 1871 census. He was living with his wife Hanna (28) and children Sarah (8), Charles (2) and Florence (1) at Brabyns Wood Cottage. This property is in the heart of the park and still exists, although it has been extended substantially since 1871. Frederick would have been around 72 years of age when he received the gift from Miss Hudson.
Fred generously agreed to ship the artefact to Marple and it arrived safely around a week later. Mark took it to a local jeweller for advice about cleaning. They confirmed it was sterling silver and suggested that it probably came from a walking stick or similar type of item, which makes sense.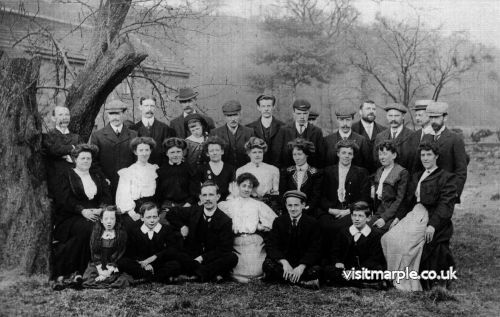 We wonder if Frederick is on the above photo of Brabyns Hall staff c1900. There is probably no way of knowing for sure unless he still has descendants in Marple who may be able to reveal more. If you have a Booth in your family tree do please let us know.
We shared what we'd discovered with the present owner of Brabyns Wood Cottage but their knowledge only goes back as far as the 1950s. However, further research by Hilary Atkinson and Tony Jones since this article was first published has revealed a little more of Frederick's story.
By the time of the 1881 census Frederick (then 44) and Hannah (38) had more than doubled the size of their family living at Brabyns Wood Cottage to seven children. The additions were Maud (8), Emmeline (7), Madeline E (4) and Arthur (2).
Ten years later, in the 1891 census, Wharfman George Goddard (39), wife Rebekah (37) and their five children had moved into Brabyns Wood Cottage. Frederick, Hannah and their three youngest children were living in Brabyns Lodge on Brabyns Brow, pictured below c1900-1910.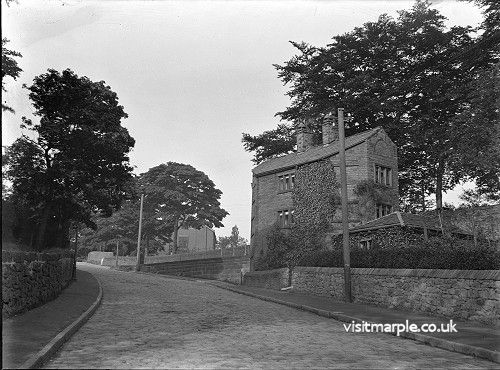 There is no sign of the Booth family in the 1901 census but by 1911 Frederick, aged 73, was a widower living in Brabyns Lodge with daughter Madalina Ethel, her cotton weaver husband John Ardern and their 6 year-old daughter Evelyn. Irish widow Bridget Rowbottom (74) and two daughters Agnes (43) and Nellie (41) were also recorded on the 1911 census as being in Brabyns Lodge at this time. Were they just visiting, or had Frederick found a new partner after loosing wife Hannah?
In 1911 Brabyns Wood Cottage was occupied by John Harper Burgess (28), a motorcar salesman born in Surrey, his wife Gladys (24) and their two young daughters.
Hilary also found a death certificate suggesting that Frederick died in 1921, aged 83. Frederick Booth was a fairly common name, so we can't be certain it's him but if it was then he had a much better innings than Hannah and also daughter Madeline, who passed away in 1926 aged 49.
Mark Whittaker, 3 November 2022.
With grateful thanks to Fred Duthy for sharing this discovery and returning it home, and to Hilary Atkinson and Tony Jones for their help with research. Thanks also to Fred for a generous donation to Friends of Marple Memorial Park.