Marple Rose Queens 1934-35
In October 2020 a gentleman called Dave Watson sent me some photos that featured his mother, Joan Hope, as a young girl and also a couple of newspaper cuttings. The subjects were a 1934 pantomime at the Albert Schools and two Rose Queen events held at the Albert Schools and Rose Hill House in 1934-35. The photos have been added to the Virtual History Tour and when I read the newspaper cuttings I realised that they crossed over the stories of several similar photos already on the Tour. So I decided to scan the newspaper text as I thought it could make an interesting history article. One thing I love about these newspaper reports is that they mention so many names - perhaps your parents, grandparents or even great-grandparents are mention too?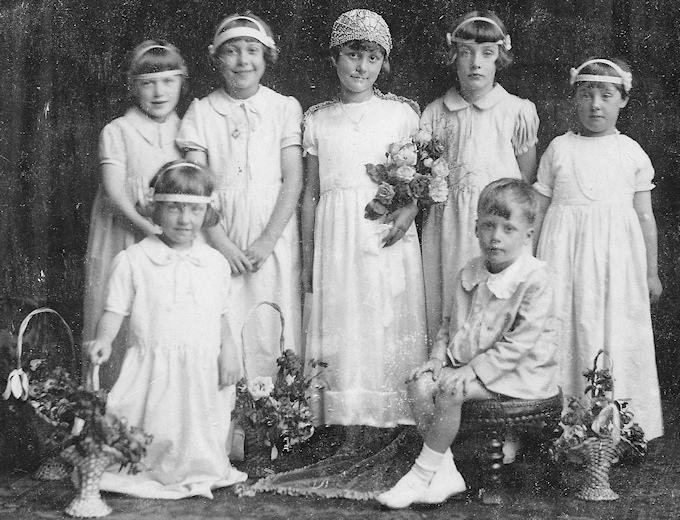 Joan Hope, front left aged 5, with Marple Rose Bud Queen 1928 Miss Margaret Jarvis
Here is what Dave said about his mum Joan when he first got in touch:
My mother was born in 1922 to Nellie Hope, I think they lived in Hollins Lane where Nellie ran a baker's business. My mother told me that she could remember the mill workers in their clogs bringing basins to my grandmother to have pies/puddings baked in them for picking up later. My mother and her mother lived with my great grandparents, Arthur and Ann Hope, I assume this was in Hollins Lane. The last census address I have for Arthur and Ann is Cross Lane in 1911. Joan and Nellie left Marple around 1936 after both Arthur and Ann had died and followed one of Nellies sisters, Edith, to the south coast. My mum always looked back fondly on her beginnings in Marple and regretted they ever had to leave.
The following reports are exactly as written in 1934-35 with extra photos inserted:
1934: Rose Queen Crowned at Marple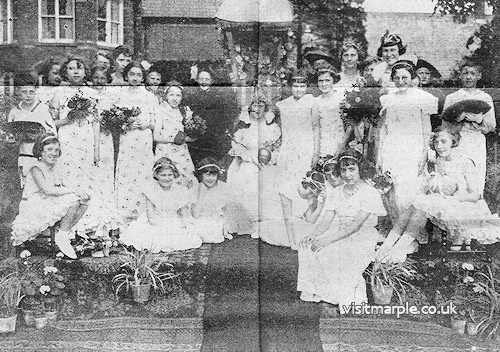 The photo accompanying the 1934 newspaper article
Marple Congregational Sunday School's Rose Queen crowning in the grounds of Rose Hill House, was bathed in sunshine on Saturday afternoon. Miss Elsie Harrison, the popular choice of the Sunday school for the crown during 1934, went through the coronation ceremony with charm and dignity.
Hundreds of sightseers lined the streets of the village for the passage of the regal new queen and showered petals on the equipage and retinue, and subsequently surrounded the lawn at Rose Hill House. Miss Dorothy Vernon completed a successful year of office by the graceful act of crowning her successor.
FLORAL BOWERS.
The queens and royal retainers, riding in flower-bowered motor cars, with heralds on the running boards, passed in triumphant procession through the main streets.
Leaving the Albert School, the procession proceeded up Church-lane and across Empress-avenue, down Church-street to Stockport-road: then up Hollins-lane, down Station-road to the Jolly Sailor.
Returning up Stockport-road, the royal train traversed Market-street and continued down Church-lane to Rose Hill House.
Compstall Prize Band was in the lead, and the marshals were Messrs. A. Cochran, C. J. Mankin, W. Taylor, and E. E. Bryant.
Bugler Sergeant C. A. Ashton of the 1st Marple Company of the Boys' Brigade, standing by the throne beneath the trees, heralded the entrance of each section of the procession.
PATHWAY OF ROSES.
The 1932 queen, Miss Winifred Oldham, first came in view, making her way to the draped dais with well-measured tread and deportment that was much admired. She was becomingly attired in pink-flowered voile, and earned a bouquet of white roses. Heralds W. Wild and R. Phillips, in blue velvet tunics and white-plumed hats, followed.
Dancing lightly across the green. M. Griffiths, wearing pale lemon organdie, scattered from her basket a pathway of rose petals for the feet of the retiring queen.
QUEEN DOROTHY'S DRESS.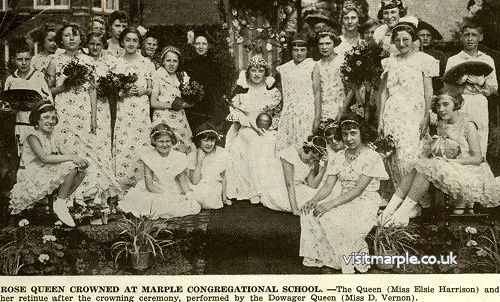 Marple Congregational School Rose Queen (Miss Elsie Harrison) with her retinue after being crowned by Dowager Queen (Miss D. Vernon). From Marple Local History Society Archives.
Queen Dorothy was gowned in cream organdie over satin and had puff sleeves. Her train was of blue velvet, worked in silk, and had a deep collar of ermine fur.
Her train bearers, H. Jackson and M. Wood, were dressed to tone in blue spotted, muslin. Her maids of honour, F. Wild, S. Wilcox, F. Mullin, E. Kirkpatrick, A. Street, and M. Jarvis were in blue flowered voile and carried rose bouquets.
Carrying the orb and sceptre on a blue velvet cushion, the page to the retiring queen, K. Bryant, was in a white satin suit.
THE QUEEN ELECT.
H. Phillips and D. Shallcross were the heralds preceding the next royal party. Red velvet constituted their apparel, and ostrich plumes decorated their head gear.
The flower girl who danced before the new queen and showered petals on the way was Joan Hope. Her dress was of green organdie.
Elsie's coronation gown was of uncrushable satin with a lace collar, and the red velvet train was completed with an ermine collar. She carried a bouquet of red roses.
Red spotted muslin was worn by the train bearers, O. Nickling and D. Mullin, and pink flowered voile was worn by the maids of honour, B. Grimshaw, M. Smith, L. Knott, R. Rowbotham, E. Seal, and E. Lewis. They also carried bouquets of roses. E. Ridgeway, who carried the crown on a black velvet cushion, was in a white satin suit.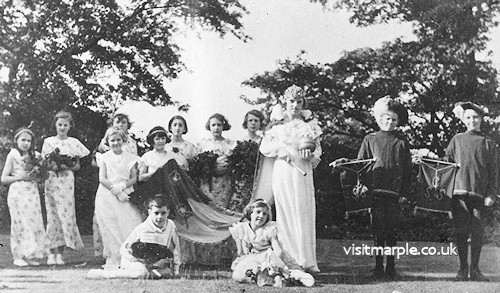 Marple Congregational Sunday School Rose Queen 1934, Elsie Harrison. Dave says he thinks his mum Joan Hope is sitting at the front at the feet of the Rose Queen.
ROSE BUDS.
The Rose Bud section of the procession was not so large but prettily constituted, M. Wild, Rose-Bud for 1933, wore a dress of pink georgette, with a train of mauve velvet, and carried pink roses. Holding her train were J. Hibbert and J. McNichol, in pink voile, and carrying bouquets of pansies and violas. The page, F. Hayward, wore a mauve satin suit.
Rose Bud-elect, B. Andrews, was in white satin with a green train and also carried roses. Her train bearers, D. Priest and J. Wild, were in lemon floral georgette.
B. Ridgeway, in a white satin suit, followed with the crown on a black velvet cushion.
A host of children in fancy costume, as the queen's subjects, surrounded the lawn.
Compstall band provided appropriate music during the proceedings.
"I HAVE SERVED."
Dorothy relinquished the throne with an address of thanks.
"My dear subjects. - I have now come to the end of my year as your Rose Queen, and I wish to thank all, especially the teachers and scholars, for making my reign so happy," she said.
"I have taken happiness wherever I have been, and helped others as much as I could and have enjoyed it very much indeed.
"Although I shall not be your Rose Queen again I shall still do these little duties and prove myself worthy of being your Rose Queen. I hope Elsie will have as happy a time as I have had."
Before Dorothy's withdrawal from the throne, her successor presented to her a necklace from the teachers and scholars, as a souvenir by which to remember her year of office.
Dorothy then crowned her successor.
A KISS.
When the new Rose Bud received the crown from the retiring Rose Bud one of the prettiest gestures of the afternoon was in the kiss they exchanged.
QUEEN'S ADDRESS.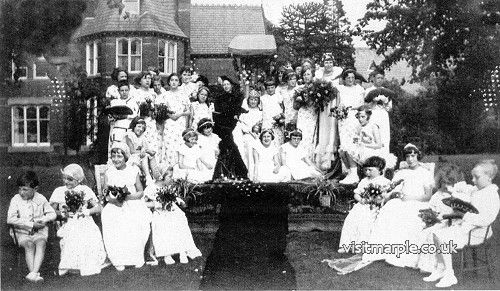 Marple Congregational Sunday School Rose Queen around 1934 in the grounds of Rose Hill House. From Marple Local History Society Archives.
Queen Elsie's first duty was to address her court, which she did in fitting terms as follows:-
"My dear subjects, I thank you all for the honour you have vested upon me by electing me as your Rose Queen for the ensuing year.
"I appreciate very greatly the honour conferred upon me and value so much more the opportunity that it affords me to do my best in the service of the Sunday school and Endeavour.
"I should also like to thank Mr. Johnson for lending his field, and all who have helped us in any way.
"Again, thank you. and on with, the dance."
Then followed a clever display of folk dancing by the maids of honour on the green before the throne; and Sheila Wilcox gave a graceful exposition of classic dancing.
After the dismissal of the court the children were conveyed to the Albert Schools for tea; and in the evening sports were organised on the Recreation Ground.
The sports winners, who received their prizes from the Queen were as follows:-
Primary Flat. Race. - 1, Marjory Wild(?); 2, Joyce Elly; 3, Jean Wild and Gor(?) Newton.
Fifth Girls' Flat Race. - 1, Sybil Walsh(?); 2, Myra Wood.
Fourth Boys' Fiat Race. - 1, Cyril Priest; 2, Walter Seal.
Fourth Girls' Thread Needle Race. - 1, Molly Griffiths; 2, Hilda Jackson.
Third Girls' Potato Race. - 1, Freda Wild; 2, Sheila Wilcox.
Third Boys' Potato Race. - 1, Jack Andrew; 2, Douglas Shallcross.
Second Girls' Flat Race. - 1, Beatrice Grimshaw; 2, Dorothy Vernon.
Second Boys' Novelty Race. - 1, (?) Wild; 2, Hugh Phillips. .-
Young: Ladies Throwing the Ball. - 1, Miss Mary Forde; 2, Mrs. Brennand.
Young Men's Hop, Skip and Jump. - 1, E. Wilkinson; 2. H. Wilkinson.
At the close the Rev. George. Phillips thanked the public for their support and all helpers.
The committee responsible for organising the crowning ceremony was: Miss Vernon, Miss K. Hodgson, Miss Nightingale, Miss H. Cochrane and Miss Hodgson (Sunday School secretary).
Marple Rose Queen 1935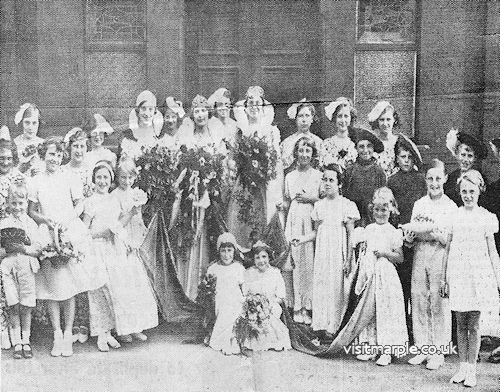 Rene Rowbottom was crowned Marple Rose Queen 1935 at the Albert Schools
Miss Rene Rowbotham was crowned Rose Queen for 1935 at the Albert School, Marple, on Saturday 6th July.
Once again the gala was favoured with brilliant sunshine and the procession of children was cheered by the residents who lined the route along Market-street, Stockport-road, Church-street, Empress Avenue, Church-lane, Stockport-road and Market-street again to the school.
Two rose queens, Miss Dorothy Vernon (1933), Miss Elsie Harrison (1934) and the queen-elect, together with their retinues of heralds and ladies-in-waiting were conveyed gaily bedecked in cars.
Fancy costumed children and school teachers completed the procession, which was led by the Compstall Band.
A STATELY WALK.
The crowning took place on the platform in the large room upstairs and country dances were performed in the small space left in the midst of a large audience. It was to the credit of the stage management that everything went off so well in such a confined space.
The room was nicely decorated, with pendant baskets of flowers, and rose sprays over the portraits of past queens.
To waltz strains, played by the band, the children entered into stately procession, gracefully led by Miss Dorothy Vernon. She was dressed in cream organdie over satin, with an ermine collar and a blue train. Her bouquet was of cream roses.
The heralds, D. Shallcross and H. Phillips, in tunics of red velvet, followed and then Joan Hope in pink organdie, dancing to the platform, scattered a rose petal pathway for the feet of the retiring queen.
Queen Elsie appeared in white un-crushable satin and lace, collared with ermine, and she carried red roses. M. Moores and D. Mullin. wearing ivory-coloured crepe dresses and lace caps, carried her red velvet train.
Her maids-of-honour who were in flowered crepe, dresses and lace caps and carried posies of red roses, were: E. Seal, M. Griffiths, M. Smith, L. Knott, S. Wilcox and F. Mullin.
The orb and sceptre were carried on a blue velvet cushion by the page boy. E. Ridgeway, who was in a white satin suit with gold edging.
THE NEW QUEEN
The heralds of the court of the new queen were J. Andrew and C. Priest, uniformed in blue velvet, E. Linton, flower girl to Rene, danced before her and added rose petals to the pathway. She wore blue flowered organdie.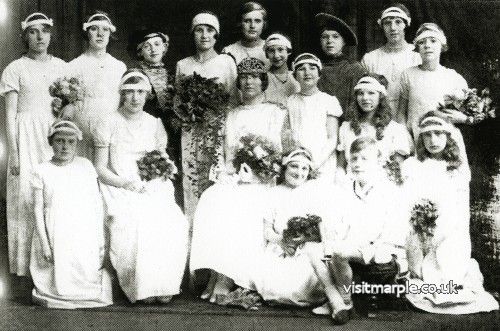 An earlier Marple Rose Queen and her retinue - c1928 - Miss Irene Beard, Rose Queen of the Marple Congregational Church with the Rose-bud Queen (M. Jarvis) and the Dowager Queen (May Ford). From Marple Local History Society Archives.
OVATION FOE THE QUEEN.
Rene received a great ovation and looked queenly with a befitting modest grace. Her gown was oyster crepe suede satin and lace and had a blue velvet train and white ermine collar. Pink roses formed her bouquet.
W. Wild and J. Elly were train bearers and wore ivory crepe seersucher dresses and lace caps.
The maids of honour in flowered crepe were B. Swindells. H. Jackson. M. Jarvis, B. Fallows. M. Linton and F. Wild. They also had posies of cream roses.
The crown was carried on a white satin cushion by E. Yeardley, dressed in a white satin suit.
The lace caps worn by all the girls in attendance upon the queens were a new feature of the costumes and added to their effectiveness.
THE ROSEBUDS.
The Rosebuds procession, on a smaller scale, was as charming as that of the older girls. Dorothy Priest, chosen by the primary scholars, was the Rosebud in succession to Betty Andrew.
Betty, leading the way to the platform, was dressed in white satin and had a green velvet train and carried a bouquet of roses. Her maids of honour, J. Hibbert and J. Stafford, were in lemon-flowered frocks and had posies to match.
Dorothy had a white satin frock and a mauve velvet train, and carried roses. She was attended by M. Hibbert and J. Wild in pink-flowered frocks and carrying posies to tone.
R. Elly, wearing a. mauve satin suite, carried the crown on a blue velvet cushion.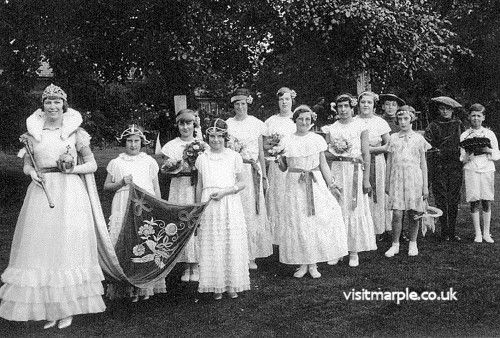 An even earlier Marple Congregational Rose Queen in the grounds of Rose Hill House in the 1920s. From Marple Local History Society Archives.
SEALED WITH KISSES.
The retiring Queen and Rosebud crowned their respective successors, sealing the ceremony with kisses and wished for their happiness in office.
Before ascending to the throne the new queen presented to the retiring queen a necklet of crystal and gold, a gift from the scholars and teachers of the school.
Queen Elsie, addressing her "dear subjects," said that she had come to the end of her reign and it was a pleasing opportunity for her to express her thanks for the kindness she had received during her year of office. In years to come she would have very happy memories of the time she spent as their Rose Queen. She wished for Rene the same happiness.
After receiving the gift from Rene, Elsie said again that this would remind her of her happy reign.
OPPORTUNITIES OF SERVICE.
After taking the throne Queen Rene spoke of her delight in being chosen to reign as the Rose Queen. She looked forward to a happy reign, during which she would do her best for the Sunday school. "Thank you for the honour you have conferred upon me." she concluded.
The minister of the church, the Rev. George Phillips, M.A, B.D., also expressed the hope that the new queen would have a year that would leave happy memories for her after life and that she would have opportunities of serving the church as never before. He congratulated the workers upon a highly creditable performance.
Elsie later divided her bouquet amongst her attendants.
Country dances performed during the crowning ceremony were: By the maids of honour, "Lasses of Portsmouth," "Shrewsbury Lasses," "Hunsden House," and "Newcastle"; by the trainbearers and flower girls, "The Pleasures of the Town" and "Touchstone."
Prizes for costumes in the procession were awarded on the adjudication of Mr. Phillips to the following: Ladies: 1, Miss M. Hoole (cruising girl); 2. Doreen Heyward (gipsy). Gents.: 1, R. Phillips and H. Wilde. (Darby and Joan); 2, K. Bryant (harlequin).
Miss L. Hodson was the secretary for the gala, Miss K, Hodson was the pianist for the rehearsals and accompanied the dancing. Other members of the committee were Mrs. Vernon and Miss H. Cochrane. The primary school teachers, who prepared the younger children for the Rosebud crowning were: Misses M. Forde, A. Simpson, N. Griffiths, and C. Nightingale. Mrs. Cochrane and Mrs. Faulkner, with a staff of helpers, made the tea arrangements. The decoration of the schoolroom was in the hands of the young ladies' class.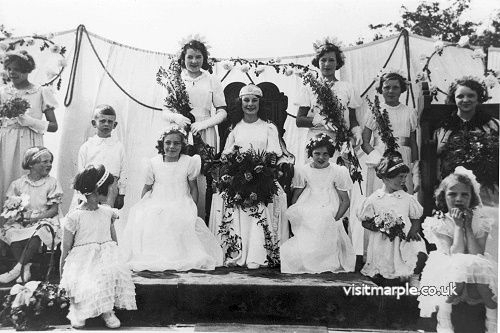 The crowning of Thelma Jowett as Mellor Rose Queen in 1937