Friday 20th December 1968 - Hayfield to Marple
Our first expedition since mid-term, owing to a period of ill health for the leader, was a fairly simple route: Hayfield - Nab Brow - William Clough - Mill Hill - Harry Hut - Chunal Moor - near Chunal lay-by - across FP (footpath) to Plainsteads - Cown Nick - Robin Hoods Picking Rods - Gun Road - Cloughend - Smithy Lane - Hollywood End - Greenhill - Longhurst Lane - Marple.
The group assembled at Marple Station to board the 9.30am train for Hayfield. The party comprised:
| | | | |
| --- | --- | --- | --- |
| Paul Andrew | Phil Towell | Jonathan Thorpe | Leaders: |
| Hilary Andrew | Phil Stafford | Kathleen Winter | F R Mason |
| Eric O'Neil | Gillian Wright | Chris Gorman | D Weedall |
| Mary Boothroyd | Gary Townley | David Stafford | Mr Burkeshaw |
| Dave Atherton | Andrew Norman | Andrew Howie | (junior leader) |
On arrival at Hayfield we were joined by our Headmaster, Mr J K Davies, and his daughter Caroline.
From Hayfield the footpath was followed to Kinder Reservoir and Nab Brow. The sky was overcast and occasional rain fell, driven by a stiff wind. As we ascended William Clough on the very slippery path we were partially screened from the strong wind.
Near the head of the Clough the leader diverted to the left for a stiff and slippery scramble to the summit. Here it was very cold and windy, so we did not linger longer than was necessary to gather the group together. Then, in mist, we set course for the few hundred yards to Mill Hill, and then on compass course headed for Harry Hut across rough snow-covered moorland.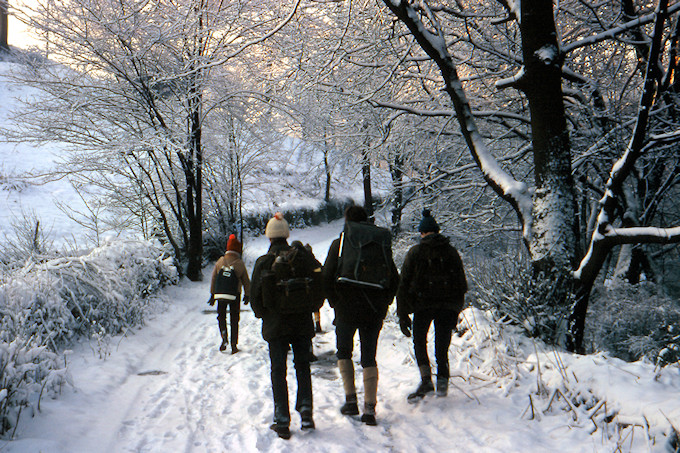 WW1969-005 an image from 1969
Mr Davies and Caroline, who were wearing shoes, must have found this stretch most uncomfortable. Mr Davies showed a remarkable burst of energy when his dog gave chase to a mountain hare.
On the lower ground beyond Harry Hut we rested in a hollow to eat our sandwiches. Here there were occasional bursts of strong wind resulting in frantic chasing of polythene lunch bags. It was too chilly to stop for long, and we soon continued on our way towards Chunal access point, but diverted to the right so's to cross the road directly to the Plainstead FP (footpath). This was a short but pleasant stretch of steep field path leading plainly to Plainsteads.
At Plainsteads Mr Davies and Caroline left us to make their own ways to Hayfield where Mr Davies had left his car. The rest of us pressed on steadily over Cown Edge towards Gun Road - parts of this were very muddy. On the pleasant field paths from Gun Road to Mellor the several Lockerby SP (signposts) were inspected; Mary Boothroyd left us at Smithy Lane, and Hilary and Paul at Hollywood End. On this stretch we did have a little bother keeping the party together.
We arrived at Mellor in good time and then split up to go our various ways - mostly to Marple under the guidance of Mr Weedall. A successful, but not a very exciting, day.