About Frank Mason (FRMetS)

Frank Reginald Mason was born in Brixton, London, on the 25th January 1913, the youngest of five children, with one brother and three sisters. At that time his father was the joint owner of a small engineering business which went bankrupt in the early 1920s.
Frank's secondary education was at Poplar Technical College until at the age of 15 when he left home to become a 'boy apprentice' at Halton RAF College near Aylesbury. It was soon after he left home that his mother died after a protracted illness. At age 18, while still at Halton, Frank enlisted with the RAF for 12 years and from an aircraft apprentice he became a qualified fitter with aero-engines and then an air observer/fitter, with parallel promotions in rank to Corporal by 1937.
One of his loves during this period was motorbikes and it was through a serious 'bike accident in February 1932, which led to a prolonged stay in hospital, that he met his other love, a young trainee nurse called Louisa Watts. As Frank moved to several RAF bases in the south Midlands between 1933 and 1937, the motorbike (now with sidecar) became an essential means of keeping in touch, and mileage was high (nearly 15,000 miles on BSA reg CXD 232 (the 'beeza') between Feb 1936 and Feb 1937).
In March 1937 he was posted abroad, to the North West Frontier of India (now the Pakistan/Afghan border), where he joined 60 Squadron and was the observer/navigator in open two-seater bi-planes (Westland Wapitis) trying, in those days of the British Empire, to keep some control over the 'restless natives'.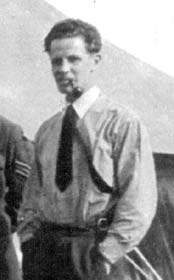 In June 1939 he was posted to 39 Squadron and transferred to Bristol Blenheims, much faster and more powerful planes. With little training the squadron set off on the five-day staged flight from India to Singapore - in the monsoon season! Several planes crashed en route, including Franks. After almost a year of much swimming and sailing near Singapore, the war started in earnest and 39 squadron was moved to Aden in May 1940, where bombing raids started on a fairly regular basis over the Italian colony of Abyssinia (now Ethiopia). In September 1940 Frank transferred from 39 squadron to XI squadron with his pilot, Peter Stevens, who was promoted to CO of XI squadron while Frank became the squadrons Lead Navigator. After a couple of months in Egypt (Operation Compass) in January 1941 the squadron was moved to Greece to help repel the Italians, but were later forced toevacuate when the Germans invaded Greece in April 1941. From here the squadron moved to the Middle East for the Syrian Campaign, including a short spell in Iraq, and then returned to North Africa for operation 'Crusader' at the end of 1941.
In March 1942 XI squadron moved to Ceylon (Sri Lanka) where they used a race-course near Colombo as their aerodrome. At the beginning of April there was a huge bombing attack by the Japanese on Colombo port. Frank navigated searches for the Japanese fleet in the Indian Ocean.
In July 1942 he was transferred back to the UK, a journey that took two months by ship round the south of Africa. A week after arriving back in the UK he and Louisa were married.
During his period abroad Frank was awarded the DFM (Distinguished Flying Medal) and was also appointed a 'commissioned' Pilot Officer on his return to the UK and, two years later, a Flight Lieutenant.
He remained in the RAF for a further ten years, moving to various stations around the UK. During this time he undertook a specialist navigation course which enabled him to teach navigation, and also became a Fellow of the Royal Meteorological Society. Both aspects can be seen in the way some of the Willows Walks are recorded. As well as formal teaching he was involved in organising and running 'survival' courses for airman which would take place over several days. He did very little flying.
During the 1940s Frank and Louisa had two children and innumerable moves of rented accommodation, and all possessions (including the family) could be packed into the 1935 Ford 8. They also accumulated friends all over the UK.
In August 1952 Frank left the RAF and came to live near his sister in Marple. There were a few very difficult years when money was scarce and work in civilian life hard to find; Louisa went back to nursing, as a night sister at the Children's Orthopaedic Hospital, Dale Road, Marple. They bought an old farmhouse in Mellor (Damsteads) which had no gas or electricity, cooking was on an open fire, and chickens had been kept on the top floor. They borrowed £1,500 to pay for it, and set about making it habitable.
One of the jobs Frank applied for was as a warden for the newly formed Peak District National Park, but he was eventually accepted on a teacher training course at Bolton Training College for Teachers of Technical Subjects, from where he was awarded a Teacher's Certificate in July 1957. He had finally found his 'niche' in civilian life.
He started teaching science at Marple Secondary Modern School (the Willows) in September 1957; the first walk of the Willows Rambling Club took place three months later and the following Whitsun the first YHA school holiday took place. The monthly 'rambles' and annual YHA holidays continued 1974. Each year parents were invited to a fund-raising evening showing slides or a film of that year's holiday. In the earlier years of teaching Damsteads became a regular Sunday meeting place for many pupils.
Meanwhile Frank pursued his interest in the countryside and the environment through the Ramblers Association, the National Association of Voluntary Wardens and the Peak and Northern Footpaths Society. Frequently, in later years, the school walks would be combined with footpath inspection or foot-bridge building, and his reports of school walks often include comments relating to his voluntary warden duties. He was also one of the instigators of the Cown Edge Way, running 19 miles from Hazel Grove, via Marple and Mellor to Gee Cross.
Each September Frank would attend an XI squadron reunion, but other than this he rarely spoke of his war-time experiences to the family. However, it did have an after affect: Frank refused to fly again after leaving the RAF feeling that, having survived some 100 operational bombing raids or photos reconnaissance over enemy territory and two plane clashes, and having lost so many friends during the war, to fly again was tempting fate.
Frank was diagnosed with prostate cancer in the early 1970s and retired from teaching in July 1977. In spite of spells of ill health he continued to go walking on Kinder whenever possible, often with his good friend Ron Booth. Frank died on 23rd February 1983, aged just 70, and Louisa died on 12th January 2005.