Saturday 25th April 1959 - Bleaklow Moor to the Snake Inn
For this walk it was decided to break entirely new ground and a route was planned by Tony Mason to start from Woodhead, over Bleaklow Moor to the Snake Inn, and then alternatively to Edale or to Hayfield. Mr Leather (Station Master at Marple railway station) made arrangements for the Manchester-Lincoln train, on which three compartments were reserved, to make a special stop at Woodhead. The following 34 children - many of them really young men and girls - assembled at Marple Station at 8.15 with Mr and Mrs Mason.
| | | |
| --- | --- | --- |
| Tony Mason | Phillip Shaw | P Wright |
| Ann Mason (Astley) | Maureen Pridham | Barbara Atkin |
| Brenda Birtwistle | Robin Lambert | Kenneth Mercer |
| Janet Birtwistle | Dennis Bower | Keith Mercer |
| Ann Birtwistle | Tony North | Margaret Cranmer |
| John Gregory | Bill Lang | John Harrison |
| Alwyn Kay | Wendy Sharples | Lesley Doyle |
| Elizabeth Leather | Frank Kirk | Bob Harwood |
| Elizabeth Schofield (Ashley) | Shirley Bower | Chris Cooke |
| Gerald Boardman | Christine Crabtree | Kevin Robinson |
| Barrie Philips | Steven Chapman | Irene Chatwood |
The group was joined at Romiley by Miss R Wood, and at Guide Bridge by Miss McQuillan.
The girl Irene Chatwood does not belong to the school - she left at the end of 1958 summer term - and joined the group without asking permission. On being told that she was unsuitably dressed for the walk, her manner was very rude as she suggested that she knew more about walking than did her advisers, and that she had walked 36 miles in a day at Easter. Events during the day threw considerable doubt on Irene's claim to be an expert.
As usual, British Railways were friendly and helpful whenever we contacted them - must make this known, they are so often criticised.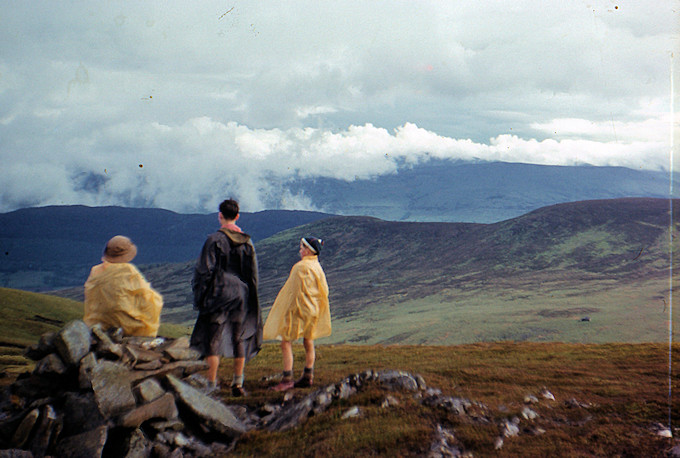 WW1959-003 ? Bleaklow
Although the weather had been fine for several days, on this Saturday morning the sky was dark and threatening and, as the train left Guide Bridge, rain started falling. It was raining hard when Woodhead was reached and continued more or less all day.
From Woodhead the River Etherow was followed for about ½ mile, and then Far Black Clough was scrambled along to its source in the peat bogs near Bleaklow Stones. Here the party was collected into a close group as thick cloud descended upon us.
For the next few miles a compass course was made due south - it was interesting to observe how the main group tended to veer off course (in one case, over 90º) if not frequently connected. This leg was mainly easy going, apart from a few very deep water courses and several areas of deep bog and marshy swamp. After several miles the headwaters of the Alport were reached and, as the clouds were low on the mountain, it was decided to drop down the valley instead of pushing on over the tops to the Snake Inn.
Mr and Mrs Mason stayed back to wait for four stragglers; Irene Chatwood, Elizabeth Leather, Lesley Doyle, Ann Birtwistle. Not unexpectedly, Irene had experienced trouble with her extremely light shoes. When the inconvenience that their slowness was causing to the rest of the party was pointed out to them, Irene rudely replied "Oh, drop dead". Without map or compass, or ability to use them, they would have been in a sorry plight had Mr Mason obeyed this request.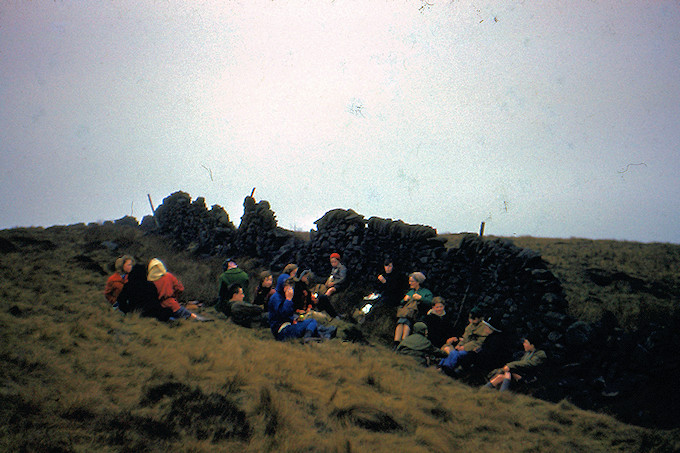 WW1959-004 Caption required
It appeared that Irene had been complaining and moaning incessantly and undermining the loyalty and determination of the other two younger girls. The four of them were then urged on, but very soon lagged far behind again until, eventually, Mr and Mrs Mason separated the two young ones, who are of good spirit, from Elizabeth and Irene. The two youngsters then went on well, while Mrs Mason kept an eye on the other two. Irene, with her stupid little shoes, was frequently in trouble in the slippery mud.
The main party were well ahead of these stragglers, but in the care of Miss Wood and Miss McQuillan, and with capable navigators, such as Frank Kirk and John Gregory.
Owing to the continuous rain and low cloud, it was not possible to appreciate fully the beauty of this lovely Alport valley, but enough could be seen for all the group to decide that another visit must be made in nicer weather. The day's walk had become mainly a test of spirit and endurance.
On making the floor of the valley it was necessary to cross the river. This was done successfully, with many laughs and wet feet, by all except Irene Chatwood who, with her unsuitable footwear, fell flat in the stream and then, in a childish sulky manner, refused a helping hand to get her ashore. Mrs Mason dealt efficiently and effectively with the silly child.
Shortly after the river crossing a halt was made in the shelter of some farm buildings, for lunch. Rain continued to fall heavily and all members of the group were very wet. Miss Wood suggested that a bus be hired from Marple, by telephone, to collect the party on the Snake Road. Mr Mason, apparently hard-hearted, was not in favour of this scheme, feeling that to give up in the face of adversity would be bad for morale - the bus was not hired and anti-climax avoided.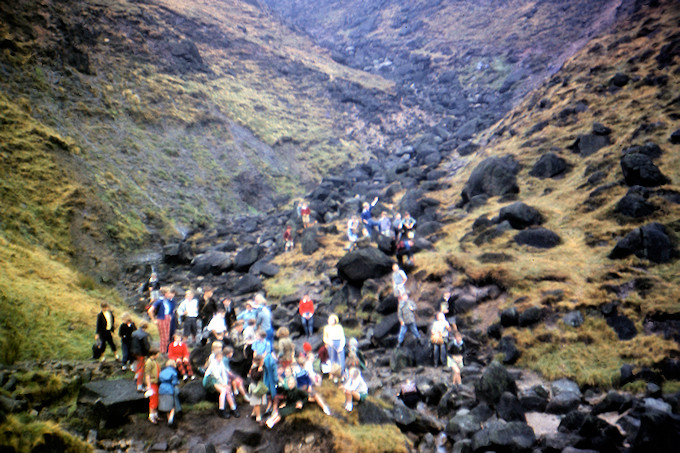 WW1959-005 Caption required
The friendly farmer rather shook most of the party by informing them that Hayfield was still ten miles distance - we had struggled only about seven miles through bog, fog and teaming rain, and the worst seemed yet to come. In fact the next three miles, along farm track and main road, was easy and quickly covered. A halt was made at the junction of Ashop Clough footpath with the main road, for a short council of war. It was decided that, as Glossop would provide better facilities for Miss Wood and Miss McQuillan to travel home, they should shepherd the more tired and wet youngsters to Glossop to catch a bus for Marple, while the tough and stalwart should struggle over Ashop Clough and William Clough to Hayfield, 6¾ miles away.
How the Glossop party fared is not yet known by the recorder, although information has been given that Irene Chatwood and Elizabeth Leather accepted a lift - we now know how Irene "walked" her 36 miles. It is also understood that Keith Mercer accepted a lift while his more determined brother battled with a vicious storm at the summit of Ashop - the real Snake Pass.
It must be taught that youngsters must not forsake the party without informing Mr Mason, or one of the leaders - the trouble that might be caused by omitting to do this is obvious.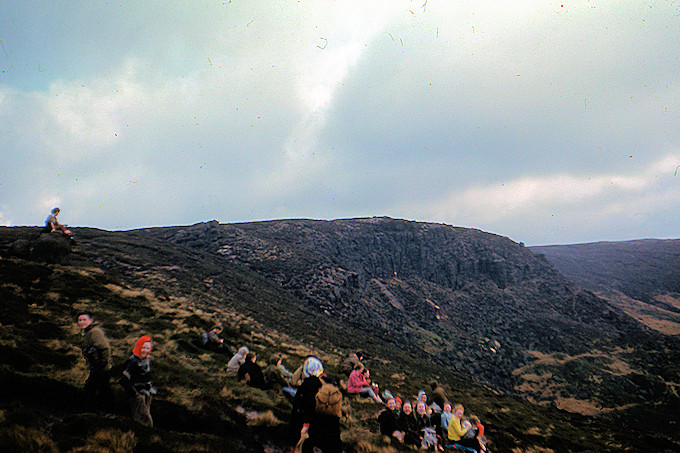 WW1960-002 Caption required
The Hayfield party, optimistically hoping that the weather would improve, forged ahead up Ashop Clough into ever worsening conditions of gale force winds, driving icy rain and masses of slippery brown treacherous mud - but in good spirits. All should be awarded at least a Mention in Despatches (Kevin Robinson, Shirley Bower, Barbara Atkin, Tony Mason, Ann Mason, Liz Schofield, Alwyn Kay, Bill Lang, John Gregory, Frank Kirk, Wendy Sharples, Gerald Boardman, Robin Lambert, Steven Chapman, Chris Crabtree, Maureen Predham and, of course, Mrs Mason)
Once over the top, a quick descent was made down William Clough to the reservoir and so to Hayfield. Tony Mason injured an ankle at the summit of Ashop Clough and, although he tried hard, was unable to maintain speed and covered the last two miles at an easy pace, accompanied by Mr Mason. All reached Hayfield safely in time to catch the 6.13 train for Marple.
On arrival at Marple we met a group of scouts who had been exploring on Kinder - their day had not been 100% successful; maybe because their prize navigator (Frank Kirk) was with the school group. Irene Chatwood and Elizabeth Leather were present on the platform, smartly dressed and ready for an evening out, full of smiles and apparently proud, rather then ashamed at having dodged the column.
Despite the discomfort endured, all those who completed the full distance were happy with that satisfied feeling of having accomplished something against the stiffest opposition that the elements could put up in April. Altogether a day to be remembered.
Note: Barrie Philips, Phillip Shaw and Russell Bolger - left the party on the Snake Road.