Marple Poppy Appeal has raised over £120,000 since 2017
The Marple Poppy Appeal Team has achieved remarkable success over the last six years since being reinvigorated by retired businessman Kevin Murray in 2017. Thanks to Kevin's new ideas and the generosity of the Marple Community they have raised more than £120,000 for the Royal British Legion in the intervening period. Plans are now taking shape to boost that sum with the 2023 Appeal!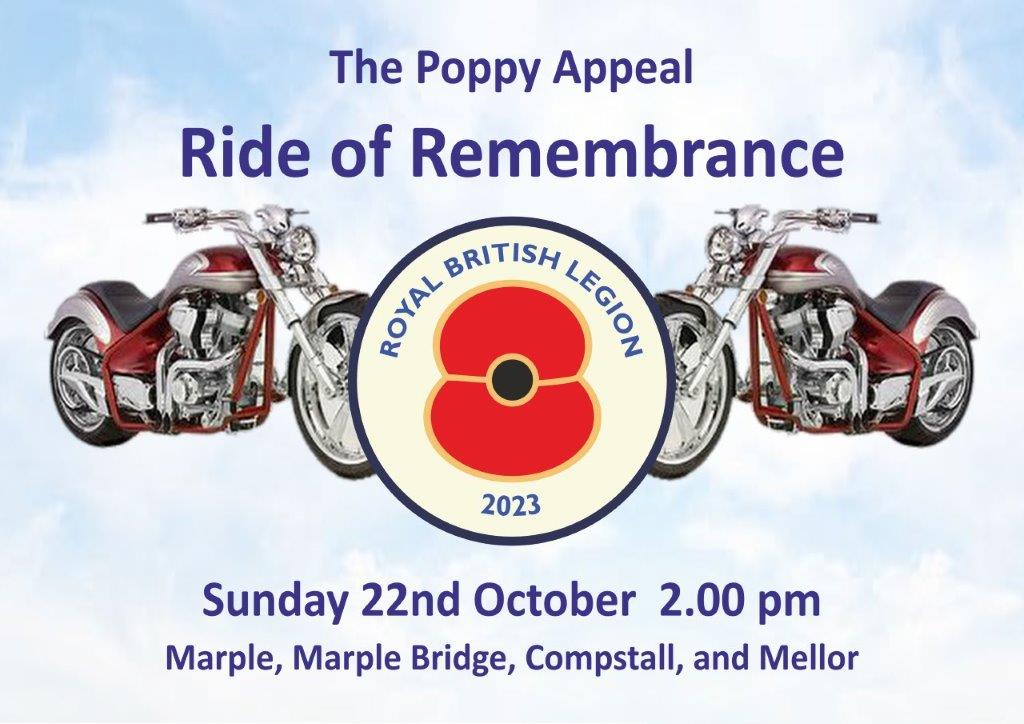 In 2020, despite the restrictions imposed by the global Covid19 pandemic, the Marple Poppy Appeal Team found new ways to succeed without selling poppies by creating "Walls of Remembrance" in Marple Memorial Park, Compstall, Mellor and Mill Brow. This has quickly become a new Marple tradition, as has the Ride of Remembrance first introduced in 2021 and now a fixture in the Community Calendar!
Ride of Remembrance 2023
We are pleased to announce that we will be doing the Ride of Remembrance again this year involving 100 motorbikes riding through the town. Each rider will carry one of the large street poppies with the name of one of the fallen men from the Marple area. The ride will be on Sunday 22nd October starting at 2pm and the route will be from St Paul's Church in Compstall, into Marple Bridge, up Station Road to Stockport Road, turning left up to Hibbert Lane, then right up Hibbert Lane to Hawk Green, Left past The Crown, left at Ridge Road, down Church Lane to Hibbert Lane roundabout, turning right to Stockport Road and then up to Marple Memorial Park, where the poppies carried by the riders will be transferred onto the Wall of Remembrance.
Great news about the Ride of Remembrance
This year a short film has been made by Seven Creative Movies that will be shown at the Regent Cinema prior to the main film for the run-up to Remembrance Sunday. The Marple Poppy Appeal Ride of Remembrance 2023: Credits: Executive Producer: Kevin Murray; Cameras: Jason Lock, Phil Peden; Drone: Jacob Murray; Director, Edit & Colour Grade: Phil Peden; Special thanks: Max Smeed, Dave Myers, Dave Howard, Carl Laidlaw, Fediv Holowko; Made with support from: Stockport Town of Culture.
Who Was I?
This year will also see our "Who was I?" campaign continue from our collections stalls in Asda and the Town Centre. This involves the public finding out about the local men who gave the ultimate sacrifice. There are a series of cards available to help you find out more information.
Personalised framed prints
Marple area Poppy Appeal are producing a special personalised framed print for local businesses to show their support for the Poppy Appeal. We ask for a donation of £50, which will include social media promotion in October for the Ride of Remembrance, followed by a further promotion in October / November for the main poppy appeal. These will also be promoted on The Marple Website and as an additional 'thank you' you will also receive a complimentary 2023 enamel poppy pin.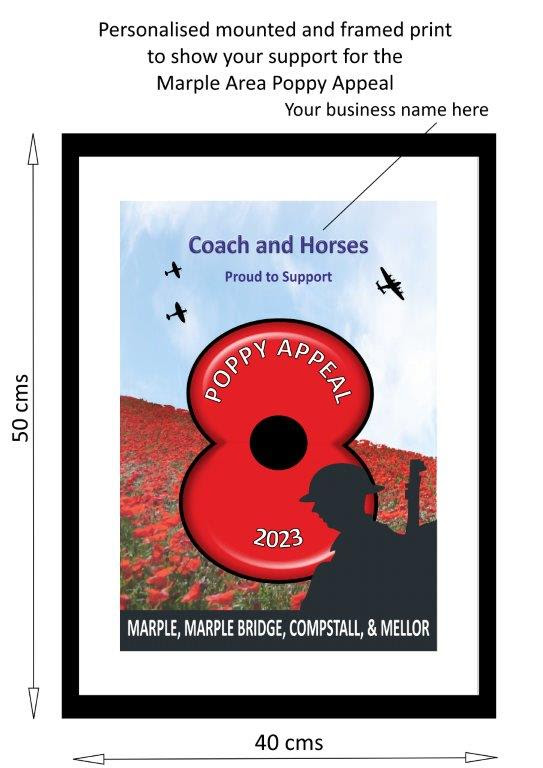 If you would like to place an order, or would like more information, please respond using the contact details at the bottom of the page.
Sponsors needed
We are looking for local businesses to sponsor the Wall of Remembrance by making a small donation to the appeal. Sponsors will be promoted on local social media sites as well as the Marple Website and The Marple Review, and will receive a quantity of the A3 poster to display in your premises. To become a sponsor or find out more please get in touch with Appeal Organisers using the contact details at the bottom of the page.
Window Posters and Enamel Pins
The A3 window posters were very popular last year and so we are re-doing them for this year's appeal, so you can show your support by having one displayed in your window. The posters will be available from our gazebo on the Hollins on Saturday 28th October. They will also be available on our stand in Asda from 30th October and various shops throughout the area.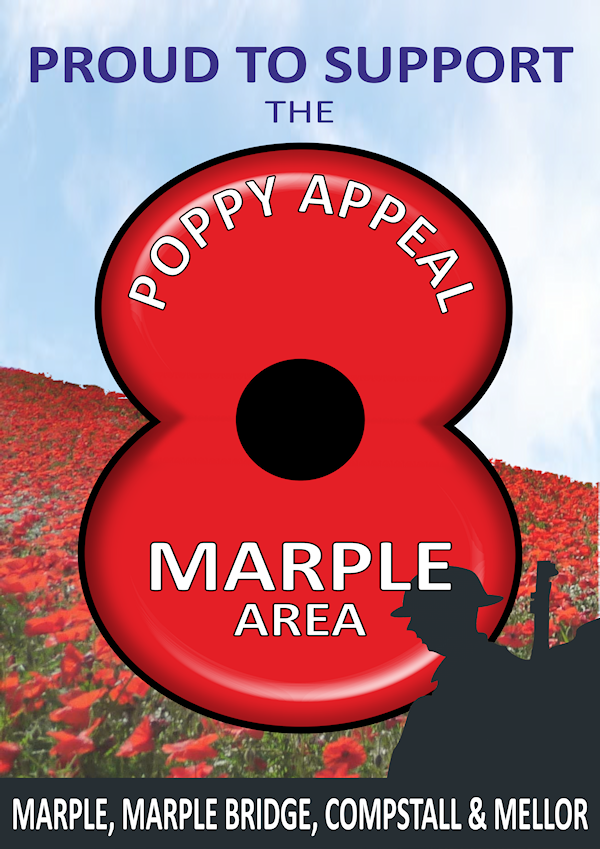 Apart from the traditional paper poppies, we will also have a selection of enamel pins including sport favourites like Golf and Rugby as well as the Manchester Bee pin. These are in very short supply so please visit our Gazebo or stand if you would like one.
The people of Marple have always been fantastic supporters of the Poppy Appeal and we sincerely hope we can depend on your continued support yet again even in these difficult times.
Thank you
Poppy Appeal Organising Team
Marple, Marple Bridge, Compstall and Mellor
Contact the Team by email This email address is being protected from spambots. You need JavaScript enabled to view it. or telephone Kevin on 07954 388782.