Update December 2019: a total of £19,068.21 now reached!
The Marple Poppy Appeal has once again been a great success, raising over £19,000 to date. The Team have said that they cannot thank the people of Marple and the surrounding areas enough for their continued support and generosity, especially in these somewhat difficult and uncertain times.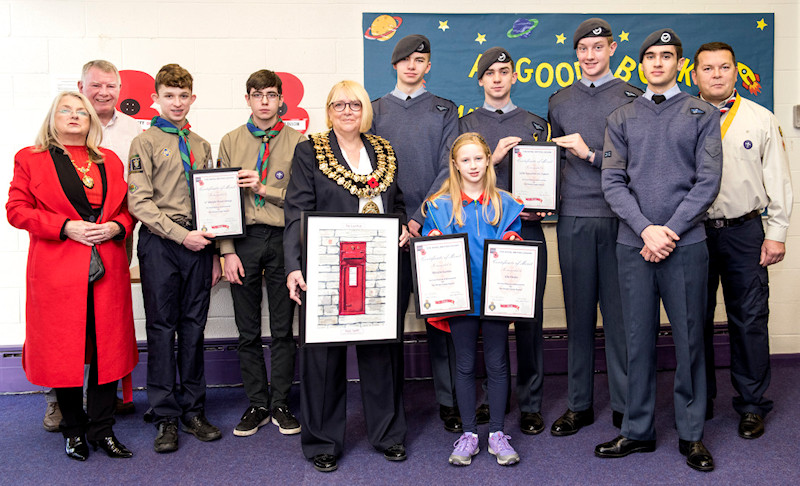 In a small award ceremony on Saturday 12 December the Team presented Certificates of Merit as a small token of thanks to the Scouts, Guides and Air Cadets who do such a great job collecting for during the campaign. It's nice to show our appreciation to these young people as they are a credit to our community. The awards were presented by the Mayor of Stockport.
10 years since the loss of Corporal Danny Winter RM
This year marked the 10th anniversary of the loss of Royal Marine Corporal Danny Winter, who fell in Afghanistan in 2009. Danny was a very popular local lad and we honoured him by making a short film which was shown at the Regent Cinema in Marple and can be watched below:
Street Poppies inspire local businesses
We also honoured all the local fallen men from the beginning of WW1 to the present day by putting up 264 street poppies throughout Marple, Marple Bridge, Compstall and Mellor. Each poppy carrying the name, month and year of when they fell. The street poppies were sponsored by many local businesses and we are truly grateful for their support.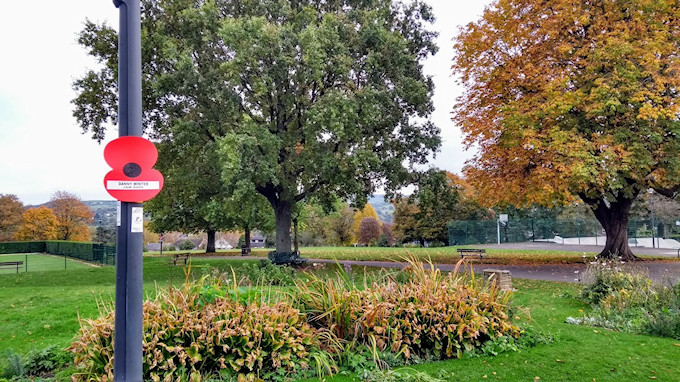 Street Poppy Sponsors: ACM Financial Services, Aggies Bar, Andrew Arms, Arden Group Ltd, Asda, Bridgfords Estate Agents, Carver Theatre, Costa Coffee, Devonshire Arms, Display Print (Romiley), Dolce Vita, Dutsons Cafe, Egan Reid (Bredbury), Fishermans Table, Foragin, Friends of Marple Memorial Park, Hannah Charlotte Bespoke, Hare & Hounds Millbrow, Hatters Arms, HB Printing, Headology Hypnotherapy, High Lane Garage, Hollins of Marple, Ikea (Ashton), Independent Fitters, Magnificent Chocolate Co, Malcolm Shaw and Son, Marple Area Committee, Marple Bridge, Association, Marple Chiropractic Centre, Marple Fire Service, Marple Health, Marple Physio, Marple Review Newspaper, Marple Social & Forces Club, Marple Sports Club, Marple Tavern, Marple Website, Mrs Finch Cleaning Services, Navigation Inn, Norfolk Arms, Peruga, Regent Cinema, Ring o' Bells, Safety at Height, Service Telecoms, Seven Creative Movies, SK Local Magazine, Spring Gardens, Stationery Supplies, SVC Electrical, The Bulls Head, The Crown, The Garden House, The Oddfellows, The Railway, The Royal Oak, The Samuel Oldknow, TUI Travel, Vernon Building Society, Windsor Castle.
Although many towns put up street poppies for Remembrance, we believe that Marple was the first and is possibly still the only town to include names of the fallen on them.
Many local shops and businesses also did some very moving window display tributes and it brought a great sense of involvement throughout the community. Our thanks go to all concerned.
Limited Edition Print "The Last Post"
This year we produced a very special limited edition signed and numbered print by renowned local artist Kate Millward, entitled 'The Last Post'. Kate explains her inspiration in the video below:
The post box featured is in Mellor close to St Thomas's Church and the last post collection time refers to 11.00am, the eleventh hour, the eleventh day of the eleventh month as a poignant reminder to Remembrance Day. The text additions around the post box are predominantly extracts from letters from local men who never made it home during WW1 with one from the King. The box is effectively guarded by 2 silent soldiers.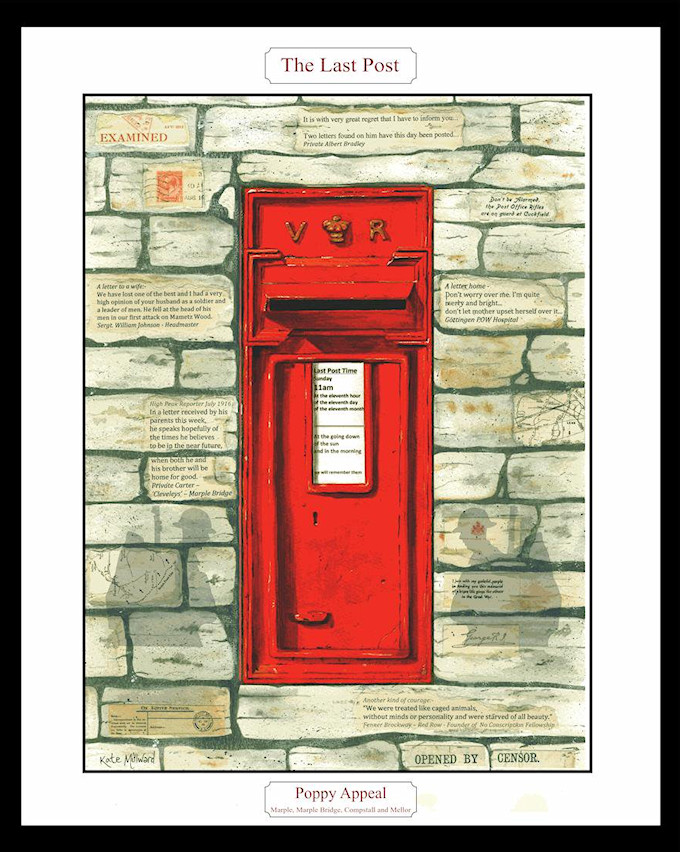 The prints are mounted and framed and we still have a small number available at a cost of only £50.
If you would like to reserve a copy please contact us via email This email address is being protected from spambots. You need JavaScript enabled to view it. or tel 07954 388782.
Thank you to all our volunteers
Finally, a big thank you to all the wonderful volunteers who have given up their time to help this appeal be the success it has turned out to be. We couldn't do it without you.
Poppy Appeal Organising Team
Marple, Marple Bridge, Compstall and Mellor