Marple Poppy Appeal 2020 raises £12,079.75 for RBL!
Final update from the Marple Poppy Appeal Team:
Our thanks go to all local businesses and the general public who have donated so generously to this years Poppy Appeal. The total figure collected throughout the area was £12,079.75 and considering the difficult times we are in with lockdown etc. that figure is truly amazing.
We didn't have any paper poppies and we were not allowed to get the collecting pots in shops, pubs, etc, but you all really responded to our poster campaign and it's something we may well do again next year. The poppy walls of remembrance in Marple Memorial Park, Compstall Green and Mellor Gardens were also very popular and we will definately repeat those next year.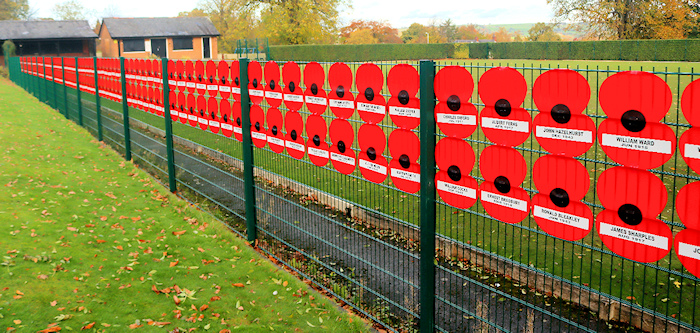 Our thanks also go to the volunteers who helped man the stand in Asda, we wouldn't achieve anywhere near the amounts we did without your help and it's a great shame we were forced to close the stand down due to the increased lockdown measures which came into force, meaning we lost the Thursday, Friday and Saturday of the last week, which are historically our busiest days, but safety always comes first.
Finally, and with many thanks, we would like to list, in no specific order, the local businesses that have supported us throughout this campaign and we ask you to please support them, especially through these difficult times.
The Poppy Appeal Organising Team (Marple, Marple Bridge, Compstall and Mellor)
Sponsor List 2020
Stationery Supplies, Marple Health, Dress Ability, Compstall Post Office, Marple Bridge Stores, Harmony Decor, The Railway, Panicos, Byles, Safety at Height, SVC, Hollins of Marple, Hatters Arms, Malcolm Shaw, Service Telecom, Independent Fitters, Patricia Lawrence, ACM Financial Services, High Lane Garage, Archers, Ring O' Bells, The Marple Website, Ardek, Hound Dog, Sew In, Marple Social and Forces Club, Bridgfords, Marple Tavern, Mrs Finch Cleaning, M Reynolds Podiatry, Love Yourself, The Pet Stop, Little Treasures, Marple Bridge Association, Aggies Bar, Marple Conservative Club, Sherratt and Co, Stockport Gin, William Wragg MP, Arbour Court, Marple Business Forum, The Review Paper, Brian Sharples and Son, Marple U3A, Asda, All Saints Church, Holy Spirit Church, Marple Methodist Church, St Pauls Church (Strines) and Marple Ridge Methodist Church.
We sincerely hope we have not missed any body out.
Poppy Appeal plea to local business owners
Unfortunately, due to the Covid19 situation, this year will be very different for the Marple Poppy Appeal, as there will be no poppies to sell! However, inspired by the NHS Rainbows that have been on display throughout Marple, the Poppy Appeal Team has designed a very special A3 size poster for people to display in their windows to show their support.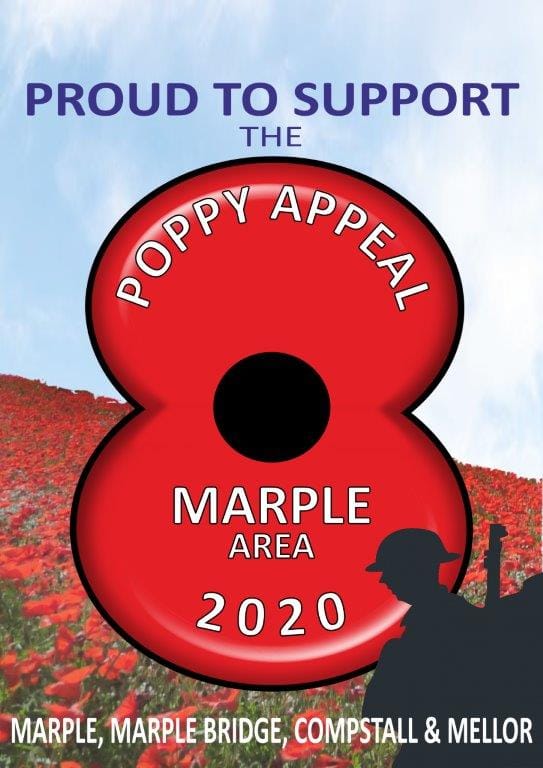 The Team realise this year has been tough for everybody but we would like to ask you to consider making a small donation to help us raise the funds to cover the cost of these posters.
Please contact Kevin Murray 07954 388782 or email This email address is being protected from spambots. You need JavaScript enabled to view it. if you would like to donate or get more information about this year's appeal.
Wall of Remembrance in Memorial Park
The Marple Street Poppies have been a huge success in recent years and for 2020 the team has decided to create a Wall of Remembrance, displaying all the Street Poppies together. The main display will be in Marple Memorial Park, on the Bowling Green fence not far from the war memorial and the timeline display on the railings of Hollins House.
There will also be Walls of Remembrance at Compstall and Mellor.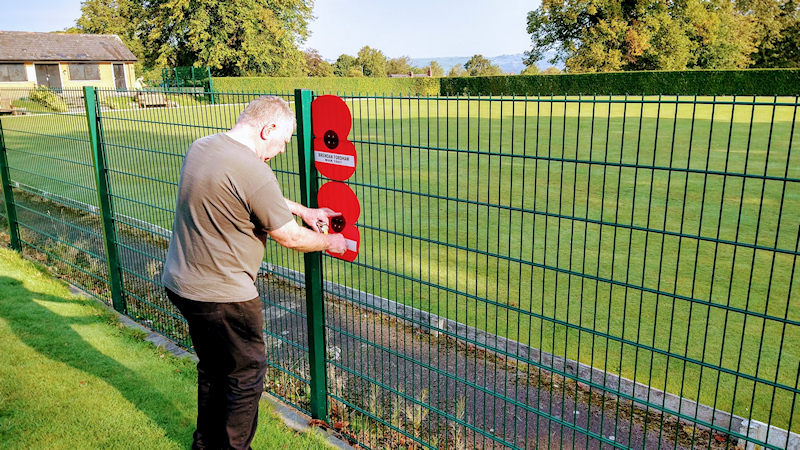 Kevin measuring up for the Wall of Remembrance in Memorial Park
If you would like to sponsor a Street Poppy in one of these local displays please contact Kevin on 07954 388782 or email This email address is being protected from spambots. You need JavaScript enabled to view it.
Remembrance Service
It is certain that Remembrance Services throughout the country will not be able to go ahead in the traditional way this year. As yet there are no plans confirmed for any of the normal local services but as soon as arrangements are known they will be shared here.
Poppy Wreaths
Wreaths can still be ordered from the Poppy Appeal Team via This email address is being protected from spambots. You need JavaScript enabled to view it.
Thank you to all our volunteers
Finally, a big thank you to all the wonderful volunteers who have given up their time to help this appeal be the success it has turned out to be. We couldn't do it without you.
Poppy Appeal Organising Team
Marple, Marple Bridge, Compstall and Mellor