2022 Marple Poppy Appeal raises £23,523 for RBL!
Final update from the Marple Poppy Appeal Team
The Marple Poppy Appeal Team are once again overwhelmed with the generosity of the local people and businesses that have supported this year's Poppy Appeal. We have managed to collect £23,523.65, which is an outstanding amount, especially in these difficult economic times.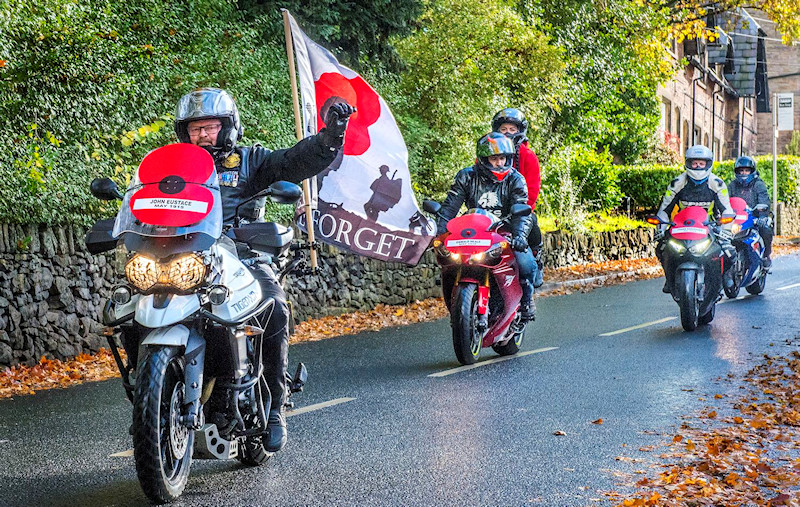 £118,406 raised since 2017 is a remarkable achievement!
Modestly, Kevin doesn't mention this year's success means the grand total raised by the reinvigorated Marple Team since 2017 has now reached an amazing £118,406 for the RBL Poppy Appeal!
Ride of Remembrance 2022
Originally planned as a one-off event for the 100th anniversary of the Poppy Appeal in 2021, the Marple Ride of Remembrance was such a huge success that we simply had to do it again. Each rider carried one of the large street poppies with the name of one of the fallen men from the Marple area. The ride took place on Sunday 23rd October starting at 2pm and the route was from St Paul's Church in Compstall, into Marple Bridge, up Station Road to Stockport Road, turning left up to Hibbert Lane, then right up Hibbert Lane to Hawk Green, Left past The Crown, left at Ridge Road, down Church Lane to Hibbert Lane roundabout, turning right to Stockport Road and then up to Marple Memorial Park, where the poppies carried by the riders were transferred onto the Wall of Remembrance.
Who Was I? Marple Pals guided walks
This year also saw expansion of our "Who was I?" campaign, which involves the public finding out about the local men who gave the ultimate sacrifice. There is a series of cards available to help you find out more information but this year we also introduced special "Marple Pals" guided walks, aided by the very knowledgeable Andy Cook. These were very interesting and informative.
Sponsors List 2022
ACM Financial, Aggies Bar, All Paws, Andrew Arms, Archways Podiatry, Arden Group Ltd, Asda, B Dixon & Son, Belboosha, Coffee Bean Dream, Compstall Community Council, Compstall Post Office, David Myers Tree Care, Display Print, Edward Mellor, Farmer Johns, Friends of Marple Memorial Park, GHS Barbers, Green and Clean Garden Maintenance, Harmony Decor, Hatters Arms, HB Printing, High Lane Garage, Hollins of Marple, Julies Sandwich Bar, K Thornton Garden Maintenance, MAB Tennis Coaching, Marple Bridge Association, Marple Bridge Stores, Marple Con Social and Community Club, Marple Health, Marple Landscapes, Marple Pet Stop, Marple Social and Forces Club, Marple Website, Michelle Reynolds Podiatry, Mr Chips, Nikki Davies Estate Agent, Norfolk Arms, Nurture Nursery, Royal Oak, S&T Wealth Management, Safety at Height, Service Telecom, Shelby Landscapes, Sherlocks (Gents), Sherlocks (Ladies), Spring Gardens, Stationery Supplies, SVC Lighting & Electrical, The Crown, The Devonshire Arms, The Hound, The Navigation, The Northumberland Arms, The Railway, The Review Newspaper Group, The Ring O'Bells, The Royal Scot, Windsor Castle.
We'd like to thank everybody who donated and all the volunteers who helped over Remembrance time.
We sincerely thank you for your support.
Best wishes from the Poppy Appeal Team.
Marple, Marple Bridge, Compstall and Mellor