2021 Marple Poppy Appeal raises £26,368 for RBL!
Final update from the Marple Poppy Appeal Team:
As we all know, last year's poppy appeal was hindered with the dreaded Covid situation but thankfully this year's appeal was pretty much back on track and the response we received from everybody was phenomenal.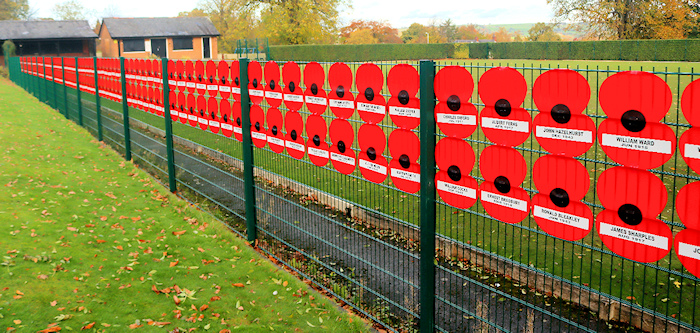 We never chase financial targets or try to beat previous year's figures, as we know we depend totally on the generosity of the local people and the hard work of all the brilliant volunteers, but this year has surpassed anything we have ever achieved with a staggering total of £26,368.54 donated. This is a mix between general public donations, wreath donations and sponsorship from local businesses.
We cannot thank people enough for responding in this way.
We started the appeal with the 'Ride of Remembrance' which was 100 motorbikes riding through the town to commemorate the 100th anniversary of the Poppy Appeal and the response from the general public was fabulous and the comments we have received back have all been very favourable. We'd like to thank all the bikers that took part and made it a day to remember. Each one carried a large street poppy with the name of one of the fallen men and at the end of the ride it was transferred onto the 'Wall of Remembrance' in Marple Memorial Park. (Similar displays were already set up in Compstall and Mellor). The event ran smoothly thanks to the well organised marshals both in the park and on the roads ensuring there were no lengthy hold ups for other traffic whilst the cavalcade of bikes passed through.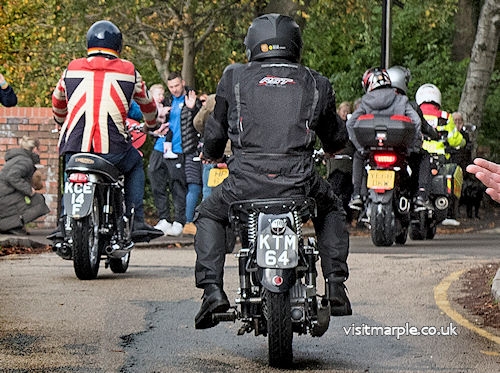 Local business and community support is amazing!
The support we get from local businesses with sponsorship is a massive boost for us and it highlights how proud people are to support this campaign and it's nice to see local shops decorating their shop windows as a sign of respect for those who gave their lives for our freedom. Similarly the A3 posters we produce for people to put in their windows have also been popular and it's always nice to walk around the area and see them on show.
Sponsor List 2021
244 Compstall, Abstract Roofing, ACM Financial, Aggies Bar, Ardek Electrics, Arden Group, Asda, Avon (Cheryl Pearson), AW Building Solutions, Bridgfords, Cheshire Paint Station, Display Print Romiley, Farmer Johns, Friends of Marple Memorial Park, GHS Barbers, Hatters Arms, Hawk Green Band, HB Printing, Hollins of Marple, Little Treasures, Littlewoods Butchers, Malcolm Shaw and Son, Marple Conservative Club, Marple Firefighters, Marple Health, Marple Pet Stop, Marple Website, Michelle Reynolds Podiatry, Myers Tree Care, Ring O'Bells, S&T Wealth Management, Safety at Height, Scissorhands, Service Telecom, Sherlocks, Sherlocks Gentlemen, SK Local Magazine, Social and Forces Club, Stationery Supplies, SVC Lighting, The Crown, The Devonshire, The Garden House, The Hare and Hounds, The Last Post, The Marple Review, The Pet Stop, The Railway, The Royal Oak, The Works, Tinies, Toymaster, Westfield Coaching.
A huge thank you to our volunteers!
A very special thanks must go to all our volunteers, some of who were volunteering for the first time, but they all thoroughly enjoyed it and are looking forward to helping out next year.
The people of the Marple area (Marple, Marple Bridge, Compstall and Mellor) are truly amazing and to achieve such a figure in these still troubled times is absolutely brilliant and every penny we raise helps continue the vital welfare and benevolent work that the Royal British Legion do for ex-service men and women who, through no fault of their own, struggle to cope in today's environment due to physical or mental ailments.
Our thanks go to each and everyone of you.
Poppy Appeal Organising Team
Marple, Marple Bridge, Compstall and Mellor
Ride of Remembrance commemorates 100 years of Poppy Appeal
Marple Poppy Appeal Team were determined that this year's Poppy Appeal will be back to some form of normality, especially as this year is the 100th anniversary of the Poppy Appeal. To commemorate this milestone they launched the appeal with a special Ride of Remembrance involving 100 motorbikes riding through the town on Sunday 24 October.
Each rider carried one of the large street poppies with the name of one of the fallen men from the Marple area.The lead rider carried Danny Winter's poppy, the young man from Marple who tragically lost his life serving his country in Afghanistan.
The ride took place on Sunday 24th October, starting at 2pm with the bikes travelling from St Paul's Church in Compstall, into Marple Bridge, up Station Road to Stockport Road, turning left up to Hibbert Lane, then right up Hibbert Lane to Hawk Green, left past The Crown, left at Ridge Road, down Church Lane to Hibbert Lane roundabout, turning right to Stockport Road and then up to Marple Memorial Park, where the poppies carried by the riders were transferred onto the Wall of Remembrance. All riders were presented with a special enamel pin badge as a small token of thanks for taking part in what was a memorable event that even made the BBC regional news.
Well done to Kevin Murray and his Marple Poppy Appeal Team for organising this wonderful event, such a great way to launch this year's Poppy Appeal in its Centenary year! Arthur M Procter was there with his camera to create a record for anyone who wants to look back on it and his photos are now uploaded to The Marple Website's Virtual History Tour.