Iron Bridge to Ironbridge Sponsored Walk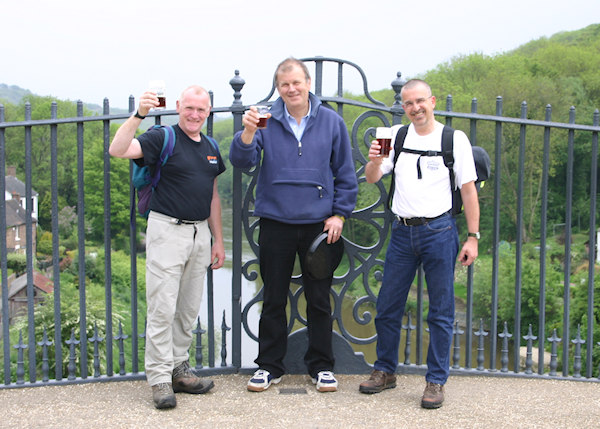 On Thursday 13th May 2004 we successfully complete our sponsored walk from the Iron Bridge in Brabyns Park to the famous Iron Bridge in Shropshire. The purpose of the walk was to raise money towards match-funding needed for the second phase of the restoration of Marple's own Iron Bridge.
Day -1 - 7 May 2004:
The big day's nearly here and we're all set and ready to go. We'll be leaving the Iron Bridge in Brabyns Park at approximately 10.00 am tomorrow morning and we're hoping that lots of people will come along to see us off.
Everything is set up so that we can update this web page on-the-move so we should be able to give visitors a daily report with photographs. We'll also do our best to ensure that we thoroughly test all the pubs on route - as an additional public service of course!
Our target for the first day is to reach Bosley Locks, which is approximately 17 miles. We'll be joining the Peak Forest Canal tow path from Brabyns Park and then taking the Macclesfield Canal from Top Lock to Bosley, passing through High Lane, Higher Poynton, Bollington and Macclesfield.
Day 1 - 8 May 2004: Iron Bridge to Bosley
Considering the weather, which started out very wet, there were a surprising number of people at the bridge to see us off, so thank you to everyone who came along. A press photographer was there too, so hopefully we'll make the papers again this week.
| | | |
| --- | --- | --- |
| Ready for the off | First Heron | Footsore? |
The first few miles were uneventful and, as we were on very familiar territory, not all that interesting. However, we did both nearly fall in the cut on slippery stones going under bridges, which wouldn't have been very funny! We saw our first heron in close-up, which was quite exciting, and we soon found that they were a common sight on a quiet canal bank. We'd seen at least eight in close-up by the end of the day.
| | |
| --- | --- |
| Clarence Mill | Working boat from Marple |
After stopping for butties at Bollington our journey continued without incident until Macclesfield. At bridge 40 we found our way blocked and had to divert off the canal to find an alternative route. We called in the Beehive at Macc, purely to ask for directions of course but it would have been rude not to have a pint! We were back on the tow path at bridge 43, having added an unwelcome mile or so to our journey.
| | |
| --- | --- |
| Way blocked at Bridge 40 | The reason why! |
By now we were getting a little foot-sore and were relieved to meet up with John for a brew and a few minutes rest. The remainder of the journey became a countdown of bridges and mile-stones as we headed for our target of the day, Bridge 55 at Bosley Locks.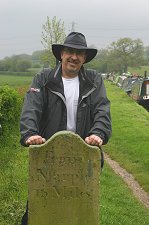 When posing at the 16 miles to Marple stone we were amazed to run into a boatload of people from Marple who had read about the walk in the paper were excited that they recognised us. They didn't offer to sponsor us though!
After a shower in the excellent British Waterways facilities at Bosley we headed back in the motorhome to the Fools Nook at Oakgrove (Bridge 49), which we had passed a couple of hours earlier. We ate and had a couple of very good pints of Boddingtons before heading off to the Harrington Arms, where we'd arranged to stay overnight in their car park. Unfortunately for John, who obviously hadn't had a decent drink yet, the beer here was pretty lousy and as it had been a very long day we retired to the motorhome early.
According to the pedometer we completed 19.5 miles today, a couple more than we had anticipated due to the diversion at Macclesfield, and we were both pretty foot-sore. New territory tomorrow and we'll learn how good our powers of recovery are!
Day 2 - 9 May 2004: Bosley to Hassell Green
We rejoined the tow path at lock 5, where we finished yesterday. The weather was ideal for walking, dull but dry, although not so good for taking photographs. The aches and pains from yesterday had faded and would hopefully stay that way.
| | |
| --- | --- |
| Bosley Lock 10 | Lock 11 |
The canal and tow path were very quiet for a Sunday and we saw hardly any people or boats for several hours. There was plenty of wildlife on the move though, especially lots of very cute baby ducks. The only trouble is there often seems to be be a stray one lost and calling for its mother.
| | |
| --- | --- |
| Ahh! | Ahh! again (the Bluebells) |
The bluebells are also out in force in the woodlands and canal banks but it seems hard to capture them as well with a camera as they look in real life. You can see a hint of one very thickly carpeted bank in the background of the picture above.
| | | |
| --- | --- | --- |
| Distant viaduct | Ramsdell Hall | 25 Miles from Top Lock |
This stretch of the Macclesfield canal is very straight and monotonous for much of the way as it cuts through woodland but at around 25 miles from Marple's Top Lock we came on some spectacular scenery at Ramsdell Hall, near Mop Cow.
| | |
| --- | --- |
| Hall Green Lock | Bridge 95 |
At Hall Green there's a lock that only drops the water level by one foot, which in some ways hardly seems worth it, however, its a very long way back to the last lock at Bosley and it's still holding back a lot of water. Shortly after Bridge 95 we reached the end of the Macclesfield Canal and joined the Trent and Mersey. This has a completely different character to the Macc, not least because the water is an unusually rich muddy brown colour. We understand this is due to Iron Oxide in the water.
| | |
| --- | --- |
| Trent & Mersey Canal | Red Bull |
In order to celebrate walking the full length of the Macclesfield Canal we were forced stop for a pint at the Red Bull at Kidsgrove. We had to settle for Robbies Best as they have no Mild on round here - strange people!
The village of Rode Heath is very pleasant with lots of attractive gardens backing onto the canal. One in particular is very lucky to have a family of swans at the bottom of their garden and we watched them being hand fed.
| | |
| --- | --- |
| Lawton Treble Locks | Cygnets |
At the end of day 2, when we stopped at Hassell Green, our mileage totalled 33.5 miles. This was a little less than we'd anticipated, which was very welcome. We ate at the Romping Donkey, which we'd been looking forward to all day but sadly it wasn't that good, the beer was a barely acceptable pint of Boddingtons (Timothy Taylor's Landlord went off as we entered the bar!) and the pub was full of teenagers who must have been drinking all day long. We've not fallen lucky in the beer stakes yet, thank goodness we had some in the mobile home. Still - there's always tomorrow.
Day 3 - 10 May 2004: Hassell Green to Venetian Marina
We made an early start today and headed off from Hassell Green at about 8.30 am shrouded in mist. We almost immediately went under the M6 and with each bridge and lock the canal was transformed from the scenic route we had become used to into a bleak and industrial landscape. Even the water was a horrible dark grey colour, like it was full of coal dust, and we decided that the Trent and Mersey was our least favorite canal so far.
| | |
| --- | --- |
| Last scenic bridge | Bleak |
At our first short break we tried to get the remote control on the camera working. However, the battery in the remote switch seemed to be low, so unfortunately we could only get it to work in close-up!
| | |
| --- | --- |
| Tired feet already? | Too close! |
The canal became increasingly dull as we passed railway yards, chemical plants and industrial complexes of all kinds and it became just a slog to get this section over and done with. It was amusing when we went past the salt works though, as we thought it was a big pile of salt in front of the factory until we went a little further and spotted their salt mountain at the back of the works!
| | |
| --- | --- |
| British Salt Ltd | Salt Mountain |
We were very pleased when we came to the point we were due to leave the Trent and Mersey Canal and were delighted by the instant transformation of character as we turned under the bridge that marks the start of the Wardle Canal. This is the shortest canal in the country, it starts at the bridge and ends at the first lock, no more than 100 yards further on. After this it becomes the Middlewich Branch of the Shrophire Union and the contrast with the T&M is amazing.
| | |
| --- | --- |
| Start of the Wardle Canal | End of the Wardle Canal |
We made good progress to our lunchtime meeting point with John in the motorhome but at bridge 26 we met with a barrier placed across the tow path. Very inconsiderately the Waterways were laying new paths and had just laid fresh concrete between bridge 26 and 27 and our route was completely blocked.
| | | |
| --- | --- | --- |
| Middlewich Branch of the SUC | Tow Path closed | Fresh concrete |
After lunch we overcame this problem by driving to bridge 27, where we were able to rejoin the tow path. This only cut out a couple of hundred yards, a distance more than made up by our detour on day one!
The sun came out shortly after we restarted and the countryside became increasingly attractive, and the tow path more and more untouched. There was no beaten track anymore and we had to battle through ankle-length grass, which makes walking much harder. We were doing well though, until we spotted our next obstacle in the distance. A pair of swans had decided to build their nest right in the centre of the tow path.
| | |
| --- | --- |
| The views improve | Swan prepares for battle |
We walked as close as we dared and the male swan began to display very aggressively. We realised that the only way we were going to get past them was likely to hurt us, the swans, their eggs, or possibly all of those. We decided to try and find a way onto the opposite bank and made our way back to the last bridge we had come under. At this point we got lucky and with immaculate timing a passing narrowboat reached the bridge. The couple on board were happy to carry us for 50 yards and get us past the swans, who looked like they'd be happy to take the whole boat on!
| | |
| --- | --- |
| It's our tow path | Our saviours! |
Amazingly this wasn't our last encounter with wildlife as we soon met a Harris Hawk riding happily on a narrowboat as he basked in the sunshine. Then, to top it all, Peter stood on a snake! It was a least 3 feet long but thankfully was as startled as Peter and beat a hasty retreat to the opposite canal bank. We don't know if this was a Grass Snake or an Adder, but hope someone with more knowledge will be able to identify it from the picture below.
| | | |
| --- | --- | --- |
| Harris Hawk | Snake | Venetian Marina |
We were relieved when we finally reached today's stop-over point at Venetian Marina, although this wasn't the end of the day's walking. In order to get a few more miles under our belt we carried on to the end of the Middlewich Branch and joined the Shrophire Union main line.
| | |
| --- | --- |
| Not much further is it? | End of the Middlewich Branch |
As we reached Bridge 100, our final destination for day 3, we found one of the best views we'd seen so far - John with three excellent pints of Bombardier at the ready sitting outside the The Olde Barbridge Arms. At last we had fallen on our feet by finding a pub that served decent beer and good food. After eating, as it was a drive away from our overnight stop, we returned to Venetian Marina and did some damage to a bottle of Jack Daniels!
| | |
| --- | --- |
| Bridge 100 Shropshire Union | Best view of the day |
Distance-wise we broke through several psychological barriers today, with 45 miles (halfway) passing earlier in the day and a final total of 52 miles on the pedometer, indicating only 38 miles to go, if estimates are correct.
Day 4 - 11 May 2004: Venetian Marina to Market Drayton
We drove from friendly Venetian Marina, where they'd made us very welcome, to Bridge 100 on the Shropshire Union where we had finished yesterday. The weather was dry and overcast, which, after yesterday's sunshine, we've learnt is ideal for walking. It wasn't long before we wondered if this is turning into Mark and Peter's wildlife tour, as we spotted a peacock in full display, rabbits, geese and a beautiful young foal on the opposite bank.
| | |
| --- | --- |
| Peacock | Foal |
We soon reached Hurleston Junction, where the Llangollen Canal begins the journey into Wales. This provided the ideal opportunity for a panoramic shot to show off one of the features of Mark's new camera.


Hurleston Junction - right to Wales on the Llangollen Canal
We continued on to Nantwich Junction, where there is a branch off to Nantwich Basin. Here we were presented with some great reflections on the undisturbed canal surface.
| | | |
| --- | --- | --- |
| Speed boat? | Nantwich Junction | Nantwich Junction Bridge |
When we later passed through the village of Hack Green our nature tour continued as we discovered the real hiding place of the Loch Ness Monster!
| | |
| --- | --- |
| Nessie on Hack Green | John on Burrows Bridge |
We had decided to split the day into three sections and met up with John for our first brief stop at Burrows Bridge, near Hack Green Locks. We had a sandwich and cup of tea before setting off again in the direction of Audlem, where there is a flight of fifteen locks. This proved to be a trial for tired legs as the hard tow path surface is particularly difficult going. Before reaching the locks we passed another target of 60 miles so far. At around this point we came upon what must be Swan Heaven as we counted as many as fifty swans in a nearby field.
| | |
| --- | --- |
| Swan Heaven? | Busy Audlem Locks |
Before our second stop of the day we had to negotiate a further flight of five locks at Adderley, before meeting John again at Adderley Wharf Bridge. The sun came out again as we left Addlerley but fortunately we only had about 3 miles to go before we reached today's target of Market Drayton and the tow path was perfect for walking on.
| | |
| --- | --- |
| Adderley Locks | Perfect tow path |
Despite only being 3 more miles it seemed an extraordinarily long way from bridge 64 to bridge 65, which is called Victoria Bridge and marks the approach to Market Drayton, where we will stay in the yard of Holidays Afloat this evening. Market Drayton looks a very attractive town and it would be nice to spend more time here, but the Iron Bridge beckons.
| | | |
| --- | --- | --- |
| Victoria Bridge (65) | Nearly there | Market Drayton |
We were very pleased to find that the Talbot Hotel, a Marston's Public House, was less than 25 yards from our spot in the Holiday's Afloat yard and delighted to be able to report that their beer and food is excellent.
Today's walk was almost exactly 15 miles, taking our total to 67 on the pedometer. The bad news is that today we re-estimated the remaining mileage and we think it may be more than 90 to the Iron Bridge. Never mind, we're getting the hang of it now!
Day 5 - 12 May 2004: Market Drayton to Norbury Junction
Another dull and overcast day, perhaps a little colder than before, and we got off to another early start. Soon after we left the civilisation of Market Drayton the sides of the canal bank began to rise around us and we entered a cutting. Here the canal had been cut through thick sandstone and you could still see the drilling marks on the rock.
| | |
| --- | --- |
| Early start | Deep cutting |
As we looked back from the lock at the end of this cutting we were impressed by the amount of work it must have taken to drive the canal through this rocky section without the power tools and heavy plant of today.
| | |
| --- | --- |
| Tyrley Locks | Lock Keepers Cottage |
After a brief respite above Tyrley Locks we entered an even deeper cutting, called "Woodseaves" that was like entering a new damp world of almost tropical vegetation. It was very muddy and hard going and in places was virtually blocked by fallen trees and undergrowth. Fortunately it was passable and we made it though without incident, but it certainly slowed our pace for a while.
| | | |
| --- | --- | --- |
| Cutting gets deeper | And muddier | Indiana Jones? |
After stooping for a sandwich at Knighton, near a large factory hidden in the Shropshire countryside, we got underway again. We came across an old vintage steam powered narrow boat in fantastic condition and shortly after spotted an old Daimler car in equally good condition on the opposite bank. Goodness know why it was there, it even had its own portable garage.
| | |
| --- | --- |
| Old Steam Boat | Old Daimler |
We then entered a long stretch of canal that was pretty dull with nothing much to see or photograph, although we did spot a stroppy dog who thought we wanted to steal his boat and an odd-one-out duckling that seemed to have tagged on to the wrong family.
| | | |
| --- | --- | --- |
| It's my boat | Lost? | Jump for joy |
Eventually, after several miles of this dull concrete sided canal and hard tow path we were finally approaching the spot where we would leave the canals behind, causing Peter to do a little jig and nearly break his ankle!
We had completed 78 miles of canal tow paths and were very pleased to be entering the last phase of the walk as we joined the "Way for the Millennium", a a trail that had been created using a disused railway track, similar to our own Middlewood Way.
| | | |
| --- | --- | --- |
| Last bridge | 78 miles & end of the canal section | Way for the Millennium |
Initially the track was very pleasant and attractive and made a welcome change from worrying about falling into the water but, unfortunately, it was not finished and around a mile before the end the quality of the path deteriorated into thick and heavy undergrowth.
| | | |
| --- | --- | --- |
| Easy going | Very pretty | Not finished |
Even, worse was to come. After we emerged near the end of the Way, we found that work had started from the other end and the final section was heavily rutted by ankle-turning tractor tracks. Fortunately we survived this unscathed and reached the end of the track and the end of today's section of the walk to find John waiting for us in a lay-by where the track met the A41. It's from here that we will start tomorrow's section, which is all by road.
| | | |
| --- | --- | --- |
| Thick undergrowth | Deep ruts | Welcome sight |
We were delighted to be joined for the evening by Darryl, our friend from New Zealand, and his girlfriend Victoria. Darryl is our biggest individual sponsor, at £1 per mile! We enjoyed a great meal and several fine pints of Bank's beer at the Junction Inn, Norbury, where we stayed overnight in their car park.
Total distance covered is now 83 miles and we expect to do around 15 more tomorrow to get us to the finish. Looks like we should have called it a 98 mile stroll!
Day 6 - 13 May 2004: Norbury Junction to Ironbridge
We started the last day from the lay-by on the A41 that John had picked us up from yesterday. The original plan had been to have a short day yesterday and commence from the beginning of the 'Way for the Millennium' today, which would have left us with 19 miles to complete. Earlier in the week we decided to split this more evenly making the final stretch a little easier. The majority of today's walk was by road and it was never going to be very scenic, so we won't bore you with too many pictures of lorries passing at high speed or lots of road signs.
| | | |
| --- | --- | --- |
| A41 starting point | Speeding not allowed | Traffic |
There were one or two surprises on route. This house and garden on a bend of the A41 was one of them, with what must be the largest collection of garden and wall ornaments ever seen!


Amazing garden
We pounded the tarmac relentlessly with tried feet and aching joints and were most unimpressed with all the hills, which went up and down without any purpose. We much preferred the canal engineers' way of dealing with them by cutting straight through. It was during this long hard slog that we received an encouraging text message from Tracey (at Mark's work) which really perked us up! After several hours hard going, interspersed with two stops on route for a sandwich and a cuppa in the motor home, we were finally within striking distance at 3 miles out.
| | |
| --- | --- |
| Stop that sign falling over | No way are they diverting us! |
Most of the last 3 miles were uphill but being close to the end gave us a huge boost and helped to put the aches and pains to the back of our minds. When we reached the final descent into Ironbridge Gorge we found that the road was closed. We decided we would rather be arrested than be diverted from our route now and fortunately it turned out that it was open to foot traffic.
| | | |
| --- | --- | --- |
| Ironbridge Gorge | A mirage? | No he's real |
As we made our final approach to the Iron Bridge we spotted a familiar figure in the centre with some final encouragement for those last few steps. It was John, who's been like a mother to us during the whole trip, with two of the hardest earned pints we've ever had.
| | |
| --- | --- |
| A deserved first pint | Done it! |
After disposing of the beer we had a wander round and took some photographs of the bridge and some shots that we hope the newspapers will use to publicise the walk and its objectives.


The Iron Bridge
We then retired to the nearest pub to replenish our liquid levels and phone everyone we knew to tell them we'd completed the journey. The total distance was logged at fractionally over 95 miles, which was slightly longer than anticipated but should earn us an extra few quid from those of you who sponsored us per mile.
| | |
| --- | --- |
| Ok, let have another | 95 miles total |
After temporarily satisfying our thirsts we took a few more photographs, one of which was this panoramic of the gorge, then it was over to John to get us safely back to Marple so we could all have a proper celebration at the Ring o' Bells. This we duly did, which is why this final update is a little later than usual.
Thank you to everyone who has supported and sponsored us on this endeavor and especially to John Connors our driver, without whom the trip would have been so much more difficult and possibly not achievable at all.


Ironbridge Gorge
The next task is to collect all the sponsorship money! We'll update the Iron Bridge Project Diary to advise how much has been raised by the walk and keep you informed of the project's ongoing progress as usual.
Purpose of the Sponsored Walk
A project planning grant of over £30,000 had already been awarded by the Heritage Lottery Fund towards Phase 1 of the project and this work was underway. Phase 1 would determine exactly what is wrong with the bridge, develop a detailed scheme for its restoration and establish the cost of completing that work during phase 2, so that a second grant application to the HLF could be made towards these costs.
The second grant application to the HLF, if successful, would provide a maximum of 90% of the funds required. Provisional estimates identify that the phase 2 restoration will cost in the region of £150,000, which means we will need to find at least £15,000 of match funding from alternative sources. The purpose of the Sponsored Walk was to raise money towards the 10% of match funding required.
The walk was a great success in terms of sponsorship. Initially we thought £1,000 might be an achievable target but we were delighted by the level of support received whenever we asked and the final total actually reached £3,024.55 including Gift Aid.
Unfortunately we don't have room to mention everyone who has sponsored us individually, but some notable contributions have come from the following sources:
Marple Co-Op customers have sponsored us for £506.54
Loadtec Engineering Ltd have given us a cheque for £300
Marple Local History Society Members have sponsored us for a total of £259
Hawk Green Residents Association have donated £100
BNFL have given us £100 match-funding
Washington Group International have given us £100 match-funding
Darryl Reardon has sponsored us for £1 per mile!
AMG Video Productions provided us with a mobile home