Heritage Lottery Fund Grant Award and Project Summary
We are delighted to announce that on the 7th June 2007 the Iron Bridge Restoration Group, a partnership between the Marple Website, Marple Local History Society and Stockport Council was awarded a Heritage Lottery Fund Grant of £424,700 towards the restoration of the historic Georgian cast iron bridge in Brabyns Park. Click this link for a copy of the formal press release.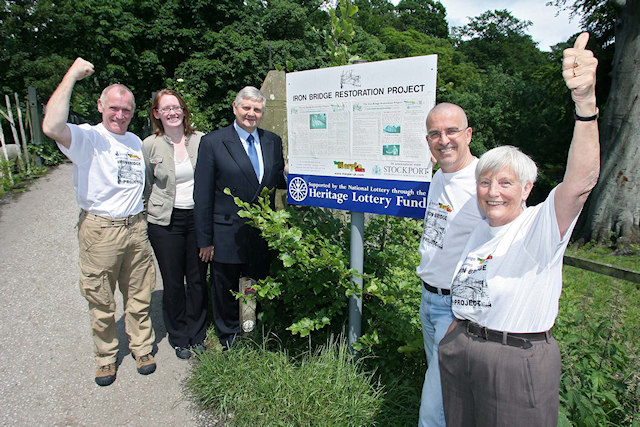 Peter Clarke, Nicola Marshall (HLF Project Officer), Cllr. Dave Goddard (Leader of Stockport Council), Mark Whittaker and Ann Hearle celebrate news of the Heritage Lottery Grant.
6 years of campaigning, fundraising, research, design and planning
The HLF grant is the culmination of six years of campaigning, fundraising, research, detail design and planning for the bridge's restoration. As well as the restoration of the Iron Bridge itself, the grant will pay for physical and intellectual access improvements that will enable the widest possible audience to understand and appreciate the bridge's significance to our heritage.
There has been huge support for the project within the local community and this has been a big factor in its success. We would like to acknowledge and thank all the local organisations, businesses and individuals whose contributions, in many different forms, have enabled us to achieve this award. More details of these can be found below.
The journey has been much longer than we expected when we started our campaign in June 2001. We've learnt the hard way that nothing can ever be taken for granted but, with the award of the HLF grant, the most significant milestone to date has been achieved and all that remains is to carry out the work itself to restore this historic bridge to its former glory.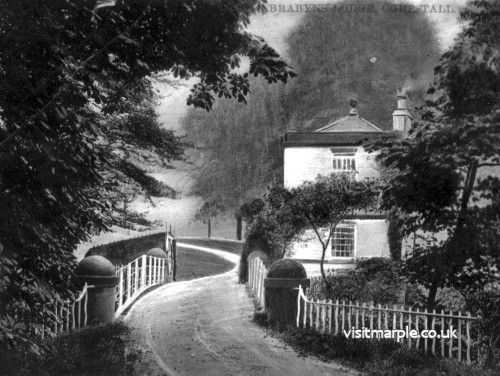 How elegantly the Iron Bridge once blended into its surroundings!
The physical work is forecast to start in July. However, there are a lot of preparations to get underway in the next few weeks and as these often take longer than expected this may prove to be a little optimistic. It is planned to install a web cam at the bridge so that we can transmit images from the site during the restoration works and of course we will be keeping you informed of progress through the on-line project diary, just as we always have done.
In partnership with the Iron Bridge Group, an award winning local film production company, Fusion Films, will produce two unique films to document the restoration and attract prospective visitors to the Iron Bridge site. The films will be in the form of a twenty-minute corporate documentary and an original short film drama written especially for the project by local professional scriptwriter Aidan Magrath. Aidan will be giving his services free of charge and Fusion Films have greatly reduced their fees, making a significant contribution to the match funding for the project.
To learn more about the long-running project to restore the Iron Bridge read the potted history that continues on this page or use the menu for more detail.
Campaign history from 2001 until grant award in 2007
The Marple Website began campaigning for the restoration of the Iron Bridge in Brabyns Park in June 2001. Marple Local History Society joined us in our campaign during 2002 and a group was formed with Stockport Council to find ways to fund restoration of the bridge.
Growing support for the campaign was demonstrated by the collection of over 2000 signatures and more than 120 individual letters of support.
In August 2003 the Group made a successful application to the Heritage Lottery Fund and received a Project Planning Grant of £30,100 to establish what was wrong with the bridge and to develop a scheme suitable for the bridge's strengthening and repair.
The original plan to complete the Project Planning Phase by November 2004 was severely delayed and disrupted due to difficulties in developing a scheme to overcome all the technical difficulties discovered, not least the revelation that a 6" gas main supplying the whole of Compstall runs across the bridge buried beneath the fill!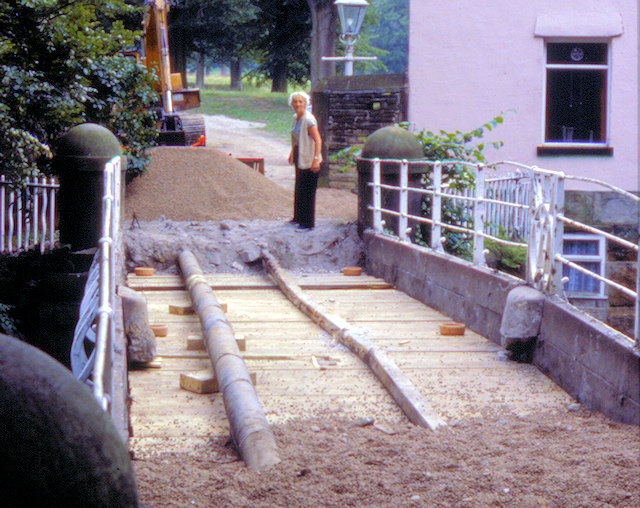 The gas pipe that caused so many problems for the project revealed during installation of a new wooden deck in the late eighties. Photo by the late Ron Booth.

Throughout 2005 the problems that had dogged progress for so long were gradually overcome and solutions found. The detailed design for the bridge's restoration was eventually completed in December 2005 and tenders for the work were issued before Christmas that year. The design was also submitted for Listed Building Consent, which was granted in January 2006.
Tender prices for the restoration works were received in February 2006 and a suitable contractor was nominated to carry out the work, although award of a contract was obviously subject to the outcome of the full grant application.
The work covered by the Project Planning Grant was finally completed in March 2006 and the group spent the remainder of the year preparing the new grant application, which was submitted in January 2007 and awarded in June.
As well as the restoration of the bridge, the Heritage Lottery Grant will help to pay for physical access improvements in the park, interpretation panels and audio at the bridge, audio-visual displays and models in the 'Stockport Story' museum and two short films.
Community support for the Iron Bridge Restoration Project:
The project also includes a wide variety of community orientated activities and events that have only been possible thanks to the ideas and contributions of an extensive list of community groups, organisations and individuals who responded to our request for help on these aspects of the project. We would particularly like to thank the following for their very positive offers of support (listed in alphabetical order):
| | |
| --- | --- |
| Organisation / Individuals | Proposed support or activity |
| Action Etherow & Goyt | Encouraging activities in the park |
| Aidan Magrath (Philm) | Free script for costume drama film |
| Cycle Stockport | Cycle route taking in the bridge |
| Dove Hiking Group & Stockport Mind | Health walks taking in the bridge |
| Fusion Films | Two short films at significantly reduced cost |
| Hawk Green Brass Band | Entertainment at events |
| Judith Wilshaw | Adult education course & Brabyns history trail |
| Kevin Dranfield | Transport Trail guided walks |
| Marple Gang Show | Incorporation of the bridge into a future show |
| Marple Locks Heritage Society | Guided walks and events |
| Marple Rambling Club | Walks taking in the bridge |
| Stockport Council | Heritage Open Days, school education pack |
| Stockport Heritage Trust | Support for walks and events |
| Stockport Primary Care Trust | Health walks taking in the bridge |
| Stockport Story Museum | Displays and exhibits at the museum |
Total project costs:
The total project costs amount to just under £556,000, with £424,700 awarded by the Heritage Lottery Fund grant (76.4%). The match funding of £131,183 (23.6%) is made up of cash contributions from Stockport Council of £59,000, £32,583 reduced cost from Fusion Films, £17,100 of volunteer labour, £12,500 raised by the local community (see the table below for more details) and £10,000 of free services from local scriptwriter Aidan Magrath.
The Iron Bridge Restoration Project Community Match Funding:
With the help of the local community The Marple Website has raised a combined total of almost £16,000 towards match funding for the project planning and restoration phases of the project. The table below summarises the main contributors to the community fundraising:
| | |
| --- | --- |
| Ring o' Bells Quiz Nights | £3,989.35 |
| Sponsored Walk to Ironbridge, Shropshire (incl. £377.81 Gift Aid) | £3,024.55 |
| Marple Area Committee | £2,500.00 |
| The Marple Website / Marple Promotions (2006 Calendar Profits) | £1,200.00 |
| The McNair Trust | £1,000.00 |
| Auction of paintings donated by the Society of Marple Artists | £926.00 |
| Marple Business Forum | £750.00 |
| Marple Carnival Charities Committee | £595.00 |
| The Jubilee Amateur Dramatic Society | £400.00 |
| Rotary Club of New Mills & Marple | £300.00 |
| Donation of football competition prizes | £247.21 |
| Anonymous donation | £200.00 |
| E-bay sales | £128.99 |
| Commission on Gordon Mills' videos & DVDs | £110.78 |
| Helen Winterson's Ladieswear | £100.00 |
| Commission from Marple Wine Club on-line sales | £54.67 |
| Commission on Ann Hearle's books | £27.00 |
| Paul Hartley's presentation fees | £50.00 |
| The Marple Website presentation fees | £25.00 |
| Interest from Marple Local History Society Account (2004/5) | £85.12 |
| Sale of prints donated by Georgina Hargreaves | £21.00 |
| Miscellaneous donations | £203.29 |
| Total match funding raised by the local community | £15,937.96 |
| Match Funding spent during Project Planning Phase | £3,400.00 |
| Current balance of community match funding | £12,537.96 |
Quiz Nights at the Ring o' Bells
Fun Quiz Nights at the Ring o' Bells Public House, on Church Lane have been the largest contributor of all to the community match funding. Held once a month in aid of the Iron Bridge from June 2002 until April 2006, they raised a total of nearly £4,000.
Note: The 'Ringers' continued to hold weekly quiz nights for many years that raised hundreds of pounds in aid of a huge variety of local charities and good causes.
Iron Bridge to Iron Bridge
In May 2004 Mark and Peter successfully completed their '95 mile Stroll' sponsored walk from the Iron Bridge in Brabyns Park to the famous Iron Bridge in Shropshire. The walk, which was mostly along canal towpaths, took the pair six days to complete and raised a total of more than £3,000 in sponsorship.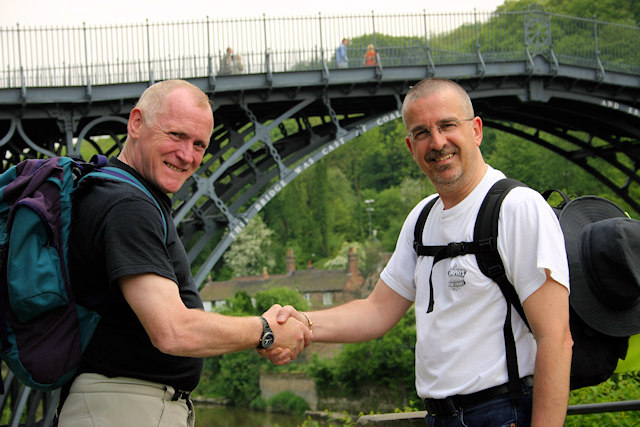 Peter (left) and Mark at the end of their walk
Project Timeline Summary:
June 2001: The Marple Website begins the campaign to restore the bridge.
September 2001: First newspaper articles and first letters of support arrive.
April 2002: First meeting with SMBC and Marple Local History Society.
May 2002: Petition started.
June 2002: We attend the Carnival for the first time and receive great support.
July 2002: People start making donations! Marple Area Committee award £1,500 Kick Start Grant.
August 2002: Peter is interviewed about the project on GMR Radio. Auction of paintings donated by Society of Marple Artists raises £926.
September 2002: First fund-raising Quiz Nights at the Ring o' Bells pub. Petition passes 2,000 signatures.
October 2002: Over 120 letters have been sent to SMBC by members of the public in support of the project. First donation to the project by Marple Carnival Committee. HLF confirm a project planning grant application is the best option to obtain funding.
December 2002: First donation from McNair Trust received.
January 2003: First donation from Marple & District Rotary Club.
May 2003: Project Planning Grant application submitted to HLF.
August 2003: £30,100 Project Planning Grant awarded by the HLF. Community fund-raising reaches £5,000.
September 2003: Volunteer clean up day at the bridge before inspection starts.
November 2003: Tactile inspection of the bridge takes place and design work begins to develop options for the restoration.
February 2004: Plans laid for sponsored walk to Ironbridge.
May 2004: 95 mile sponsored walk from Brabyn Iron Bridge to Ironbridge in Shropshire raises over £3,000.
June 2004: We are filmed for the Community Channel programme "Restoration, you make it happen".
July 2004: We are TV stars! Gas main becomes a big issue and delays hit the design process.
October 2004: Delays continue. Things are getting fraught behind the scenes and anticipated costs start to soar.
May 2005: Fund-raising breaks through £10,000 barrier but design problems continue to cause difficulties.
September 2005: At last a design solution acceptable to all parties is developed and the project begins moving forward again.
November 2005: Marple Area Committee gives second grant, of £1,000.
December 2005: Tenders for the Restoration issued. On-line public consultation to show local support started. Access Plan begun in earnest.
February 2006: Tenders received. Listed Building Consent received.
March 2006: Consultation shows huge local support for project. Access Plan finalised and project planning stage completion report submitted to HLF.
June 2006: Plans for quick submission of a full grant application are scuppered by the need to prioritise across the Stockport Borough and the need to increase activities and community involvement.
October 2006: Huge support received from community groups on activities and events and full grant application begins to take shape.
January 2007: Full grant application submitted to HLF.
May 2007: Meetings with HLF Project Officer and Committee member.
June 2007: Heritage Lottery Grant awarded.