Marple's Iron Bridge
Original intro to the Iron Bridge Restoration Campaign
Built in 1813 by the Salford Iron Works, the Iron Bridge in Brabyns park was for many years a private thoroughfare for the owners of the Brabyns estate.
Following the death of it's last owner Miss Fanny Hudson in 1941, the parkland came into ownership of the local council and since that time the bridge has become a familiar landmark to all those who both use the park for leisure or merely as a short cut between Compstall and Marple.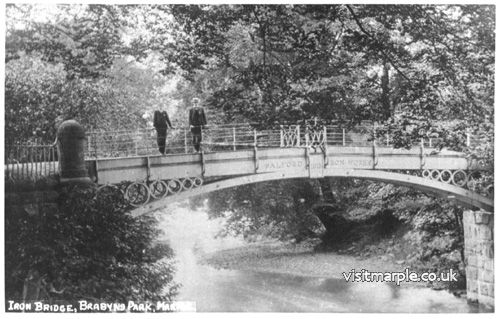 The Iron Bridge in its prime
Unfortunately the passage of time and a certain amount of neglect over the years led to the bridge being declared unsafe and the erection of a bailey bridge across it in 1991. This action itself was not without it's own misfortune as another bridge, a stone one built in 1804, was demolished by the crane used to erect it. This unfortunate event is explained in an article reproduced from the Stockport Heritage Magazine of summer 1991, which can be viewed by clicking this link.
Ten years on and despite the insistence at the time of Conservation Officer John Davies, the stone bridge still lies in a council depot somewhere (some sources claim that the exact whereabouts of all the stones are unknown) and the iron bridge is still spanned by the bailey bridge and continues to corrode and deteriorate.
When asked recently how the claim for compensation regarding the demolished stone bridge had progressed, a Marple Councillor stated that it was actually council contractors who had caused the damage and so no claim was actually submitted.