Marple's Iron Bridge Campaign was on TV in 2004
As part of Restoration: You Make it Happen
During June and July 2004 the Iron Bridge Restoration Project was featured in a TV programme called 'Restoration: You Make It Happen' that was shown on the Community Channel, which was broadcast by Sky, Freeview, Telewest and NTL at the time.
It was made by the Community Channel as a tie in to the BBC's 2004 series 'Restoration', presented by Griff Rhys-Jones. The programme's producer, Coumba Fergusson, has kindly given permission for us to use extracts from it featuring the Iron Bridge. We're very grateful for this and we'd like to thank Coumba and the Community Channel for lending their support to our campaign in this way.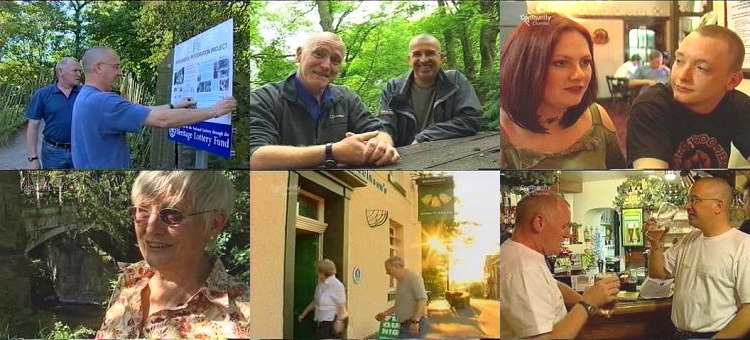 Our part of the programme totalled nearly 5 minutes and originally we had to find a compromise between file size and picture quality to make it practical for everyone to use on the Internet. The extract was split into three separate clips, in order to reduce the time it takes to download, and there were three different levels of quality provided for each clip. The largest size was best if you had broadband and you were prepared to wait a little while for the file download; the medium was better if you had broadband but no patience; and the smallest size would work for modem users, although they may have still found it heavy going.
When migrating this page the old video clip was uploaded to Youtube but unfortunately it's very low resolution by today's standards and nothing can be done about that.
The video was converted to digital format for us free of charge by Andy Glossop, of local company AMG Video Productions, and we would like to extend our thanks again to Andy, who also helped us with our sponsored walk in May 2004.