Saturday/Sunday 5th/6th October 1968 - Night Walk
We did not have a night walk last year and had hoped for two this year, but this has not come about. October is a little late in the year but, as there was a strong demand for a night expedition, decided to lay one on for the October full moon.
The following members assembled at Marple Station to catch the 22.31 train for Hayfield:
| | | | |
| --- | --- | --- | --- |
| F R Mason | Trevor Wild | Helen Jones | Dan McGookin |
| R Booth | Allison Wilson | Phil Mycock | Andy Howie |
| Dave Atherton | Brenda Sutcliffe | Nick Dawns | Ruth McHale |
| Jillian Bradley | Ben Wayling | Jill Bollington | Paul Mallett |
| Steven Walsh | Phil' Towell | Chris Gorman | Helen Davenport (MH) |
| Andrew Barwell | Barbie Cable | John Mycock | Graham Mycock |
The weather forecast for the night was not very good; in general 'cloudy'. It was the sort of forecast that made one doubtful, but not quite bad enough to warrant cancellation. We hoped for the best. Another small group was seen in Hayfield - we met them again later.
Leaving Hayfield we headed along Kinder Road at a good speed - met one or two parents returning from the Sportsman. The speed-men soon left the 'leader' a hundred yards astern until we started to climb towards and past Tunstead Farm and, after the left turn into open country, it was once or twice necessary to wait for the tail-enders.
Good time was made to the top of the steep bit to join the 'traverse' path. Here we had a rest of about 10-15 minutes. Visibility was clear below cloud but deteriorating; it was very warm and practically no wind - in fact several woollies were discarded. However when we started again rain commenced, gently at first, but soon increasing to thick penetrating drizzle.
In a short time we were in thick cloud, with visibility down to a few yards so that a torch was necessary to pick our way step by step. Progress was very slow, known landmarks were invisible, and it was impossible to keep to the path in the poor conditions; it became necessary to steer by compass, at the same time using judgement to keep track between the 'edge' and the peat bog.
Finally we were able to identify Red Brook, but even after this the short length to the Downfall took an interminable time, until the thought that we might inadvertently have crossed Kinder Brook in the fog and be heading across the bogs, did cross our mind. However we pressed on, on course, and eventually came to the huge grit-stone blocks and crevices near the Downfall and, quite suddenly, the sound of falling water.
Never have I been so pleased to hear that noise; we had taken two hours to cover less than two miles. It had been a wearying two hours.
Picking our way carefully amongst the boulders and rocks, we moved up stream a little, crossed over, and settled down for half an hour or so for sandwiches and drink. During this time another small party came along - leader did not meet them, but was informed later by some of the boys.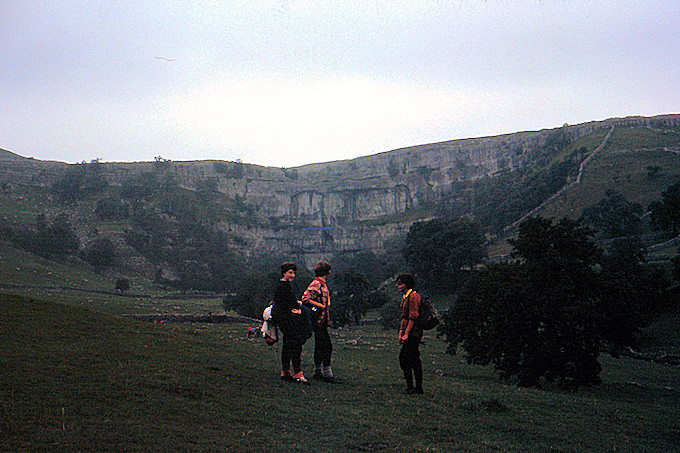 WW1962-028 an image from 1962
Due to the shocking weather conditions it was decided to modify the route and drop off the high ground at Sandy Heys, to Kinder Reservoir, Carr Meadow, Cown Nick - Mellor. The leg from the Downfall to Sandy Heys was even more difficult as the path - such as it was - does not skirt the edge but, for a large part of its length, weaves across the bog-land, and in many parts the edge is indeterminate, while in other parts it is precipitous.
During our trek along this muddy, boggy stretch in thick mist, as we were wallowing through the mud and avoiding the more treacherous parts, lights other than our own appeared out of the mist - a most eerie sight. These lights belonged to another small group, heading from the head of William Clough to the Downfall, to meet the party we had contacted there. They said they had been wallowing through the murk on a compass course for 'hours' and were pleased to learn they had only about ¼ mile to go to meet their friends.
Shortly after this we made a test descent to the left, but this became precipitous so we returned to the edge. Eventually we came to Sandy Heys, but could not determine the way down - in fact we were not at first sure that it was Sandy Heys, but the path was clearly defined here so, following it a bit, we noted the change in direction and so knew we had rounded the corner.
In a short time we ventured downward with great caution, picking our way very carefully, and soon were off the steepest part and on to easier going, and eventually dropped down beside the stream that joins William Clough near the Reservoir. Here we rested awhile then, traversing the side of the clough, we soon joined the path and made our way to the reservoir and Horrible Hill.
From here the going was straightforward to Carr Meadow, where we had another rest for the tail end to catch up. Then on the road towards Chunal, turning left for a mile along Monk's Road, and then left again to the track up to Cown Nick - this becomes a path over Cown Edge, past Robin Hood's Picking Rods to Gun Road.
By this time it was fairly light and we could find our way more easily, and also note the sex of cattle we encountered - this is important when crossing farm-land. We were, of course, now below cloud - we had dropped below cloud as we descended from Kinder Scout. From Gun Road we followed the path to Cloughend - Smithy Lane (where we spoke loudly about Mary snoring in bed) to Hollywood End, Greenhill and so to Mellor where we dispersed. Ron Booth escorted the Marple contingent across the fields.
Not our idea of a pleasant moonlight walk, but certainly an adventure we'll remember for a long time. Taken all round discipline was good - it had to be in the fog, and later tiredness had a good effect, although everyone kept happy, and jokes and laughing were more or less continuous, except when we were spread out a bit.