27th December 1961 - Edale, Grindsbrook & Kinder
This expedition was by request of several youngsters who're unable to join the usual Saturday rambles. The route, an old favourite which has not been covered for some six months or so, was from Edale, Grindsbrook, Kinder Plateau, Kinder Downfall, Kinder Reservoir, Hayfield.
Twenty-four members assembled at Marple Station, including four adults. The weather was dry but very cold with snow lying on high ground.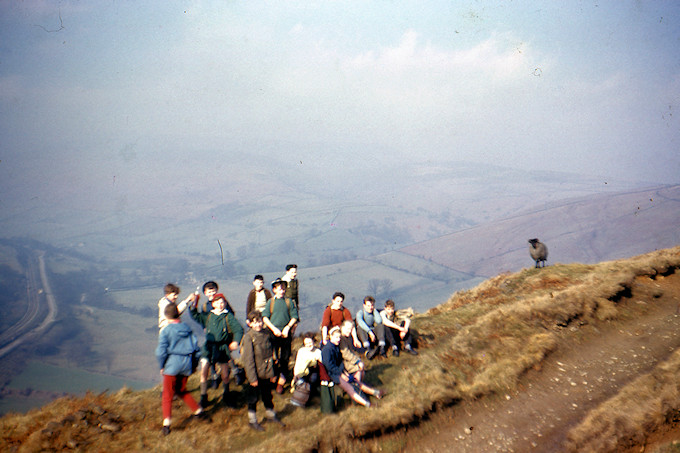 WW1961-005 Hope to Alport: on Roman Road a mile or two from Hope
We set off from Edale at a little after 10am, after having a short chat with Mr Robinson of the Peak Park Planning Board; just an exchange of names, idea of route for the day, and an outline of aims and ambitions.
The trek up Grindsbrook was fun, but uneventful - there was much ice and some parts had to be crossed with care. In places were beautiful curtains of icicles - Gerald and Trevor collected specimens about 5 ft long. In the higher rocky part there was no water, only ice. The climbing was no more difficult than under normal temperature conditions but, naturally, more care was needed in choosing foot holds.
The leg across the top of Kinder was quite easy; the ground was frozen hard so that the usual difficulty with slipping muddy peat was absent. The Kinder River was largely frozen but, due to a partial thaw, a thin layer of water flowed over the ice. Some fun was enjoyed on the river ice towards the Kinder Downfall.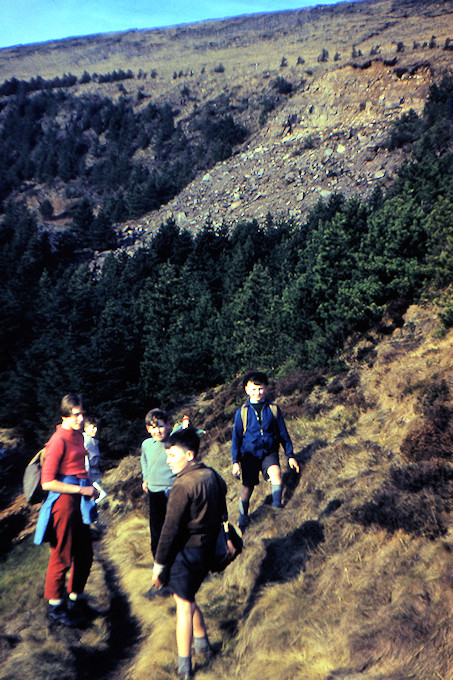 WW1961-007 ? Kinder
No water was flowing over the Downfall, but there was a beautiful display of icicles, some formed in great curtains of about fifteen feet. Lunch stop was made at the Downfall and some time was spent scrambling around. During the halt for lunch the sun came out and fine views of the surrounding snow-covered hills were obtained.
From the Downfall the group divided; one part, led by Mrs Richardson, descended carefully to the River Kinder just below the Downfall and followed the course of the stream to the reservoir. The remainder, with Mr Mason and Gerald Boardman, moved around the rim of the valley and then descended down the gentle slope of the spur to the reservoir.
Both parts came together again at the reservoir, from where the usual route was followed into Hayfield by all but about half a dozen, who chose to walk all the way, via Carr Meadow, the flank of Lantern Pike and Rowarth.
A simple, straight forward and very pleasant ramble.