29th March 1958 - Kinder Scout
For this walk a route was planned directly over Kinder Scout from Edale Station to Kinder Downfall, and home via Kinder Reservoir, Carr Meadow and Rowarth. Again the party was large, numbering 36 children and three leaders: Mr and Mrs Mason and Miss Wood. Weather was poor with intermittent rain - high ground was cloud covered.
A way was taken up Grindsbrook to Kinder Plateau and the spot height of 2062 ft. At this place visibility was about 50 - 100 yards. A gathering was made at the spot height, but a number of impatient boys and girls, headed by Frank Kirk and Eric Knott, apparently feeling that they knew all about the matter, forged ahead and were promptly lost.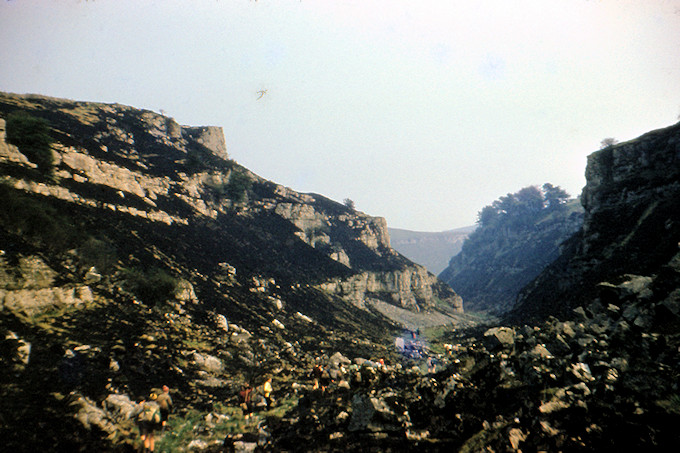 WW1960-012 Lathkill (from another walk)
The remainder of the party moved forward methodically across the difficult peat bog, steering a compass course of WNW, and refusing to deviate along any enticing easy to follow stream, until finally, the western escarpment was reached.
By this time all were thoroughly muddied and hungry, but happy. Lunch was eaten in the shelter of a rocky cleft which was thought to be Kinder Downfall, but was subsequently found to be about half a mile from the Downfall. This discovery was made after continuing along the escarpment in search of a safe way down.
Finally a pleasant rambling route down to the reservoir was found and followed, with several stops to scan the way behind in the hope of seeing the missing members. At the reservoir the party divided, some going with Miss Wood to Hayfield and home by train; the remainder pressed on over the planned route with Mr Mason.
All arrived home safely, the strays having arrived first. It transpired that, after becoming lost, they endeavoured to make use of a compass course until, striking a stream; they followed this and returned to Edale and, from there, climbed over Jacob's Ladder to Hayfield and home. A severe 'talking to' was given to the leaders of this stray party.
A number of unexpectedly good walkers were discovered on this ramble - notably Wendy Sharples, who appears to be quite inexhaustible.