Marple Santa Dash 2023 is Sunday 3rd December
Organised by the Romiley and Marple Lions Club,The Marple Santa Dash returns again on Sunday 3rd December and this year there's a new route! This event is the perfect fun run for all the family. All details will be sent once you're registered.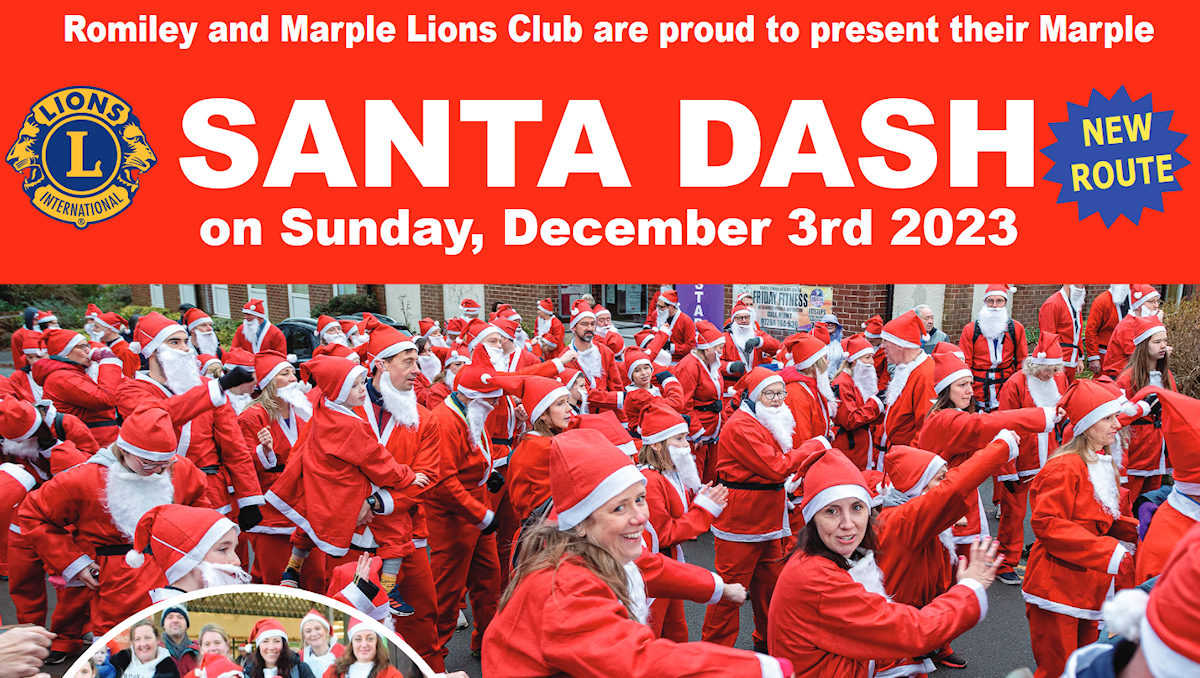 Time is running out to register for this year's Santa Dash!
By registering and taking part, you will be helping us make a difference for those who are most in need in our community.
Organised by the Romiley, Marple Lions Club, the Santa Dash is a charity fun run for all the family and will take place on Sunday 3 December, with all participants dressed as Santas (suits included in registration fee).
There is a new route this year, 1.6 miles long, with the dash starting at 11am from Marple Memorial Park and finishing back at the Park.
As usual, there will be a present for junior dashers when they finish the course and every dasher will receive a voucher for the Dragon Miniature railway which can be redeemed anytime up to Easter 2024.
Complimentary refreshments will be served when the dashers finish the course.
It is not a race and the route can be followed at your own pace. It will be marshalled as in previous years. Refreshments will be provided in the Scout Hut at the finish and "junior" Santa Dashers will each receive a present.
This year the run will start and end at Marple Memorial Park
Registration and suit collection on the day from 10am.
Warm up (provided by Sarah Lee Fitness) due to start at 10.45.
Refreshments and gifts for the Junior Santa Dashers will be available at the Marple Scout Hut.
All those who take part will receive a voucher to ride on the Dragon Miniature Railway - valid before Easter 2024.
Route and support provided by The Air Cadets.
Christmas music will be provided by VariVocals Choir.
Registration remains at £10 including your suit (or bring your own!)
NUMBERS ARE LIMITED SO PLEASE REGISTER EARLY TO SECURE YOUR PLACE!
Any questions please call Terry Harding on 0161-330 9494 or email This email address is being protected from spambots. You need JavaScript enabled to view it.
All sponsorship goes directly to Kidneys for Life.
A potted history of Marple Santa Dash
The first Marple Santa Dash was in 2009 at the time when Kidney Research U.K. was running a campaign entitled "Find a Cure for Martha", Martha being a little girl called Martha Stringer from Marple. In partnership with Kidney Research U.K.'s Carol Bonham, the Lions organised the first Santa Dash - relying heavily on Carol's ideas and Martha's local appeal as our "poster girl".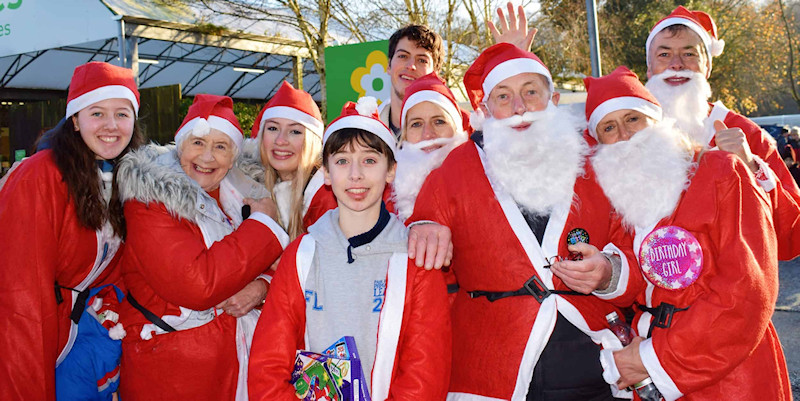 Over the years, the event became quite popular but 2017 brought about a few changes, which we think have reinvigorated the Santa Dash. We now work with Kidneys for Life and two very special ladies, Victoria Thompson and her colleague Penny McKnight, who have helped us to develop local interest in the event. Whilst they work at the main hospitals in Manchester and Salford, Kidneys for Life supports the renal units in all our local hospitals and we ask that any Santa Dash sponsorship money is raised to support this wonderful charity.
After costs, all the money raised from the registration fees goes into the Lions Club Charity Account and is used to help us give assistance wherever it is required, locally, nationally or internationally.
Of course we were unable to hold a 2020 Santa Dash but were back with a bang in 2021.
This year we are making a big change to the route and we hope that you will support us again!
Kindest regards, Terry Harding, Romiley and Marple Lions
2024 Lions Charity Calendar
Romiley and Marple Lions are also raising money for good causes with our 2024 calendar. For more details about the calendar and how to purchase, click here Charity Calendar.
Get involved with Romiley and Marple Lions
Visit their own web site to learn more about Romiley and Marple Lions Club (link in menu).