News from Marple Santa Dash 2022
Happy New Year and many thanks for your email, it's most encouraging to be asked for an update. Much of the time, nobody seems to know who the Lions are, mistaking us for Rotary, or thinking that we play Rugby (a frightening thought indeed)!
Your own much appreciated support and the number of hits shown on the website are evidence of the fact that people do want to know more about us and what we are doing.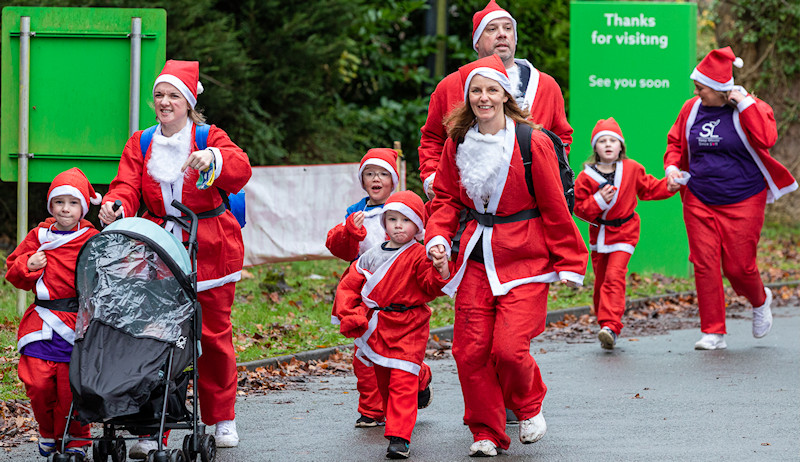 I was waiting until all the figures are in before putting out a full Christmas report but I'll give you what I have so far. 134 people (£10 each) registered for the 2022 Santa Dash and, when all is collected in, £1,665 sponsorship money should have been raised on behalf of Kidneys for Life. The Dragon Miniature Railway's Christmas Grotto (manned by the Club) was very popular again and 2,643 children were greeted there by Father Christmas.
All in all, a successful and profitable Festive Season for the Club and our partners.
The Lions Club Charity Account will have benefitted by somewhere in the region of £3,500 and several donations to local charities have already been made. As ever, the Club must thank all the wonderful people who have helped us to raise that money and also ensure that the spirit of Christmas was kept alive in a somewhat bleak and miserable 2022.
Changing facilities for the Santa Dash were provided in the Scout Hut in Marple Memorial Park and a warm up session was supervised by Sarah Lee Fitness. The route was marshalled by Bredbury, Romiley and Marple (1196 Squadron) Air Training Corps and Marple Band welcomed the Santa Dashers at Marple Garden Centre (Dobbies), where they were served with mince pies (provided by Morrisons of Bredbury). They were then kindly allowed a free ride on the Dragon Miniature Railway.
Thank you EVERYBODY - and my profuse apologies for any omissions!
Kindest regards, Terry Harding, Romiley and Marple Lions
A potted history of Marple Santa Dash
The first Marple Santa Dash was in 2009 at the time when Kidney Research U.K. was running a campaign entitled "Find a Cure for Martha", Martha being a little girl called Martha Stringer from Marple. In partnership with Kidney Research U.K.'s Carol Bonham, the Lions organised the first Santa Dash - relying heavily on Carol's ideas and Martha's local appeal as our "poster girl".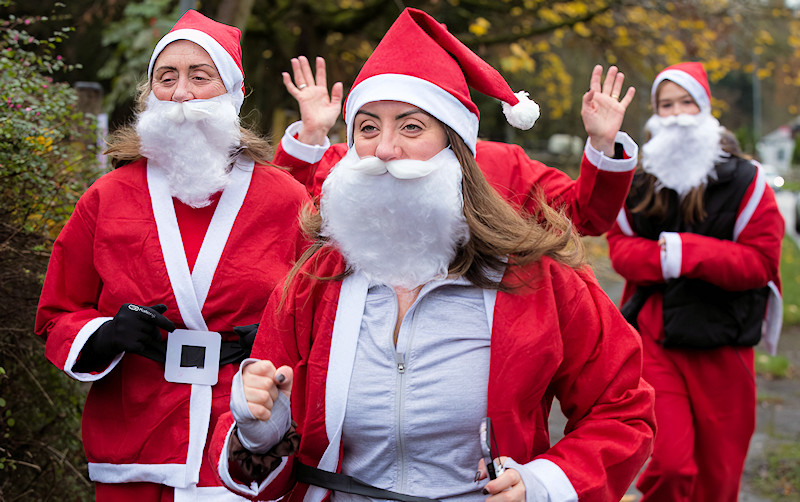 Over the years, the event became quite popular but 2017 brought about a few changes, which we think have reinvigorated the Santa Dash. We now work with Kidneys for Life and two very special ladies, Victoria Thompson and her colleague Penny McKnight, who have helped us to develop local interest in the event. Whilst they work at the main hospitals in Manchester and Salford, Kidneys for Life supports the renal units in all our local hospitals and we ask that any Santa Dash sponsorship money is raised to support this wonderful charity.
After costs, all the money raised from the registration fees goes into the Lions Club Charity Account and is used to help us give assistance wherever it is required, locally, nationally or internationally.
Of course we were unable to hold a 2020 Santa Dash but were back with a bang in 2021 and hope that you will support us again this year!
Get involved with Romiley and Marple Lions
Visit their own web site to learn more about Romiley and Marple Lions Club (link in menu).