Romiley and Marple Lions raise over £7,700 Christmas 2019
Many apologies for this belated update. Various domestic and Club related issues have caused the delay but also enabled me to provide a report which paints a much happier picture than I anticipated in November last year. After several months of unsettling developments, which seemed to indicate disaster for the Club, the good people of Romiley and Marple rallied round and gave us one of our most enjoyable and worthwhile Christmas periods ever. We had 277 Marple Santa Dashers (the highest total ever) raising over £2,500 for our Charity Account and £2,664 (to date) sponsorship on behalf of Kidneys for Life, which was an incredible achievement for all concerned.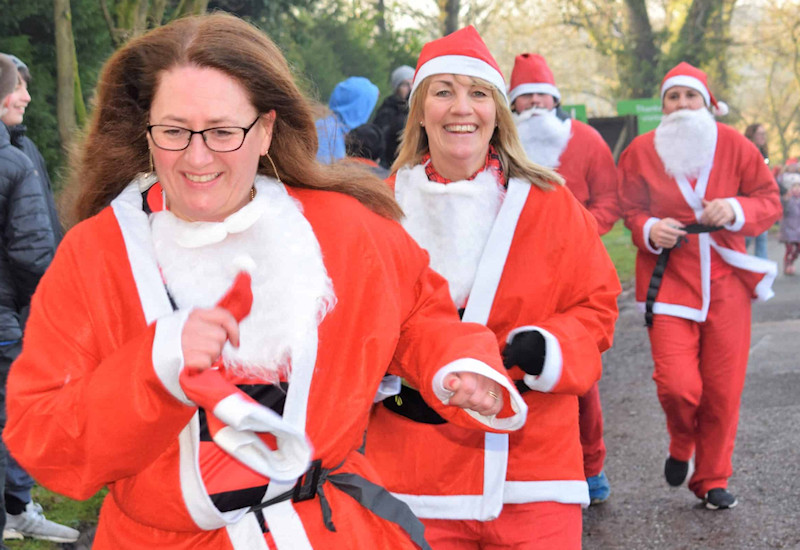 Happy Dashers finishing with a smile!
I didn't realise we had so many friends!
As usual, I thank all the wonderful people who made it possible. My personal thanks, on behalf of the Club, have already gone out to my "Dream Team" (including The Marple Website) - we couldn't do it without you - but now I really must pay tribute to the local community.
In addition to the success of the Santa Dash, the Dragon Miniature Railway helped us to raise a further £2,600 in their Christmas Grotto (many thanks to Brian Lomas and his colleagues) and we hosted Breakfast with Santa at Hewitts' Café in Romiley (thanks to Gill for supporting us with this new venture). We were also able to venture further afield with Santa to Garden Centres in Glossop and Broadbottom (Lymefield) to support Reuben's Retreat and then take part in a post-Christmas tree collection scheme raising money for St. Ann's Hospice and local charities.

So many Santas waiting for a ride on the Dragon Railway
Save the date! Marple Santa Dash 2020 is Sunday 6th December
All in all, a great time was had by all - doing what we do best, enjoying ourselves bringing enjoyment to others. Thank you everybody - I hope you had as good a time as we did.
See you next Christmas - the Marple Santa Dash 2020 will be on Sunday, 6th. December.
Thanks to the support of the Romiley and Marple communities, the Lions are able to help many worthy causes – locally, nationally and internationally. Here are just a few of them (2019):
National Library for the Blind (RNIB)
New Horizons (Marple)
Mellor Country House
Chernobyl Children's Project
Beechwood Cancer Care Centre
Kidneys for Life
Kids Cancer Charity
Debra
Motor Neurone Association
Reuben's Retreat
Hearing Dogs for Deaf People
Kindest regards, Terry Harding, Romiley and Marple Lions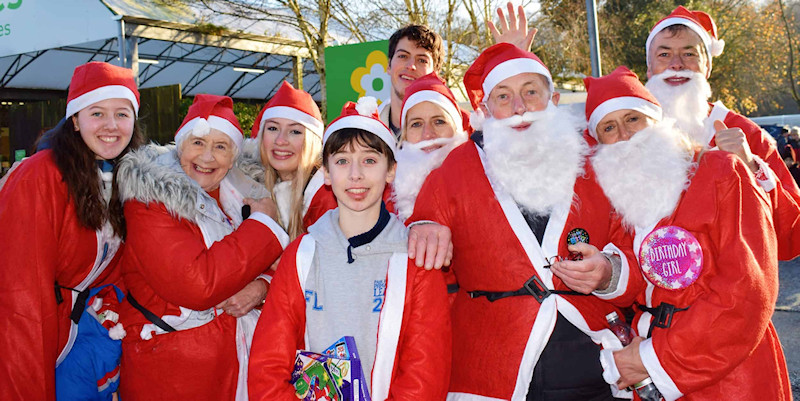 All generations enjoyed Marple Santa Dash!
Get involved with Romiley and Marple Lions
Visit their own web site to learn more about Romiley and Marple Lions Club (link in menu).