Another difficult year for many and personally too!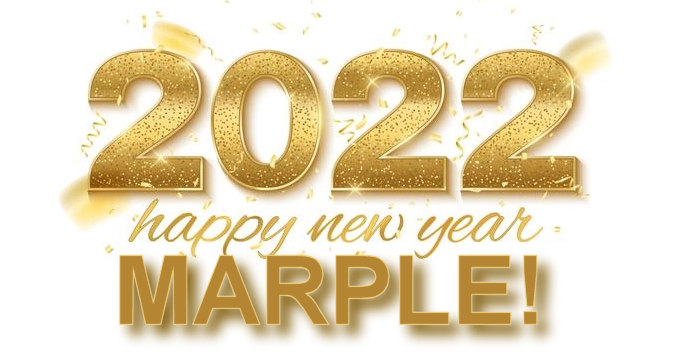 We had a bit of respite through the summer but the ongoing pandemic has made 2021 another tough year for many. With this Christmas and New Year heading in a similar direction to last, it doesn't look like getting better very quickly either. So who knows what 2022 will bring for Marple and beyond!
After being diagnosed with a bowel tumour in October and having surgery to remove it in November, it's been a particularly difficult end to the year for me and my family too. Thankfully the operation went well and despite some complications that kept me in hospital for longer than expected, I've been making great progress on my physical recovery since I returned home.
Unfortunately next year brings more uncertainty for us while I undergo a course of chemotherapy treatment to be certain of being clear of cancer. With 2022 being a very special anniversary year for Friends of Marple Memorial Park I'm hoping that the treatment won't cramp my style too much as there are so many things we want to get done. We'll just have to see how it goes!
Thankfully it hasn't all been bad news in 2021...
A new President for Marple Local History Society
I was incredibly proud and honoured to be invited to become the President of Marple Local History Society in October 2021. Of course I accepted, even though it is a little daunting to follow in the footsteps of the wonderful Ann Hearle (pictured below right with me and Cllr Susan Ingham). Ann was a good friend since the days that we worked together on the Iron Bridge Restoration Project, and the last person to occupy this role. I look forward to supporting Marple Local History Society Chairman Hilary Atkinson and her committee to the best of my abilities for many years to come.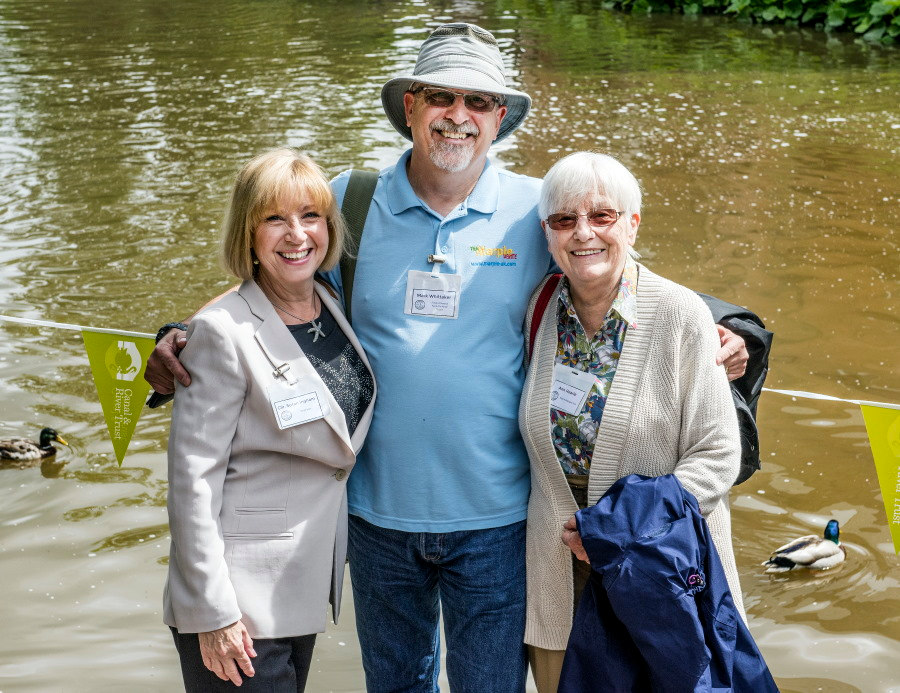 Cllr Susan Ingham, Mark Whittaker and Ann Hearle in 2016 by Arthur M Procter
Here's how the society announced my appointment in their November Newsletter:
At the October meeting our chairman, Hilary Atkinson, announced that the committee has invited Mark Whittaker to be our new president. Mark has been a driving force behind many of the developments we have introduced in recent years and we would not be in the position we are in today without his technical assistance and strategic advice.

The Virtual Tour on the Marple Website showcases our extensive collection of historic photographs. Mark hosts our website and solves our technical problems and he carried out the original development to get our digital archive, Omeka, up and running. We stand out as one of the most progressive local history societies in the country and Mark has played a key role in getting us to that position.
Website Banner Adverts helping the Marple Community
Last year I wondered if it would be possible to maintain the level of donations to local causes but despite loosing several key sponsors in 2021 some new ones have signed up too and that average of £1,000 has been achieved again. As I'm now running down the business side of The Marple Website's activities to focus my community interests, I have to warn again that sustaining this level may be a challenge, but it's one I'm up for and will be doing my very best in 2022.
Another £1,000 donated to local causes by The Marple Website in 2021!
This has only been possible thanks to the web site's wonderful avertising sponsors. The majority of these brilliant local businesses have supported the site for many years and I've been delighted that most have continued to do so despite the ongoing hard times. Thank you to the following new business sponsors who signed up in 2021. Can your business support The Marple Website too?
2021 contributions and donations...
This year a donation of £500 was made towards the set-up of Marple Youth Project - a new community initiative to create a youth club for the young people of Marple. £162 was spent on sponsorship of Mellor Open Gardens tickets, £100 was donated to this year's Marple Poppy Appeal commemorating 100 years of the RBL Poppy Appeal, £108 was donated to Friends of Marple Memorial Park towards events planned to commemorate the park's 100th birthday next year, the Marple Adventure Film Festival organised by Marple Scouts was sponsored for £50, a donation of £50 was made to Marple Bridge Association and a donation of £30 was made to Plan Bee Honey Bee Sanctuary to continue support of The Marple Website's own hive for another year. The contributions to local causes this year total £1,000 and bring that running total to £15,000 in 15 years!
A very big thank you to The Marple Website's Sponsors for enabling this to continue!
Please consider becoming a Marple Website Sponsor
This level of community support can only be sustained in the future if local business support for the Marple Website continues. If you would like to help please look at becoming a Marple Website Sponsor and taking out a banner advert on the sites. It's currently great to be able to say:
An average of £1,000 has been donated to local causes each year for the last 15 years!
How many other community web sites or Social Media platforms can say that!
The Marple Website's year - news and projects supported
The Marple Website always does its best to support local community groups and local projects in as many different ways as it can. Here are some of the highlights (and lowlights) of 2021:
Final touches to the Albert Schools memorials
The final touch for the project to rescue and restore the memorials recovered from the Albert Schools was to add a new brass plaque explaining how they got there. This was paid for by the Church and hopefully means that the story of these memorials will not be forgotten again.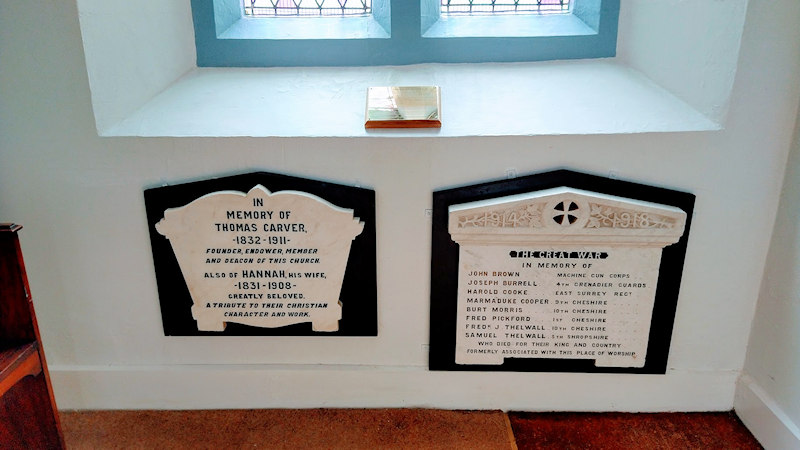 Another task completed in 2021 relating to this project was being able to tell the stories of the 8 men named on the war memorial and what it was that linked them together.
Iron Bridge Viewing Platform refurbishment completed
It was great to finish another long-running project this year. Refurbishment and repair of the Iron Bridge Viewing Platform was started in March 2019 and has taken considerable effort to fund and organise. Eventually it all came together thanks to the skills of Metal Artist Wayne Chaisty and the funding provided by Marple Area Committee and the Macnair Trust.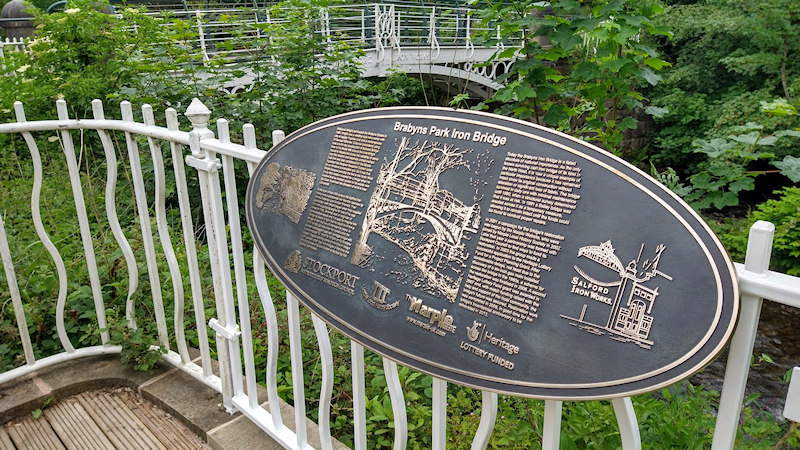 Marple's historic Iron Bridge revealed to be at risk again
Unfortunately that's not the end of the Iron Bridge Project Story as the council has failed to carry out maintenance recommended in inspection reports since the bridge was restored in 2007/2008.
After spotting flaking paint during a visit to discuss the Viewing Platform I began corresponding with them over a year ago about bringing the next principle inspection forward from December 2021 (and already one year late due to Covid). I was pushing for it to be done during the spring or summer but was only partially successful and it was eventually carried out in September 2021.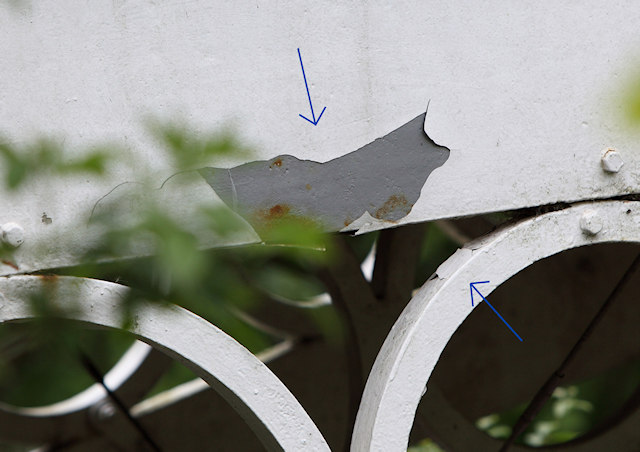 A copy of the report was received in November and unfortunately, as well as confirming that the paintwork is in very poor condition, the inspection revealed that there are "two high importance structural members in a critical condition" with cracks. These are "significant defects which", according to the report, "need repairing to avoid potential failure of the original structure". There is also remedial works and scour protection required at one of the stone abutments, where a large masonery block has been washed out by the river below the water line.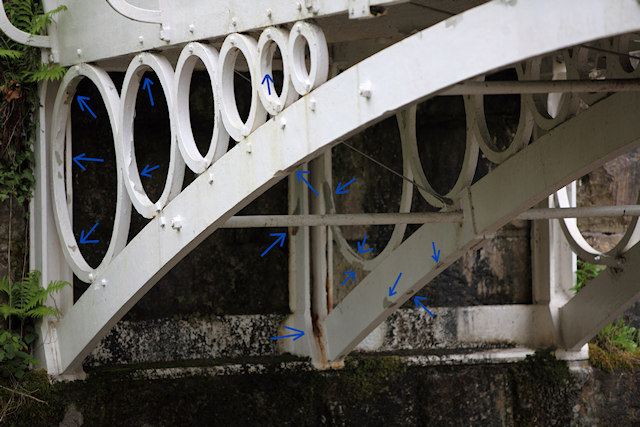 Dialogue with the council is ongoing and they've recently advised that their plan is to undertake the remedial works recommended by the report from April 2022 onwards.
Look out for more news and more details as we move into the New Year. The Marple Website and Marple Local History Society will be following progress very closely.
Marple Poppy Appeal 2021
It's been brilliant to support the reinvigorated Marple Poppy Appeal Team since 2017 and to follow their success in thinking up fantastic new ideas to raise funds for the Royal British Legion Poppy Appeal each year. In 2021, the team were back-with-a-bang after the doldrums of 2020, organising an amazing "Ride of Remembrance" to commemorate the 100th anniversary of the RBL Poppy Appeal and raising a new record total of £26,368 for the Royal British Legion.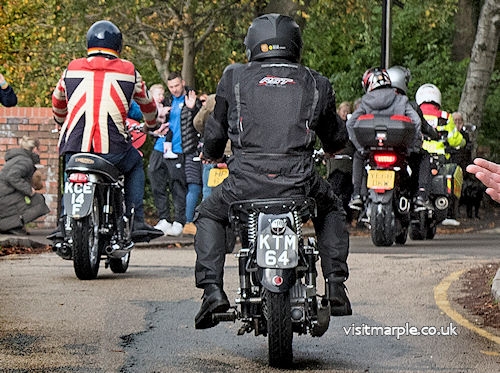 The best and worst in Marple Memorial Park!
As most visitors will know, The Marple Website has strong links with Friends of Marple Memorial Park and it's been great to be involved with and promote so many of their great projects in the park.
Despite a delayed start to our year and not getting back into the park until Easter, 2021 has been a much better year than 2020. We've been able to get on top of most park maintenance tasks and keep things looking how we want them. We also managed to catch-up with our Town Centre Bench maintenance, which missed out completely in 2020, as well as staying on top of park benches.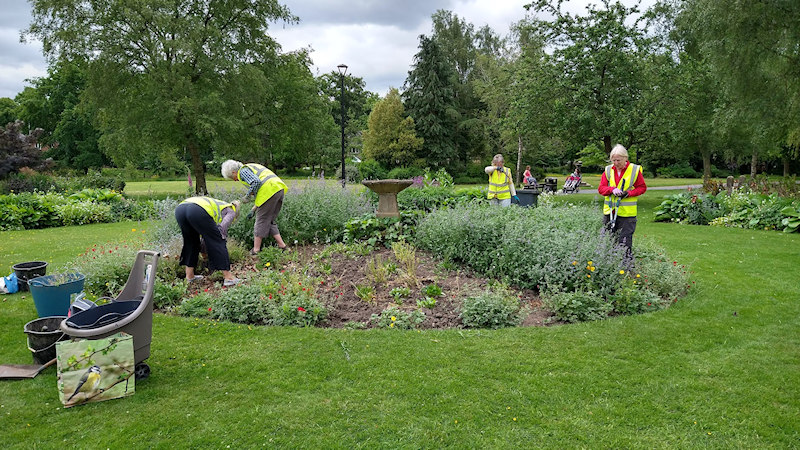 ASB in the park has escalated to unprecedented levels
The big down-side this year has definitely been the high level of antisocial behaviour in the park, which has reached unprecedented levels compared to our experiences of the last 20-odd years. We are regularly writing to the council and local councillors about issues but basically there is not enough policing and the council don't use the CCTV that is already in the park to good effect. It is incredibly frustrating and is becoming very costly too, with extensive damage done to buildings, attempted break-ins, vandalism of park infrastructure and even arson. Serious damage has recently been done to the skatepark by vandals setting fire to bins, neccesitating expensive repairs. We understand that many park users have been abused too and it is all totally unacceptable. We urge anyone who witnesses this kind of behaviour to please report it to Police, councillors and the council.
Skatepark resurfacing completed
Apart from the vandalism repairs mentioned above, we're pleased to report that all resurfacing works at the skatepark were completed in May this year. The disintegrating rubber mulch next to the poppy feature at the skatepark was at last replaced by tarmac - thanks to Stockport Council and the Vernon Building Society, who donated £500 towards this via Friends of Marple Memorial Park in December last year. Also complete was the outstanding work on the chicane entrance to the MUGA and the pitch markings for basketball and 5-a-side football.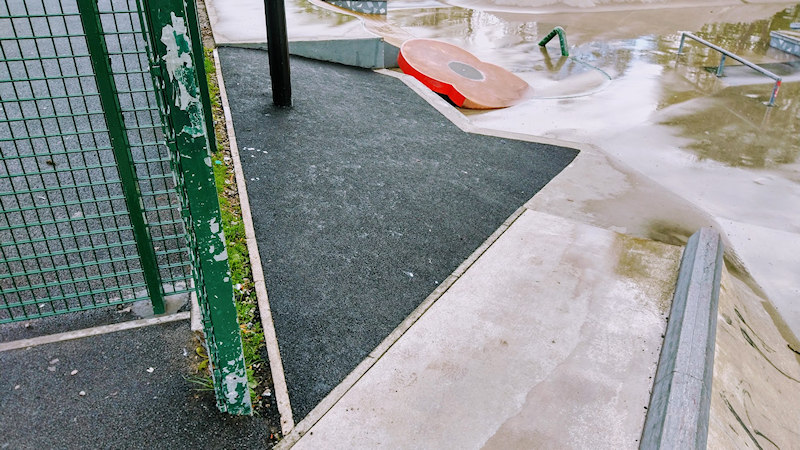 Last but not least, we were successful in encoraging the council to install more bins in the park, including an extra one at the skatepark. We just need everyone to use them now!
Pavilion Art Project (Phase I) is a huge lockdown success!
Better news is that Friends of Marple Memorial Park's Pavilion Art Project has been a huge sucess over the lockdown periods, largely thanks to the great efforts of Art Stop CIC, who managed the project. The artwork, which was created by individual artists of all ages and pupils at all our local schools, was finally installed in June this year and has been extremely well received.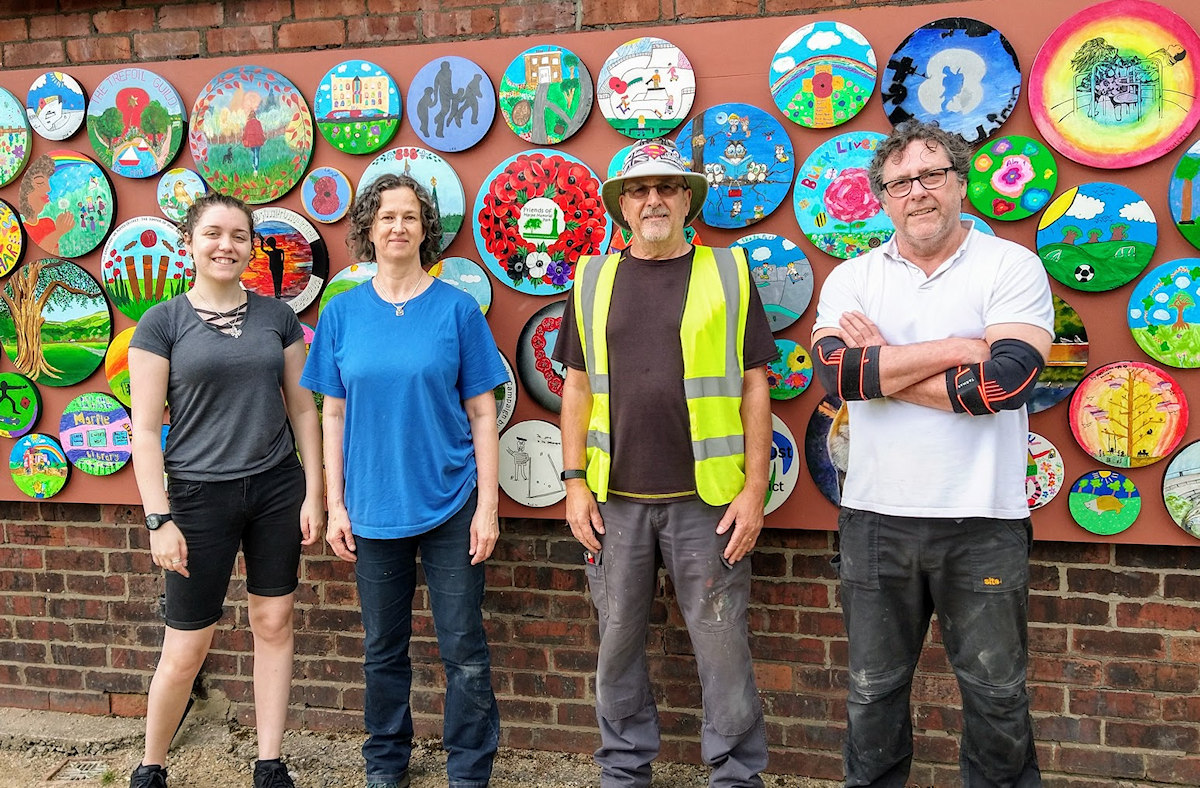 Look out for more news on the Pavilion Art Project Phase II in the New Year. This is planned to commemorate the 100th anniversary of the park's dedication on 22 July 1922.
Marple Frog Rose to have a new home in the park
Friends of Marple Memorial Park are bringing Canal Frog Rose back to Marple and giving her a new home in the park next spring. Thanks to our 50-50 Club we were fortunate to have sufficient funds to express an interest in purchasing Rose when One Stockport put the Frogs up for sale. Our bid was successful and Rose is now being stored undercover until the spring, when we will relocate her to the park and create a small wildflower border or flowerbed around her.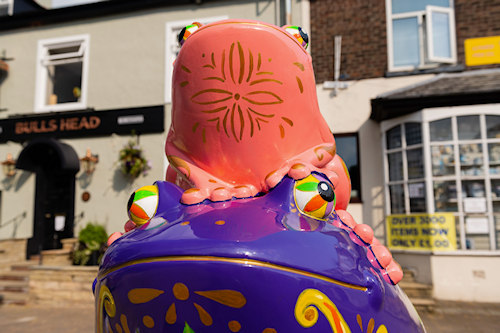 100th Anniversary of Marple Memorial Park Dedication
As mentioned already, next year is the 100th anniversary of the dedication of Marple Memorial Park on 22 July 1922. We have a number of projects and events in the planning and development stages to commemorate this significant milestone that you will hear more about in the New Year.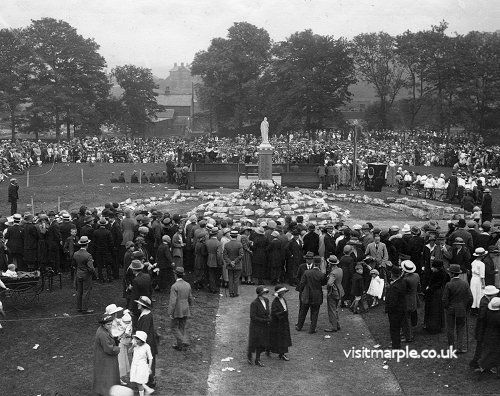 It is interesting to note that there were celebrations in 1972 for the 50th anniversary and Gladys Swindells, then chairman of what is now Marple Local History Society wasn't too impressed. Here are a few extracts from a newspaper article at the time with quotes from Mrs Swindells:
The Memorial Park was the first bit of green to be given to the public in Marple.-Since the handing over in 1922 it has developed into more of a community centre. The house of the Carvers — the family donated the land — has been converted into the council offices. The police station, welfare clinic, old folks' hall, and scout hut are all housed in the park.
The chairman of the local Antiquarian Society, Mrs. G. Swindells, is a little disappoin­ted that "so much of the park has been built on." The people of Marple raised the money to lay the land as a park, but the council — because of a shortage of land — has erec­ted public buildings there. Said Mrs. Swindells: "We are short of park space. The build­ings should not have been erected". A new library is soon to be built in the park, in this, the 50th year of its existence.
"Marple people Valued the park in its early years," Said Mrs. Swindells; Now, guard dogs patrol its precincts to prevent the countless acts of vandalism which hooligans re­serve for green spaces.

Even so, as a memorial to local people who died in 'the First World War, the park Is something for the town to treasure.
So 50 years ago the park was suffering from vandalism by hooligans too and the answer was guard dogs - maybe we should try that now! Thankfully, for most the park remains something to treasure.
A Community Hub for Marple?
The last consultation regarding a new Community Hub in Marple Memorial Park closed on 4 January 2021 and this time last year we urged local people to think BIG, saying:
This is an amazing opportunity and we would urge everyone to think BIG and embrace the idea of new Marple Leisure and Community Facilities in the centre of Marple that could potentially replace not only the library and the swimming pool but also most, if not all, of the tired and dilapidated buildings in Memorial Park. This is a once-in-a-lifetime opportunity and we must get it right!
During 2021 we've heard very little official news until a recent statement confirmed long-running rumours that Marple Scouts and Marple Senior Citizens will not be involved. The situation regarding the clinic and police station is still unclear but Friends of the Park are concerned that none of these buildings will be replaced. The scheme seems to have lost its way and is going nowhere fast.
Maybe that once-in-a-lifetime opportunity has been missed and plans should go back to basics, looking at the quickest way to replace the swimming pool that has been closed since March 2018.
It's become a tradition to look back at the web site stats...
This version of the site was launched at Christmas 2017 and is now 4 years old, but the Marple Website has been around for much longer than that and celebrated 23 years online in October 2021. It's good to see visitor numbers are still high, although they haven't reached that peak of 2020.
1.85 Million visitors to the Marple Website
The vintage web counter shows that traffic has risen significantly since the launch of the new site in December 2017. Page views have increased from 73,168 in 2017 to 170,835 so far in 2021. Unique visits have risen from 53,730 to 129,605 in the same period. The counter has been running since October 1998, when the original site was launched, and has now reached an incredible 1,852,761.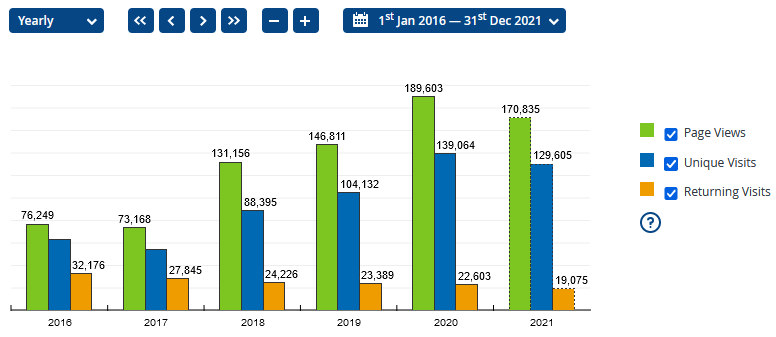 Note: figures shown include up to 23 December 2021 only.
Over 5.0 Million image views on the Marple Website Virtual Tour!
As I write, the counter on the Virtual History Tour of Marple has reached 5,049,234 image views and there are now over 14,683 local photos shared. The images are from numerous sources over the last 20 years but key ones are Marple Local History Society's archives and the wonderful Arthur Procter, who sadly has not had so much to record in the last 2 years!

Only 331 photos have been added to the Virtual Tour during the last 12 months, which is quite low compared to previous years, but the total number of image views has still increased by an amazing 241,107 times since Christmas 2020 and we have smashed through the 5M mark in 2021.
Best wishes for a Merry Christmas and a Happy New Year.
Mark Whittaker - The Marple Website
Thank you to Arthur Procter for this Christmas Card dedicated to Marple Website Visitors: