A Marple mug designed by Steve Abbott
In 2004 we developed a product that was quite different to our previous efforts with our Marple Mug. The design was a collaboration with local artist Steve Abbott, who created the new design for us in the style of the Oldknow 200 mug that he designed in 1990 to celebrate the bicentenary of Samuel Oldknow's achievements. They make a fine pair if you happen to have one of the old ones!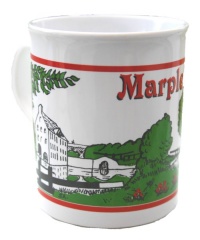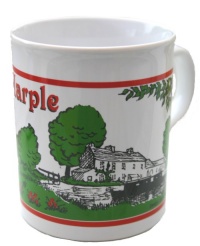 Here's a copy of the full design:
The remaining stock of these mugs was donated to New Horizons, the narrowboat for the disabled based at Marple Wharf, who continued to sell them for the benefit of the charity.