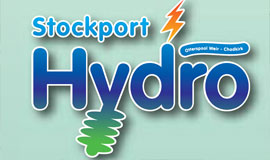 Contact Person: Laurence Jackson
Address: Otterspool Weir, Mill Lane,
Area: Romiley
Town: Stockport
Postcode: SK6 3LQ
Phone: 0161 427 2217
Website: www.stockport-hydro.co.uk
Email: This email address is being protected from spambots. You need JavaScript enabled to view it.
Facebook: Stockport Hydro on Facebook
Twitter: Stockport Hydro on Twitter
Stockport Hydro at Otterspool Bridge, Marple
The Stockport hydro scheme at Otterspool Weir is Greater Manchester's first community-owned hydro-electric project.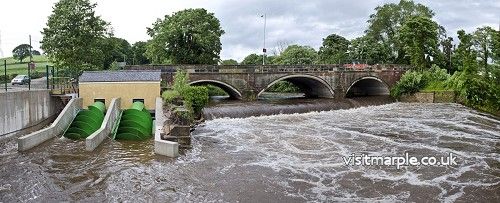 The scheme was funded primarily by a community share offer which raised more than £250k, supported by a grant from the North West Development Agency, a loan from Charity Bank and a Key Fund grant and we are grateful to all our supporters.
We generate enough clean, green energy to power about 60 homes, saving over 100 tonnes of CO2 per year, or over 4,000 tonnes during the estimated 40 year life of the project. The renewable power we generate feeds via the Local Grid into the National Grid and profits are distributed amongst local community projects and a return paid to our investors.
In our first 10 years we generated over 2GWh (2,000,000 KWh).
Since starting generation in 2012, Stockport Hydro has made some 120 environmental awards, putting, as of March 2023, over £38,000 into the local community. Awards have been made to local schools, charities, scout troops, community groups, environmental bodies, parks and amenities within the Stockport MBC area.


Many of the recipients of the Environmental Awards at a ceremony at Stockport Hydro in March 2023.
The scheme is run entirely by volunteers and we would welcome more volunteers to help keep the scheme running efficiently.
Here are some photos taken by local people during its construction and operation:
For many more photos of Stockport Hydro visit The Virtual History Tour of Marple.
Photo credits: Arthur Procter, Bill Beard & Axel Thomas