The Rotary's battle against Polio
Since 2007 hundreds of Rotary Volunteers have visited India to help with the country's Mass Polio Immunisation Days. Over 1,000 volunteers and have collectively immunised over 16 million children in India, children who may have otherwise been crippled by Polio.
Over the last 11 year the Rotary visits have been spearheaded by Mike Yates, of the New Mills, Marple and District Rotary Club. All of the volunteers have funded their own airfares and rolled up their sleeves to help at vaccination booths set up by Indian Rotarians and health agencies, and also went door-to-door in cities and remote villages with the life-saving vaccine. Their efforts contributed vastly to India being declared polio-free in 2014.
In recognition of this achievement 200 volunteers from around the country were invited to a reception in the House of Commons hosted by William Wragg MP, local MP for the Hazel Grove Constituency.
At the reception both William Wragg MP and the Secretary of State for International Development, Rt Hon Penny Mordent MP, praised the volunteers for their work.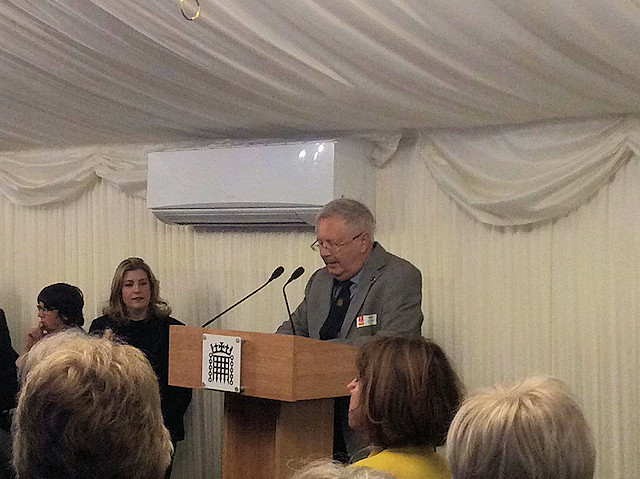 Mike Yates delivering his speech at the House of Commons
Speakers:
This month several members and their wives will be making a visit to Rome for a few days and we shall also be holding our President's Evening at Mellor and Townscliffe Golf Club.
The club has now changed its meeting venue for the time being to Mellor and Townscliffe Golf Club - meetings will commence at 12.30.