"THERE'S FROGHALL UP THE CALDON"
GREAT CANAL JOURNEYS OF OUR TIME by Ensign David Brindley
This is an account, in the most dogged of doggerel verse, of a canal journey which was undertaken by two totally bewildered beginners. Their total knowledge of narrow boats and canals was gleaned from staring through the lounge window of the Navigation Hotel at Marple, from which position you can't even see the canal As this is the author's first attempt at any kind of creative(?) writing, he has used every devious method available to his limited imagination, namely:- flights of fancy …. figments of the imagination …. fact embellishment ..... falsehoods frugalities of truth …. flimsy fabrications …. and the odd fillips of frankosity. The author has purloined, from Jack Turnbull's account of the epic, the odd word, phrase, sentence and paragraph all heavily disguised, of course.
The journey in the 'Alice', (trustingly loaned to us by Peter Craven, boatie of this parish) began from Top Lock, Marple taking in the Macclesfield, Trent & Mersey, and the Caldon canals, a distance of some nearly, perhaps, almost 100 miles. This story is in two parts, the second part of the first part, which would have been the third part had the author not written a second part, ends at that Valhalla of the Potteries - Froghall. A name which has always been synonymous with the question -- Where?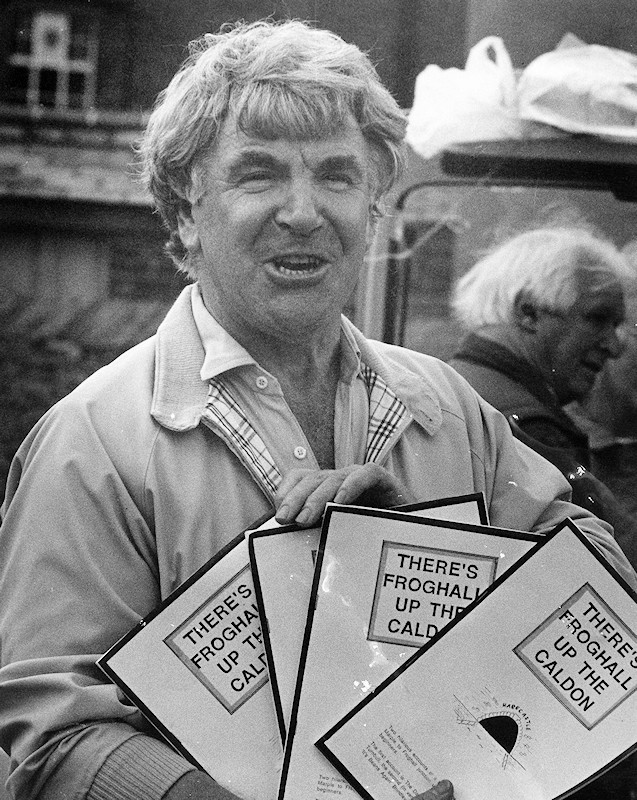 David Brindley flogging copies of Froghall up the Caldon
The first part of the second …. don't start that again …. the return journey consists mostly of a drunken night in down-town Hanley, and descriptions of the hauling, as opposed to the sailing, of 'Alice' back to Marple.
The crew, consisting of two pale, paunchy, middle-aged beer swillers, divided up the daily boat duties and below is a list of those duties, as well as a penned sketch of the said two.
Jack Turnbull, who took on the role of Captain, Chief Engineer, Steersman and General Nuisance, is an ex -Army Zeppelin Mechanic. He is currently employed as a full-time Preston Guild programme seller and a part-time wringer out for a one-armed window cleaner. He is also a well known, (to those who know him), local author. His most recent work appeared in that most august of periodicals, 'The Ferret Fanciers Gazette', under the title 'Cross Breeding For Those Who Don't Know How'.
David Brindley, modest author of this stylish piece of beautifully written prose, assumed the roles of Ensign, (the lowest commissioned rank possible), gourmet cook, (anything with beans), and official ship's photographer, (when he remembered to take the lens cap off.) He is at present fully-employed pretending to be fully-employed, but hopes to change that situation once he has sold the film and TV copyright of this monstrous epic.
PS All the lines scanned wonderfully well while I was writing the labour of love which commences below so, if you have any problems reading it will you please write to "The Society for the Improvement of Poems About Canals - Froghall Junction."
ALL THIS AND FROGHALL TOO
Two lads were suppin' in Marple one night,
Quietly bemoaning their fate.
One was Dave Brindley who had an idea,
T'other, Jack Tumbull his mate.
"I know," said David, "Let's go on a trip,
Up t'canal and take lots of beer
I'm sure Peter Craven'd lend us his boat"
So they supped several pints to th'idea.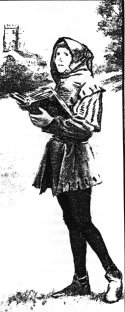 The Ensign spent many an hour wandering the fields pondering the words for this epic poem
"You be the Captain," said David to Jack,
"And I'll be the Ensign and Cook.
And what we don't know about boating,
We can always look up in a book."
Seeing as how they'd not done it before,
They decided to answer the call
Of the Macclesfield, Trent and the Caldon canals,
Up yer Chernet and on to Froghall.
The craft's name was Alice, a steel narrowboat,
Painted green in traditional style.
She was stubborn, contrary, had a mind of her own,
Thirty foot of feminine guile.
She was what men expect of a woman,
Shapely lines with some breadth to her beam.
Nicely rounded in places she should be,
In fact, she were built like a dream.
So the lads loaded Alice with victuals and gear,
And stowed them away with great care.
But they stacked that much bitter and wine at the back,
That the front end stuck up in the air!
At last they were ready and set for the off,
An adventurous look in their eyes,
"Just a mo," said the Ensign, "I'll have to go home,
I've forgotten to bring the meat pies."
"Never mind the meat pies!" Roared the Captain quite mad,
"Just cast off the ropes, for and aft
Then get th'instructions from inside the cabin
While I see how you sail this 'ere craft"
So Titanic Turnbull stood tall on the deck,
With the tiller gripped firmly in hand.
All at once he looked quite green and sickly,
And Alice just one yard from land.
"Don't worry, my Captain, all is not lost,"
Cried the Ensign from inside the boat.
He appeared, stalwart lad, with some beer in his hand,
And poured it right down t'Captain's throat.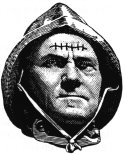 The Ensign and Captain Jack
Once again Bismark Turnbull was steady of hand,
As he steered our boat Alice with skill.
Well, not quite, he tended to swerve it about
Which made the poor Ensign quite ill.
But the Ensign, who's not quite as daft as he looks,
And knowing the best antidote,
Nipped down inside for more cans of bitter,
And chucked a quick half down his throat.
By this time the lads had left Marple behind
And were rapidly nearing High Lane
When the Captain cried out, "Cook, I'm hungry."
So the Ensign went midships again.
He soon reappeared with some grub in his hand,
Bacon butties with a dash of brown sauce.
Then he had to go down and bring up more ale,
Against dehydration, of course.
Macclesfield town was safely passed through,
And nobody threw any rocks.
And just when they thought how easy it was
They encountered the twelve Bosley Locks.
Our Captain's not easily put off his stride,
But the locks made him look all harassed,
So the Ensign leapt through the air from athwartships
And fell in a heap on the grass!
Then with windlass in hand he mastered the locks,
And the Captain steered Alice straight through,
So to celebrate t'fact that they's not sunk the boat,
They got down a noggin or two.
"It's Congleton next" cried the Ensign out loud,
Which injured the poor Captain's pride.
"If I am the boss I should shout things like that"
Then he knocked th'Ensign's beer over t'side.
Just then Alice stopped with a splutter and cough,
And started to wander off course.
"Ensign!" he roared, "You're not here just to cook"
"Grab a rope and pretend you're an 'orse."
For more than a mile the Ensign towed Alice,
Overtaken by cruisers and boats.
"If you don't get us there by tonight" spluttered t'Captain
"It's likely you'll not get yer oats."
At last they moored up at Congleton wharf,
And the engine still spluttered and missed.
But not knowing owt about engines and such,
They sat down and got thoroughly …… drunk.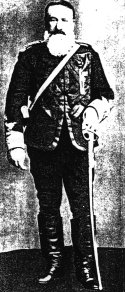 Peter the boat Doctor, came, dressed for the occasion
Next morning Peter, the Boat Doctor, came
With his tool box and technical manner,
Saying, "Look Lads, I'm not one to bugger about"
And gave th'engine a thump with his hammer.
Needless to say, this didn't help things one bit,
So they thought about hiring a fitter.
But the Captain spends money like a man with no arms,
So they sat down and supped some more bitter.
They found out a fuel pump was what they required,
And soon they were mobile again.
Then the Captain went white, clutched his head and cried out,
"What if we'd borrowed a plane?"
Off once again, feeling pleased with themselves,
Sailed our stalwart and stout-hearted crew.
But after three miles they said, "Sod it! Let's stop."
"And get stuck into our favourite brew."
They found an old pub which was called, 'Bird in th'Hand. "
Other boaties had told them about.
But th'owd lady who owned it had just popped her clogs,
(She'd heard t'lads were coming, no doubt.)
They wandered around trying windows and doors,
Dying for a pint from the wood.
But all they could see through the windows was dust,
And a notice that said, 'SHUT FOR GOOD.'
The Ensign, a master at sniffing out pubs,
Soon found 't'Rising Sun' built quite near,
He astonished the locals with his passion for Pernod,
As did Jack with his love of mild beer.
You might think the lads had been travelling for weeks,
With what they had gone through and all.
But the truth is they'd only been sailing two days.
Will they ever arrive at Froghall?
They finally reached t'Trent & Mersey Canal,
Through the Harecastle Tunnel they went.
The Ensign was steering the Alice this time,
No wonder the sharp end was bent.
In the darkness his sense of direction was lost,
He passed out, unconscious with fear.
So the Captain revived him with his knowledge of medicine,
By pouring some ale down his ear.
As they sailed through the Potteries the weather got worse,
Much worse than they'd so far endured,
And all the libation supped earlier on
Promptly got tossed overboard.
A place called Etruria was the next port of call
Which the Ensign was not keen about.
Besides sounding foreign, and not to his liking,
The bog needed emptying out.
So, after completing this odious task
He whipped up a quick meal for the crew.
"By gum," t'Captain said, "You've surpassed yourself this time.
This cooking is pure Gordon Blue."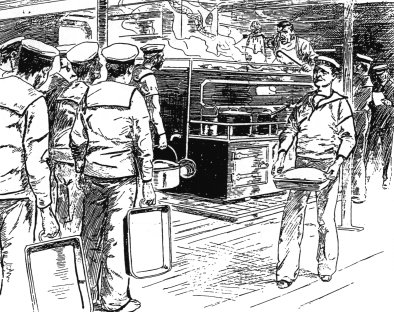 Some passing sailors took away the Ensign's pudding as ballast
A veil should be drawn over t'next part o' t'tale,
And the Captain confined to a Lock Up.
Some infamous locks called 'The Staircase' loomed up,
And did he make an almighty cock-up.
He's bound to have nightmares for the rest of his life,
'Cos he thought that the job were a cinch
But as he let t'water IN... OVER.. and OUT,
The Alice moved not an inch.
He'll argue this part of the story's not right,
And my account of his deeds somewhat thin,
Well I was the daft sod left standing on t'boat,
And I'm writing these verses, not him.
On up the Caldon, through rural retreats
Sailed Alice and the intrepid crew.
Eyes filled with wonder at the bucolic sights,
Mouths filled with their favourite brew.
Somewhere near Endon, they decided to moor,
And as Alice slowed down to a crawl,
The Ensign looked puzzled and thought to himself,
"Am I doing this just for Froghall?"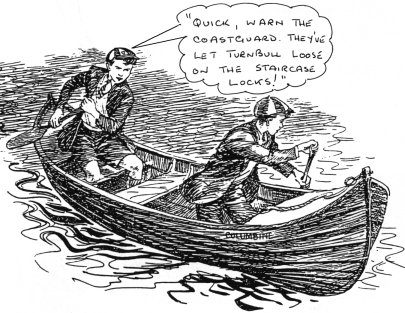 He then rustled up a cheese om-e-lette,
Served with a Blackberry wine.
The Captain looked down at his plate and remarked,
"Has t'ships cat been sick over mine?"
That night, later on, a great storm arose,
So ferocious the crew couldn't speak.
Till the Captain yelled, "Eh up! Man the pumps.
Our Alice has just sprung a leak."
Amongst all the panic Turnbull stood calm
And courageous, as befits t'Captain's role.
Without thought for his safety he flung himself for'ard,
And plunged his forefinger in th'hole.
The Ensign, not backward at coming to t'fore,
Soon realised his poor Captain's plight,
"You don't look too comfy, I'll get you a pillow
If you're going to stop down there all night"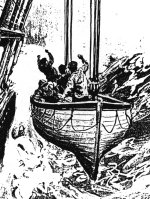 That night a great storm arose
The Captain turned purple and started to swear
With every foul word that he knew.
"Don't you dare use language like that." said the Ensign.
Then went off to sulk in the loo.
So in stony silence they pondered their fate,
Not wanting to row any more.
With the Ensign still sulking in the boat's 'Reading Room',
And the Chief wishing he were ashore.
Now the chemical toilet on which th'Ensign sat,
Is not quite the place one should linger,
So he searched through the toolbox and found a big screw
Which he used to replace t'Captain's finger.
Thus the problem was solved with the hole all bunged up
And the lads became friendly once more.
Then to celebrate t'fact they'd resumed status quo,
They supped till they slid to the floor.
Once again they set off through the rural delights
Of Staffordshire's wide open spaces.
With sheep softly grazing, larks singing on high,
And t'crew pouring ale down their faces.
Then a change from canal to a river was made,
And they thought of an old film they'd seen
That starred Humphrey Bogart and Katherine Hepburn,
And a boat called the 'African Queen."
It was fantasy time on the Alice that day.
It was too good a chance to let pass.
And they argued solid for over an hour,
Who'd play Humphrey, and who'd play the lass.
The Ensign, by this time sporting a beard,
Claimed that he had Humph's rugged features.
Feeling pleased with himself he said, "I'll play the lead,
But stuff getting covered in leeches."
"Enough of this nonsense!" said the Captain, quite peeved,
As he whacked our 'Humphrey' round th'ear.
"Don't you realize we're on th'upper reaches o'Churnet,
And Froghall is getting quite near.
The name of Froghall made the poor Ensign weep.
He was quite overcome by it all.
All his life he'd never had nothing,
And now he was getting, Froghall.
The Churnet changed back to the Caldon,
As the river fell over a weir.
All this sailing had made the lads thirsty,
So they stopped, and quaffed some more beer.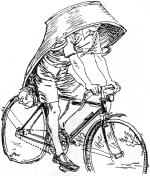 The Captain tried to escape disguised as a washing up bowl
The next part of the story concerns Consall Forge,
According to t'book, quite remote.
But when our lads got there, it were crowded wi' folk,
So they stayed and got rat-legged on t'boat.
Later on, nearly sober, they went in a pub,
Known as, The Black Lion Inn.
Architecturally speaking the place was quite big,
As was t'Landlady looming within.
Her face was something that beggars belief,
Her voice rattled t'barrels on t'stillage.
She reminded the lads of Attila the Hun,
On the loot, and the rape, and the pillage.
Of course, our macho crew weren't bothered a bit,
As for fear, they showed not a trace.
But to be on the safe side they hid on the boat,
And locked all the doors just in case.
Moored alongside them, in a ramshackle tub,
With Bonzo, an odd looking hound,
Was a pleasant young man, with a shiny bald head,
And a talent for missing his round
But the chaps didn't mind him missing his turn,
Or suppin' their ale, for you see,
He'd been to college and got a diploma
In the science of Parsimony.
Bonzo too, was quite artful and sly,
Whilst thieving in order to eat,
In the blink of an eye he'd snaffle your dinner,
Then come back and gollop your sweet.
It would seem that no saga is ever complete,
Without someone of Irish descent.
Our story has one, known as Paddling Paddy
Who took part in a mammoth event.
He bought a steel hull without engine or rudder,
In fact, with no fittings at all.
Then he pushed, poled and pulled it from Manchester centre,
All the way to forge at Consall.
During his journey he was chased by Police,
Who were never that far from his tail.
They were out to capture this dastardly felon,
Him having no licence to sail.
But our hero was able to stay out of sight,
Whilst he hid in his rickety shell.
He slept in the daytime, and set out at night,
Poling and paddling like hell.
The lads were so proud to have met such a man,
So they lashed beer and wine down his throat.
And the last that they saw of ubiquitous Paddy,
Were his boots, as he slid off the boat.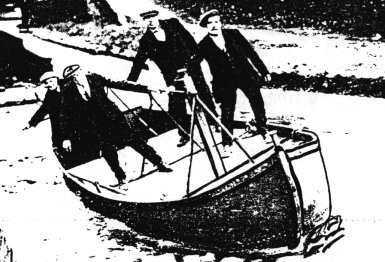 A quartet of Paddling Paddy look-a-likes approaching the Black Lion at a steady rock
The crew got ready to head for Froghall,
And loins were hurriedly girded.
Which may sound unsavoury to you gentlefolk,
So I'll see it gets differently worded.
Aglow with excitement, the lads made their way
Up t'canal to their last port of call.
But they found on arrival a great big fat nothing,
In fact, absolutely …………… FROGHALL!!
So if you ever venture this way,
Remember this fact, and please learn it,
Expect nothing at all when you're sailing these parts,
All you'll get is …….. Froghall up yer Chernet.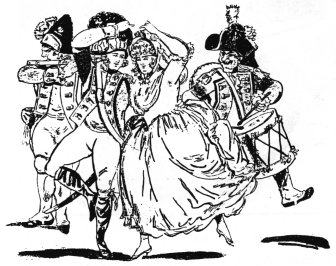 There was a great rejoicing by the readers at this point .... until they realised there was part two to go!!!
Will our intrepid explorers ever get back to Marple?
Will they return to their loved ones and the Navigation?
What will happen when they meet The Staircase locks again?
Does anyone give a damn????
DON'T FORGET TO READ THE NEXT THRILLING INSTALMENT !!!