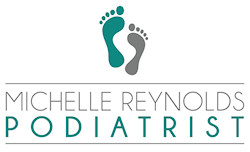 Contact Person: Michelle Reynolds
Address: 22 Stockport Rd (above Ridings Opticians)
Area: Marple
Town: Stockport
Postcode: SK6 6AB
Phone: 0161 427 4937
Website: Michelle Reynolds Podiatrist, Marple
Email: This email address is being protected from spambots. You need JavaScript enabled to view it.
Facebook: Michelle Reynolds Podiatrist on Facebook
Instagram: Michelle Reynolds Podiatrist on Instagram
Marple based Podiatrist Michelle Reynolds
Michelle Reynolds qualified from Salford University in 1998 with a BSc (Hons) 1st class in Podiatry and has a special interest in dermatological (skin) conditions. She is registered with the Health and Care Professions Council (Ch13824) and is a member of the Society of Chiropodists & Podiatrists (MChS).
Michelle began her career in the NHS, later moving into private practice in Australia. In 2011 Michelle returned to the UK where she has since been in private practice in the Stockport area.

Michelle is qualified to administer local anaesthetic. She has a postgraduate certificate in Clinical Practice and is currently studying towards an MSc in Clinical skin integrity and wound management at the University of Hertfordshire.
Michelle is committed to providing high quality care within a clean, professional and friendly environment. Michelle is now based in Marple, Stockport, above Ridings Opticians.
All aspects of podiatry covered including but not limited to: verrucas, ingrowing toenails, corns, callus, difficult nails and painful feet. Biomechanical assessments and orthoses also available following assessment by musculoskeletal special podiatrist Mrs Julie Froggatt-Bailey.
Michelle looks forward to seeing you and helping you achieve and maintain healthier feet!
Michelle Reynolds Podiatrist is a Marple Website Sponsor