All about Mellor
Mellor is a hidden rural village in a lovely hillside setting, close to the open countryside of Derbyshire but within easy reach of Manchester. With around 2,000 inhabitants, it lies on the outskirts of Stockport in an area that has been continuously occupied since the Iron Age some 2,500 years ago, with archaeological evidence suggesting periodic occupation up to 10,000 years ago.
The beautiful church of St Thomas, which sits proudly above the village with fantastic views westwards over the Cheshire Plain, has its own historic pedigree dating back to Norman times, and has in recent years achieved more fame with the discovery of an important hill fort situated around the hill. If you would like to learn more, visit www.mellorarchaeology.org.uk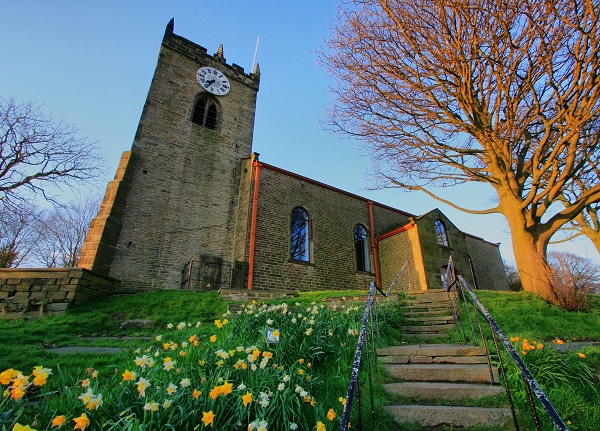 The village is linear, its main lane leading from the characterful village centre of Marple Bridge, then rising and narrowing in a continuous 2½ mile climb towards the Derbyshire border and the Peak District. The architecture of the village varies from red brick Edwardian villas at the lower end of the village to picturesque stone cottages further up the hill; these were formerly the homes of mill workers and labourers for the old industries which grew in the nineteenth century because of the proximity of fast flowing streams and coal mining.
Today Mellor village is home to a thriving mixed community with many activities and interest groups catering for all ages. Not surprisingly, among the fortunate inhabitants are a fair share of enthusiastic gardeners, some of whom will be inviting you to visit this year!